Craig Brewster: From Dundee to Horsham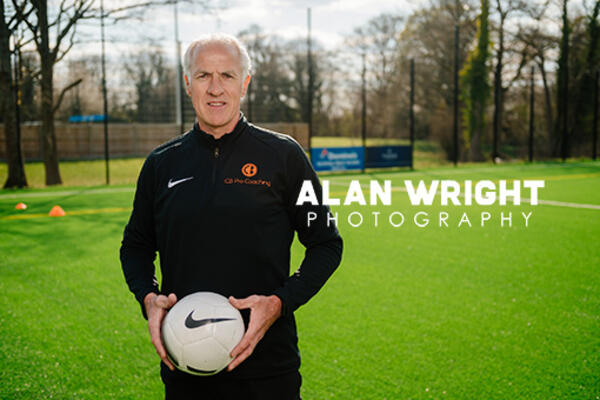 Published: 1st May 2021
After a remarkable playing career in Scotland and Greece, professional footballer Craig Brewster settled in Horsham. As well as providing training and guidance to Horsham FC's youth squads, Craig has established CB Pro Coaching, where he nurtures the ability of players aged 8 -13. In his own words, Craig charts his journey from a football-obsessed schoolboy to scoring a famous goal in the 1994 Scottish Cup Final…
My Story
I grew up in a village five miles outside Dundee, where my school was 100 yards from home. Every day after school, I would go straight down the park to play football. The older boys knew I was decent, so they let me join in.
I joined a local team, Macalpine Thistle, but Under-11s was the youngest age group and I was only seven. I was naturally left-footed, but played on the right wing.
A scout for Dundee United invited me for a trial and I signed Schoolboy Forms, much like an Academy now. I stayed there until I was 17 on a part-time basis, as they felt I wasn't fast enough for a full-time contract. But football was my life. I was a good golfer too, but that always came second. I was never one for studying!
I had a free pass for Dundee United games and supporting the team gave me a sense of purpose. Something to aspire to. In the early 80s, we had an amazing team with great players like Richard Gough, who later went to Spurs, and striker Paul Sturrock.
Dundee Utd gave me a free transfer to Forfar Athletic, where I spent six and a half years. From there, I joined Raith Rovers and that was when something clicked and my outlook changed, thanks to the manager, ex-Manchester United full-back Jimmy Nicholl. Suddenly, I looked forward to training! In my second season, we won the Championship and gained promotion to the Scottish Premier League. That was the springboard for my career.
In 1993, Dundee Utd wanted me back and signed me for £250,000, nine years after they let me go for nothing. I replaced Duncan Ferguson, who went to Rangers for £4m. Nine years is a long time in football, but it shows what you can achieve with the right mind-set. We all deal with rejection in life, but you need to keep proving people wrong. With determination and mental strength, you can succeed.
As soon as I joined, manager Jim McLean became club chairman and Ivan Golac took over as manager. I played the first game of the season having missed all of pre-season and the game passed me by. After that, I was left on the bench for a long run of games before finally scoring and getting my career there up and running. By the time of the Scottish Cup Final, I'd scored 19 goals for the season.
Dundee Utd had been in six cup finals and never won. I had watched five on the terraces and we'd lost them all. Rangers had an unbelievable team including Ally McCoist, Stuart McCall, Mark Hateley and Gordon Durie. Nobody gave us a chance. That's why beating them was so special and being the one who scored the winning goal was a special moment.
I remember everything about the goal. Christian Dailly capitalised on a mix-up in defence, went around the keeper and shot. It came back off the post and I was running in and tapped home. I was only two yards out but it was my most important goal and to get my 20th of the season in the final capped a fabulous season for me.
I was offered another contract, but was at a stage in my career when I wondered what else was out there. Ionikos, a small club in Athens, showed an interest. It was strange, but somehow it felt right. They were managed by Oleg Blokhin, a three-time Soviet footballer of the year, and his project was exciting. I spent five great years in Greece. It took a while to adapt to their possession-based game, but I loved every minute of it and could speak passable Greek by the time I left!
Playing in the Greek Cup Final against AEK Athens in the Olympic Stadium was an amazing experience. We lost, but we qualified for Europe, which was remarkable for a small club. AEK wanted to sign me and I was on my way there when I was told to turn around. I had six months left on my Ionikos contract and AEK wouldn't budge on their original offer for buying me out. I was 34 but still in decent shape, so it was frustrating to be denied the biggest transfer in my life. As a player, so much is out of your hands.
I rejected an offer to stay and signed for Hibernian in Edinburgh. It wasn't a great season for me, as I suffered a shoulder injury, but in the latter stages I formed a good striking partnership with Garry O'Connor. I was confident about getting a contract extension, but Sky pulled out of Scottish football and because of the financial uncertainty, I found myself looking at options again. Dunfermline offered me a two-year deal, which was fantastic, as I was 35. In my first season, we qualified for Europe and I built a solid partnership with Stevie Crawford, who was picked for Scotland.
I never played for my country. In Greece, I was out of sight, out of mind. When I came back, I was in my mid-30s and wasn't ever going to be the future of the national team. The Scottish press wrote some kind words about me and I admit it would have been nice to retire with an international cap. But it wasn't to be. I was unlucky to be up against Ally McCoist.
My first job in management was at Inverness Caledonian Thistle. It's an incredible club, as it was only formed in 1994 and reached the Scottish Premier in ten years. On my first visit, I got a good feeling about the place. It's a beautiful part of the world. But going from player to manager is a strange feeling. You can go on all the coaching courses in the world, but standing in front of professional athletes and dictating tactics is something that can't be taught. However, the response from the players was great. We'd been tipped for relegation, but the togetherness was brilliant.
Dundee United were struggling and had only just avoided relegation. So, they signed me as player/manager, for a record fee for a 39-year-old. But I didn't get a good vibe upon my return and didn't help matters by fracturing my tibia. A manager on crutches doesn't instil confidence and after 10 months, I was sacked. I did put a few things in place for the future though, signing three young players who went on to play in the English Premier League and setting up the training ground at St Andrew's University, which they still use.
I returned to Inverness and had perhaps my best day as manager. We were 0-2 down to Gordon Strachan's Celtic after 25 minutes. I turned to my assistant and said, "This could be a long afternoon!" But we came back to win 3-2, which was magical!
I also played for Aberdeen, which surprised people as they signed me at 40, wanting my experience in the dressing room. I ended up playing quite a few games and we qualified for Europe. After another stint at Inverness, I played at Ross County too, before getting a call that would bring me to England.
Steve Evans was doing great things at Crawley Town, getting them promoted to the football league and playing Manchester United in the FA Cup. I joined as First Team Coach and Steve later asked me to go to Rotherham with him. But by then, my family situation was different. We had settled in Horsham. I had two stepsons (my wife and I now have an eight-year-old daughter too) and couldn't up and move like I could as a single man in my playing days. Hence the reason why I have been in Horsham for ten years now.
As Caretaker Manager at Crawley, I took charge for the last six games of the 2012-13 season. We won three, drew two, lost one, and on the final day needed three points at Accrington Stanley to gain promotion. The boys and the travelling fans were tremendous and we won, earning back-to-back promotions from the Conference to League One. I stayed on for a year as Assistant to Richie Barker. That was followed by a spell at Brighton & Hove Albion, working with the Under-15 Academy. I get a buzz from seeing young players enjoying their football and improving. Several have progressed to the first team squad, including Max Saunders, a Horsham boy. When this happens, it inspires others to follow in their footsteps.
Horsham FC were looking for someone with experience to be Director of Football. I took the role but it didn't suit me, as my strength is on the training ground. My role evolved and I'm now Head of Youth. I enhance their training and eventually giving them opportunities to train with the first team.
Horsham FC Youth starts at Under-11's, but I thought there was a way to attract kids at a younger age to prepare them for that level. So, I established CB Pro Football, using the community pitch at Horsham's Camping World Stadium. I work with children aged 8 – 13, and the club and youth team managers have been very supportive. We work on improving technique with both feet, which is vital to long-term development. We do not play matches, so it's a way for individuals from local clubs to benefit from my experience and hopefully improve.
We have three elite sessions, for players aged 8 - 9, 10 - 11 and 12 - 13, with development sessions on Sunday afternoon, which are more relaxed. If players show potential, we can move them into elite groups. I have a great team of assistants and we try to make it a happy environment. I do my best to remember all the boys' names, as you get a better reaction. Personal touches are important.
Most youth teams are run by parents who give up a huge amount of their time and do the best they can. That's fantastic, but football has not been their life. I've been through enough to understand what players need to do to reach a certain level. We have a wonderful football community in Horsham where people like Ted Streeter (North Sussex Soccer Academy) have an incredible legacy in terms of player development. I hope I can inspire the next generation, so they can be good enough to play for Horsham or perhaps even better…
Words: Ben Morris
Photos: Alan Wright/Craig Brewster
Find out more about Craig's academy at www.cbprocoaching.co.uk
(Website currently being updated)
Facebook: CB-Pro-Coaching