Bill Lucas of Cowfold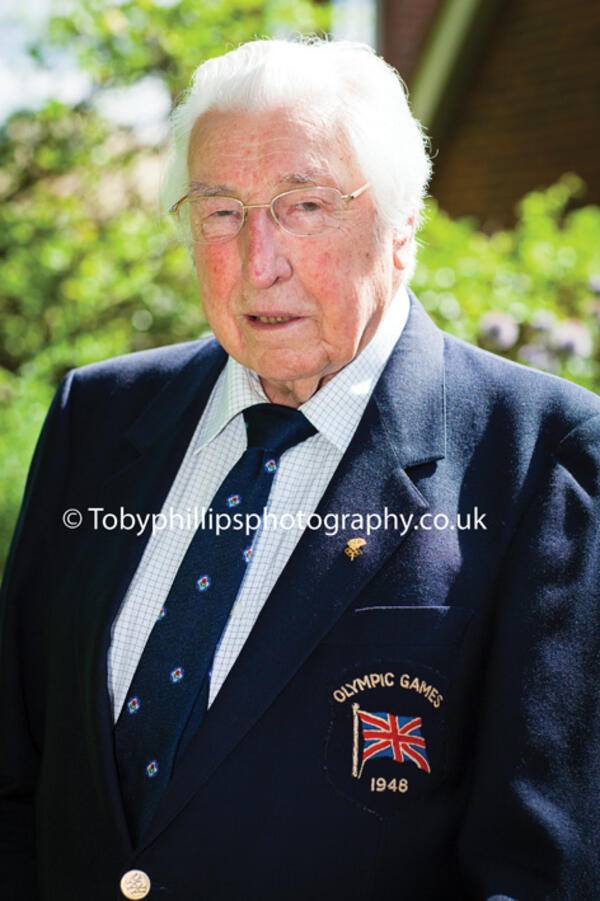 I was born in Upper Tooting, South West London, in 1917. My father was a bricklayer and was in the building trade for most of his life and didn't make a lot of money.
I played cricket and rugby at school, and on sports day I turned out and ran one mile. I wasn't all that successful, and two others at school were better at it than I was. But once I started taking it seriously I started beating them.
I joined Belgrave Harriers Athletics Club, one of the biggest clubs in the country. They were then operating at a track which was within walking distance of where I lived. Before the war I was up to a good standard and beginning to look at the 1940 Olympics. I was expecting to go to Helsinki to run in the 1500 metres.
I was called up for service in 1939. I didn't want to go in the Army, although my father had been and was awarded a military medal. I didn't want to go in the Navy as I don't like water, so I wanted to go into the RAF. I was initially told I could not fly as I had an enlarged heart. I had to explain to the medic that I had been an athlete before the war and that all athletes had enlarged hearts, especially distance runners. He said 'I admire your courage, I'll put you forward'.
I was among a group given duties manning a Lewis gun at an airfield in Wiltshire. After three months we began to pursue flying activities in Torquay. I was then posted to an elementary flying school in Burnaston, which is now East Midlands Airport. I passed the solo flight test and then I then went to an advanced flying school in Montrose.
I was flying single engine aircraft and I expected to become a fighter pilot. This was towards the end of 1940 when the Battle of Britain was still raging and all of us pilots thought we were going to be drafted into that. But we won the Battle of Britain and the mood changed. Instead of becoming fighter pilots we were presented with big bomber planes.
I flew 81 missions as a bomber pilot, rather more than average, flying Wellington and Stirling bombers. We would lay sea mines at low level and go on bombing missions. There was always danger - you never went on a mission where you were not shot at. When I was flying my four engine aircraft my rear gunner claimed a couple of enemy fighter pilots.
You never fail to lose friends. When you are on a squadron on a mission at night with perhaps 12 or 16 planes, it was rare that somebody didn't fail to return. I used to work out a method that I thought defeated the enemy defences. Perhaps I proved a point, or perhaps it was luck.
I had heard that a crew, who came to me as a novice crew before they were taken over by a new captain, had unfortunately been shot down. It was my understanding that they had all been lost. That was until a few weeks back, when I had a phone call from a man who had seen a picture of me and my crew in The Sunday Telegraph. He told me that one of them, my engineer Jack Taylor, was his grandfather. He told me he that Jack didn't die in the war. On the day that the crew was shot down, he had been withdrawn. He eventually earned a distinguished flying cross and lived until 1994. I met Jack's daughter recently and we had lunch together.
In the war, we always had military targets. Don't get the idea that we did Dresden because we wanted to thrash Dresden to death – it is not true. The truth is that every raid you went on you were given a military target. If you didn't hit it, well that was too bad. We were often carrying out our missions with dead reckoning, so there was no radar. Your navigator had to calculate direction, wind change, speed, and then try to arrive at a target at a certain time. When that time came you had to rely on being able to see the target and if it was cloudy you couldn't. There were occasions you had to bring your bombs back or drop them in the sea.
I was awarded a distinguished flying cross and a Mention in Despatches for my instructional duties in Scotland. I am also a Freeman of the City of London.
I had a job before the war, in insurance, and that job was still there when it ended. I had reached the rank of squadron leader and was pretty well paid but I came back to a salary that was less than half what I made in the RAF.
The RAF offered me a two-year extended service commission, but there was no guarantee that I could stay beyond that, so I weighed it up and decided against it. I had married my first wife late in 1944 and we had our first
child soon after, so I had to consider that. I worked for the insurance company for a couple of years, and then decided to become an insurance broker.
The war ruined my athletics career. It wasn't until I was demobbed in late 1946 that I went back to Belgrave and started training again. I really only had 12 months of solid training for the 1948 London Olympics and I was nearly 32 by then. But I made it to the Games and I'm pleased about that. I ran in a heat with Emil Zátopek, and that also pleases me because he became one of the greats, winning four gold medals.
The Olympics then were very different. I lived at home with my wife and daughter, with a second on the way. I travelled to Wembley, carrying my own bag, taking a bus to East Croydon, then on to Victoria, taking two Underground trains and walking to Wembley Park. There was nobody to help me. I turned up at the track, met the team manager, was given a number and then lined up for the race! Then I went home.
If there had been no war, I would have thought that I might have got a medal in 1940 and maybe even got the world record that year. If I'd not done it in 1940 then perhaps I'd have done it in 1944.
Hitler denied me that chance, so I went and bombed him instead. I was a very naïve young man when I went in to war in1940 but we learned very quickly. As an individual, I am pleased that I had a war like that. It did me a lot of good.
I stopped running in 1955 but turned to administration and officialdom. I was a qualified track judge. I did public address announcing at White City Stadium and was referred to as 'the golden voice of athletics'. I then took on a number of team manager roles, which took me beyond retirement.
I moved to Cowfold in 1979, married my second wife Sheena and retired from insurance in 1982. I've been President at Belgrave twice and President of many athletics associations. So I've been in it up to my neck and still am! I have been a member of Belgrave Harriers for 77 years and still feel I contribute something at committee meetings.