THE LOBULAR MOON SHOT PROJECT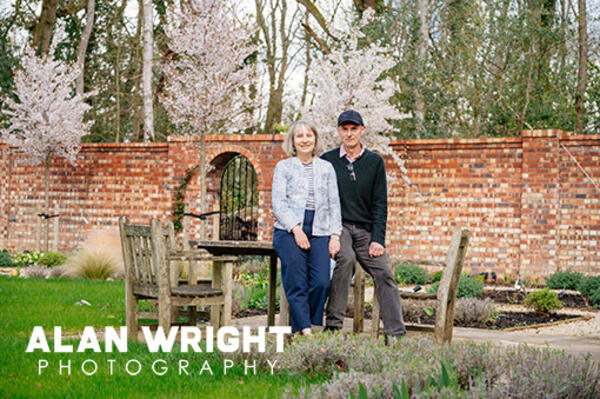 Article first published on 1st May 2023.
Dr Susan Michaelis has lived an extraordinary life. As an Australian pilot, she flew planes to remote locations in the Northern Territory. Later, she became an air accident investigator and a leading authority on contaminated air in the aviation industry. For the past decade, she has fought lobular cancer, receiving her most severe diagnosis in 2021. Together with her film-maker husband, Tristan Loraine, Susan has founded the 'Lobular Moon Shot Project' in a bid to raise funds for vital research. Here, the couple describe their journey and hopes for the future…

SUSAN'S CANCER STORY…
I was first diagnosed in 2013. I had a small spot on my breast and an area of thickening under the skin. I went for an NHS breast screening (mammogram) and the results gave me the all clear. But I knew something wasn't right. It was then that I visited a brilliant surgeon who offered me a biopsy, which revealed I had Invasive Lobular Cancer (ILC). I knew about breast cancer, but not the different types, and hadn't heard of ILC before. I was confused, as the cancer hadn't been picked up by the mammogram, but the surgeon said this was typical of lobular.
I had another ultrasound and still nothing showed up, before an MRI scan suggested the cancer had spread 2.6cm. I underwent a double mastectomy (breast removal) and it was discovered to actually be 7cm. The reason for this is that lobular cancer doesn't normally form a lump, so it's harder to spot. Instead, it spreads like branches of a tree, or as my surgeon described it, a spider's web.
The experience of going through a mastectomy and reconstructive surgery was awful and it took me months to recover. I flew to Australia to see family and friends, before returning home for radiotherapy. I didn't have chemotherapy, as the likelihood of the cancer returning was deemed to be low. However, in 2016, that's exactly what happened. I found out that the tests that deemed me a low risk are based entirely on a different kind of cancer, Invasive Ductal Carcinoma (IDC), rather than Invasive Lobular Carcinoma (ILC). About 85% of breast cancer cases relate to IDC, so all the research on detection and treatment of cancers are focused on it. I found this frustrating, as we're not talking about a cancer that affects a small number of people. Lobular cancer is the second most frequent form of breast cancer in the UK, with 8,000 people diagnosed every year. Yet we're treated with a 'one size fits all' approach, based on IDC research. That is not OK.
After my first re-occurrence in 2016, I was given different hormone therapy treatments. My doctor also recommended that I routinely check some cancer tumour markers, a non specific blood test that can often indicate if cancer is spreading. In the summer of 2021, the tumour markers suddenly rose and the spot was back too.
I was booked in for another PET-CT scan and it came back negative, once again highlighting how different lobular cancer is and how easily it can be missed. So, we continued to monitor the spot but the markers continued to rise sharply, in fact 20% in two weeks, so I was given a full body MRI scan. Still, I wasn't symptomatic, yet the scan revealed the cancer had spread to my bones and that I had stage IV cancer. It can be treated, but there is no cure.

TRISTAN ON HIS MOVIE…
After Susan's second recurrence in 2021, we felt we had to highlight issues around lobular cancer. I have produced a number of documentaries and movies through my business, Fact Not Fiction Films, based in Horsham. So, we decided to make a short film based on Susan's experiences.
Eve Groves is a name I planned to use for another production. Incredibly, it was about a girl who predicts a major outbreak virus. I had the idea a year too late and, ironically, the project was curtailed when Covid struck. However, we had registered the domain and seeing as Groves was my mother's maiden name and that she died of cancer, it felt a fitting tribute to use it to tell Susan's story.
I wrote the screenplay with my brother, Tarquin, who worked with me on A Dark Reflection in 2015. We had to dramatize certain aspects of Susan's life. We don't have children, but in the film, Eve has two daughters. The eldest is training to be a doctor and has a grasp on what's happening to her mother, but the younger daughter struggles to process her mother's illness, having already lost her father in an accident. This family circle allowed us to portray not only factual elements of the story, but also emotions that will be familiar to anyone who has experienced cancer.
Both daughters are played by young, local actors. Hannah Baxter-Eve has starred in several commercials already and Millie Lewis has appeared in previous FNFF productions. The part of Eve is played by Angela Dixon, an experienced and talented actor.
Susan loves gardening, so we wanted this passion to be an integral part of the film. We contacted the National Trust to enquire how much it would cost to film at a local NT property, but the price was so high that we decided to use our garden at home in Horsham. Over the past two years, we have transformed it by building a new wall and renovating an old paddling pond, and planting many new trees and plants. It has given us a lot of joy and has helped Susan during her treatment. Other scenes were shot at Leonardslee and we also filmed in the Carfax and Market Square, with Carmela Deli, Cuckoo and Café No.4 all featuring in the film.
We secured something of a coup, as Andrea Morricone has composed the theme tune. Andrea is the son of Ennio Morricone, one of the greatest composers in movie history. After Susan was given her last diagnosis, I booked front row tickets for us both to see a Morricone tribute concert at The O2. I knew his son Andrea was a composer, so I contacted his agent to tell him about our project. It was more in hope than expectation, and I never expected to hear anything back. We were on a break in Siena when I got a call from an Italian number. I answered, thinking it was related to the property where we were staying, and a voice bellowed, 'Ciao, Andrea Morricone!'
On Christmas Eve, we received the first draft of his composition and it was very emotional, as it sounded like one his father's great works. Andrea is a wonderful man and has recorded the piece with the Budapest Symphony Orchestra, without asking for anything in return.
While making Eve Groves, we realised it had educational limitations, as it's a drama. So, we also decided to make the first ever documentary about lobular cancer to accompany the film.

SUSAN ON AIMING FOR THE MOON…
Invasive Lobular Cancer is not anything new. As far back as the 1970s, medical professionals knew that it behaved differently from other forms of breast cancer. Yet still, the research hasn't been done and there remains problems with identifying, monitoring and treating ILC. So, we set up the 'Lobular Moon Shot Project' to change that.I met Chris Lord, Professor of Cancer Genomics at the Institute of Cancer Research, and asked him what was needed to solve the problems. He explained that, ultimately, it was down to money. If they had £20m, they could devote resources towards research that could eventually mean that lobular cancer is identified quicker and that specific treatments were available to increase a patient's chance of recovery. But that could take decades.
I reminded the professor that we were able to put a man on the moon only eight years after we'd first been in space. So, if the urgency was there, how quickly could it happen? His response was five years, with a "moon shot" approach. That's how the project got its name.
Eve Groves and the documentary, My Journey With Lobular, both support the Lobular Moon Shot Project. We are asking businesses in the Horsham District to support the project, by adding a small percentage to invoices or bills, or supporting us with a donation, all of which goes directly to the Institute of Cancer Research. Leonardslee Lakes & Gardens helped with the Eve Groves film and were the first company to offer their support to the project, which we're delighted about. It would be wonderful if Horsham could be associated with a pioneering research project.

TRISTAN ON MEETING SUSAN…Susan was a pilot from 1986 – 1997, when she was medically retired as a result of breathing in oil fumes. Her career started in the Northern Territory, flying small, single-engine aircraft to remote destinations in the outback with little more than a map and compass. Later in her career, Susan flew 100-seater planes on the Qantas Link network in Australia.
I was the health and safety representative for British Airways when an employee contacted me to say they felt sick from breathing in fumes on planes. I was sceptical, and engineers I spoke to dismissed the concerns, saying it was just the smell of the engine oil. But I delved deeper and discovered there had been a investigation in Australia, led by a pilot called Susan Michaelis. That had resulted in a government inquiry, which made recommendations on improving the air quality for crew and passengers. I was a British Airways captain and hadn't heard anything about it until then. I contacted Susan by email and that was how we met.

I spent 20 years flying as an airline pilot before ill health retiring, and have since spent years researching the issue of air contamination. Several Fact Not Fiction Films productions have focused on it. This problem is only lightly touched on in Eve Groves, as it would have detracted from the story, but it could have been a contributing factor in Susan's cancer.
The endocrine-disrupter chemicals that are used in aviation oils mimic hormones, like oestrogen in the body. Susan was breathing these when she was a pilot and later in life was diagnosed with oestrogen-positive breast cancer. We think there could be a link, and scientists confirmed she does not have any genes that would have predicted her breast cancer, but proving that is a different matter.
Eve Groves and My Journey With Lobular will both receive their VIP premiere on Thursday 25 May. Kay Burley invited Susan to talk about the Lobular Moon Shot Project on Sky News and has followed the story. It will be a memorable week for Susan, as a rose will also be named after her. Harkness Roses donated plants for the garden and were so moved by Susan's story that they will unveil a new rose, called the Dr Susan Michaelis, at the Chelsea Flower Show on 23 May.

SUSAN ON THE MOON SHOT...
I am fortunate in that I don't have many adverse side effects from the cancer. I get cold, but you wouldn't know anything was wrong with me most of the time. Yet I need the treatments I'm taking to have an effect, as they are all that can keep me alive.
The Lobular Moon Shot Project has given me added purpose. I know £20m seems an impossible target, but there are people who are wealthy enough to buy anything they want, but they can't buy a cure. I have been asked why I'm doing this and the answer is we don't have a specific treatment for the second most common type of breast cancer. That's not right. Don't all cancer patients deserve to receive a specific treatment for their cancer type?
If anyone is interested in learning more about lobular cancer and would like to attend the launch event at The Capitol on 25 May 2023 for free, please email office@lobularmoonshot.org
Further information:www.lobularmoonshot.org
Words/Interviews: Ben Morris / Photos: Alan Wright