Turning Point Productions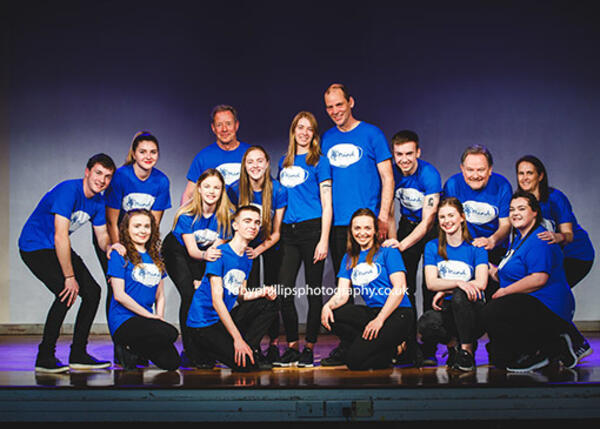 Published: 1st March 2019
Despite the presence of the AAH duo, the predominantly teenage choir at Turning Point Productions are unflustered as they embark on their warm-up routine.
Huddled together in a circle of sorts, they spontaneously break into harmonies, looping several songs whilst stretching their vocal chords. It all ends with laughter, not of embarrassment, but of surprise at someone's choice of song! This one scene encapsulates the close-knit group, which hours later took to the stage for its latest production, Music from the Movies and Musicals.
The influence of the youthful cast is evident in the programme, with an abundance of 21st century classics from Hamilton and The Greatest Showman. For Director Helen Smith-Turner and husband Andrew, it is this freedom of expression that separates Turning Point from other musical groups.

The Show Must Go On
Turning Point Productions began life in Devon in 2008, with Andrew developing a successful choir before expanding into theatrical elements. Having previously worked as a touring musician, he moved into musical education, which brought the family to Horsham.
"We had over 60 people involved in Turning Point in Devon, with a choir, supper club and a Glee club," says Andrew. "From the outset, we ran it as a not-for-profit community group. "Three years ago, I was offered the chance to teach percussion at secondary and primary schools in Horsham, which is a job I love. Since then, we've gradually made connections to replicate our Devon success here."

You've Got a Friend in Me
The size and considerable talent of the family meant that TPP had a solid foundation on which to build.Five of Helen's six children are involved, with Dale, Raife, Kaia and Dolly enjoying the limelight and Tristan being a crew member. Son-in-law Stephen Brown operates sound and lighting, whilst Helen's dad, Chris Smith, is the oldest member of the cast at 71.
Chris, who has been involved with amateur dramatics since he was a teenager, said: "As a grandparent, it's lovely to be on stage with your family. It means we are very close, although you certainly see the highs and lows!"The success of this group is primarily down to Helen. Since meeting Andrew, she's become a musically-orientated person and loves directing the productions.
"As for the cast, they are a young, talented bunch. Raife and Luke Martin are both superb singers. But we have no prima donnas. Everyone is happy to be part of the team and that makes us an extraordinarily close-knit group."

Come Alive
Aside from a lack of egos, a key reason behind the group's compatibility is the informal approach to rehearsals and the low costs involved. This made it an appealing prospect for Meghan Parr, one of the few members without a family connection.Meghan was singing from an early age, accompanying her nan to church choir when she was only five. She met Raife at Act Too Performing Arts School, but lost touch when they moved on. Reunited a couple of years ago, TPP has since had a profound impact on Meghan's life.
"It is amazing!" she said. "Performing has saved my life. I suffer with mental health problems, but being here gives me an outlet, as singing is the one thing that gives me joy."They welcomed me with open arms and Helen has been incredible. I've literally cried on her shoulder! We hold rehearsals round the Smith-Turner house, drinking tea and squeezing around the piano in the kitchen like one big family.
"Everyone is treated as equals. MIND, the mental health charity, has played a massive part in my life and when I suggested we raise funds for them, everyone unanimously agreed, which meant so much to me."

Can't Stop the Feeling
Raife Smith is one of the outstanding talents in the group. Having toured with the professional cast of Joseph and the Amazing Technicolor Dreamcoat, he is now studying musical theatre at Chichester College.Raife is autistic and music has always been a positive outlet. He believes others couldbenefit from a similar experience.
"As a kid, I was a bit out-of-control, but my family were always there for me," he said. "I had some difficult times at school, but autism never affected me on stage, having grown up in a house where I could sing from the moment I woke up to the minute I went to bed.
"I love listening to Lloyd-Webber musicals and things like Les Miserables, but recently we've been singing songs from Hamilton. Even though the musical is set in the 18th-century, it has an R&B style with lots of low notes and fast lyrics, which makes it a massive challenge for us."

The Greatest Show
There is great variety in TPP's shows, so whilst the singing cast may be small, others step in when it hosts murder mystery supper evenings, quiz nights or festive pantomimes.There is no cost in joining, so young people are not burdened by membership or show fees. They contribute in other ways, selling tickets or organising raffles.The lack of a committee means everyone's opinion is heard, with decisions made quickly. Consequently, there's a youthful influence at the heart of everything.
"Our children are obsessed with Hamilton!" says Helen. "Several songs from it were in our previous show, Raife Unplugs the Musicals. There wasn't a dry eye in the house and that helped us grow a strong following locally."
After that, the cast wanted to perform more from Hamilton, as they want to be tested. There's not much appetite for traditional musicals like My Fair Lady. They are catered for elsewhere. Young performers and audiences want something new and exciting, so we have songs from Toy Story and The Greatest Showman.
"But we never just cobble songs together; there's always fluidity as we strive to take the audience on a journey."