COOLHAM LIVE MUSIC CLUB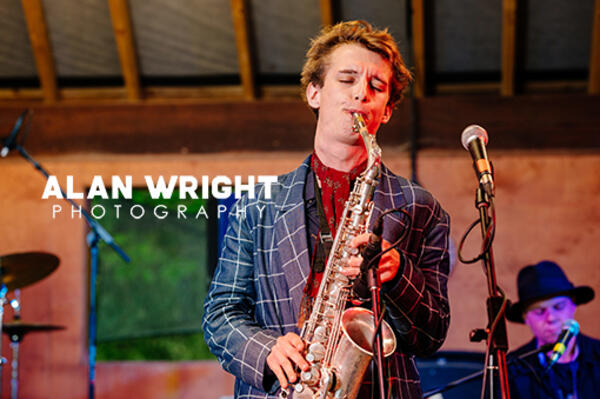 At a stable block in Coolham, Tom Waters performs a saxophone solo to a small yet attentive crowd of music lovers. Backed by his equally talented and youthful band Electric People, Tom performs a song by Derek Nash, a regular in Jools Holland's Rhythm and Blues Orchestra and in Tom's opinion one of the best saxophonists in the world. Nash has himself performed at Coolham Live Music Club, which for eight years has consistently showcased brilliant acts.
The gigs are organised by Graeme Tame and are mostly held at the Village Hall. However, in the summer months, he opens the doors to his home and welcomes acts to play to a small audience, many of whom bring their own food, drink and even chairs.
Graeme said: "It's strange that the club is still a hidden gem and that more people haven't discovered it, because we host some fantastic bands. What is different about the club is that everybody comes to listen, whether it's jazz, blues, soul, rock, bluegrass or anything else."
"In many venues, musicians have to contend with people chatting whilst they're playing. Here, the audience quietly listen and sometimes that can throw people. Acts can look a bit like a rabbit in the headlights sometimes! But most love it as it challenges them. Guitarist Dave Itel has played to thousands of people, performing with everyone from Chaka Khan to Beyonce, but he once told me that he gets more nervous playing the village hall in front of 80 people than performing at a sold-out stadium!"
"We tend to attract an older clientele that maybe doesn't want to go to gigs in clubs and pubs. They want to enjoy the music and be up-close-and-personal. One of the great things about this is that people can bring their own food and drink, which makes it a very sociable experience. That's why we have a lot of regulars. And even if they've never heard of the acts, they trust me to book the best talent."
Inspired by Big Jim
The late Jim Sullivan, a well-known local guitarist, used to bring acts together to play at Coolham Village Hall, attracting a small, knowledgeable crowd. Graeme was a regular at Big Jim's and had himself organised gigs for Ben Waters, a local boogie-woogie pianist (and father of saxophonist Tom Waters). When Big Jim passed away, Graeme stepped up keep live music in the village.
The acts he books may not be household names, but many are well-known in music circles, often as session musicians, as is the case with sax player Derek Nash, Mick Moody (guitarist with Whitesnake) and bassist Herbie Flowers (who recorded the famous bass line on Lou Reed's 'Walk on the Wild Side'. Local acts often take support slots and the club is a great supporter of emerging talent.
September's gig was kicked off in style by Chelsea Blues, assisted by guitarist Kevanie Memekie (known as Kev). The jazz/neo-soul singer from London performed her own material including new release 'Wild Spirit', throwing in occasional covers by the likes of Amy Winehouse and Alicia Keys before bravely launching into a freestyle section, where she did an admirable job of conjuring a new song from random words suggested by the audience. It's unlikely Chelsea has had to contend with "horses", "stables" and "clouds" in the clubs of London!Having performed at venues including Ronnie Scott's Jazz Club, Chelsea was on the verge of big things prior to COVID. Now, she's rebuilding and adapting to a changing music marketplace.
Chelsea said: "The gig was wonderful as it's the first time in a long time that we've played to an older crowd. We always try to get the audience involved and singing along, as the moment they sing one line, you've got them! I'm from the Bahamas and Kev is Jamaican and we like to do things differently. Here, people listen and applaud at the end. That's how you show appreciation! In the Caribbean, you only have to sing one line and people start whooping and dancing!"
"For me, the audience is part of every performance and sometimes people won't listen to you unless you give them a reason to, especially in London. But I'm very commanding on stage, talking to the crowd between songs and demanding some respect. You're not going to sit opposite me and have your own conversation! I'm going to look you in the eye and say, 'Hey guys, you having a good time over there?' But here in Coolham, it's different. Everyone listens, which pushes you, especially when you're someone like me who likes to do things on the fly!"
Emerging Talent
Headlining the gig was 20-year-old Tom Waters' Electric People. Few saxophonists can boast such a remarkable start to their career and already Tom has recorded with legends including Ray Davies and Ronnie Wood. He has made a name for himself on the touring circuit, playing with the Jools Holland Rhythm and Blues Orchestra, Mungo Jerry, Broken Social Scene and Nine Below Zero. As a boy, Tom travelled the world with his dad, piano ace Ben Waters, but it was the saxophone that captivated him. He now studies at The Royal Academy of Music and making a name for himself on the jazz scene with his band.
Tom modelled for Ralph Lauren at the Ralph's Club Eau de Parfum launch in Cannes in July. Fashion is clearly part of his stage persona too, however, it's the music that marks Tom out as one of the country's most promising sax talents. He treated the Coolham audience to renditions of songs by artists as varied as The Beatles and Derek Nash, alongside his band comprising Artie Zaitz (organ), Jack Thomas (drums) and Marcus Praestgaard-Steven (guitar).
Tom said: "I first played at Coolham when I was only nine or ten, along with my dad. So, it's great to now be here with my own band. I love being on stage with these guys and having my own band is great, as I get to play all my favourite tunes!"

Back to Normal
October's gig will see the club return to the Village Hall for the first time since before the first lockdown. There will be a reduction in usual numbers to promote social distancing, so tickets are already selling quickly. Then in December, Chelsea Blues returns for the Christmas Special, supporting Yolonda Charles, named one of the top 10 bassists in the world by Bass Guitar Magazine.
"Yolonda is unbelievable," says Graeme. "She has played with the likes of Jeff Beck, Robbie Williams, Paul Weller and Sting, but like so many acts we bring in she is happy to come here with her own band because they get a listening audience to their own material."
"We started this club as a non-profit making venture and I don't take anything out of it. We just like to get enough money to pay the musicians and give the sound guys a few quid. We have a whip round for Chestnut Tree children's hospice too and have raised over £15,000 since we started. If at the end of the night I'm not out of pocket, that's a bonus. But even if I do lose a bit, at least I've seen some great live music!"

WORDS: BEN MORRIS
PHOTOS: ALAN WRIGHT
Further information visit the Coolham Live Facebook page