Top Musicians Head to Coolham Village Hall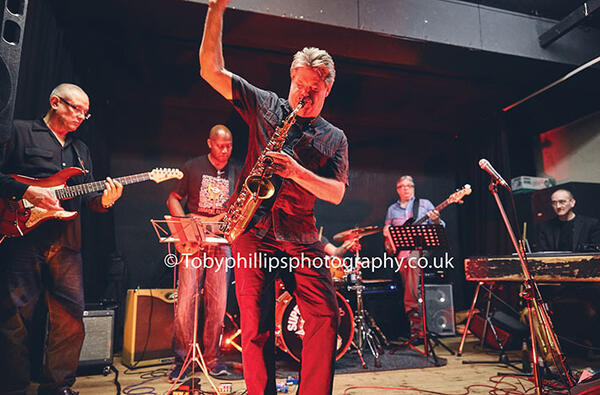 On stage, some of the finest session musicians in the land demonstrate their ability with a series of dazzling solos.
Band leader Derek Nash, who has been in Jools Holland's Rhythm and Blues Orchestra for over a decade, launches into breathlessly energetic sax solo, before Darby Todd – drummer in Justin Hawkins' new band Hot Leg – takes the spotlight with a vigorous routine.
Tim Cansfeld then takes centre stage with a smooth, soulful solo before Tony Remy takes over on his guitar with wild, frenetic playing that is simply fascinating to witness!
They are all members of Protect the Beat, one of the best jazz/funk bands in the country. Yet their stage tonight is at Coolham Village Hall. In front of a sell-out audience of about 80 people, many of whom have brought along their own alcohol (there's more wine than beer cans) Protect the Beat gave a brilliant two hour performance, split by a fish and chip supper.
It's all pretty unorthodox. So how exactly does something like this happen?
We spoke to Coolham Live Music Club organiser Graeme Tame, promoter Richard Donnelly, band leader Derek Nash and support act Harry Greene, to find out...
Richard: A lot of people remember Jim Sullivan, who was a great guitarist who lived in the village until he passed away. Jim would bring great acts to the hall for music nights that were a bit under the radar, but people in the know would come.
Graeme: I used to watch Big Jim's music nights because I live just down the road. As well as that, over the course of about 18 years, I had put on gigs for Ben Waters, a phenomenal boogie woogie pianist, at Coolham. When Big Jim died, I wanted to keep the music going as I love watching live acts.
Richard: With Graeme in charge, the Live Music Club has been going for about two years. We haven't called ourselves a blues or jazz club; it is just a music club. Tonight, we have jazz bands, but we have hosted hard rock, blues rock and a bit of Americana too.
Graeme: We have Lauren Housley coming here in May, and she is an Americana singer, and in March a Canadian guitarist, JW-Jones, will be here. That show is already sold out.
Richard: The acts performing here are not necessarily people you will have heard of, but they are known in the music world. Our basic policy is not to have tribute bands, because you can see them at other venues, and to focus on quality. If we can find good local acts as support, then we very much like to do that. We have Tom Holder, son of Gary Holder who has also run live music nights in Coolham, playing the double bass here soon, alongside vocalist Hollie Rogers.
Graeme: Tonight our headline act is Derek Nash, playing with his band Protect the Beat. Our support act is the Harry Greene Trio. Harry is only 18-years-old, but to play the guitar and the sax so well at such an age really marks him out as a great talent.
Derek: In Protect the Beat tonight, we have Tony Remy. We play together in Ronnie Scott's Blues Explosion once a month and have both played for Jack Bruce, the bass player in Cream. Tony has just returned from playing in Japan with Pee Wee Ellis, so he has his luggage! Tim Cansfield has played with the likes of The Bee Gees, Annie Lennox and Elton John, whilst Graham Harvey was the keyboardist with Incognito. They are all excellent players.
Harry: Pink Floyd's music inspired me to learn the saxophone. I heard a sax solo in 'Money' and thought it was great. Gradually, I discovered more music and had my first experience of playing live when saxophonist Simon Bates allowed me to join him on stage at a jazz club. Gradually, my Trio has become better known around Bury St Edmunds, where we are based, although I don't know how Graeme found me!
Graeme: I just see people and bands performing and if I like them, I ask if they want to come to play in Coolham. Maybe they're frightened of saying 'No' to a big blacksmith!
Harry: I just received a message from Graeme to say that he had seen me perform, and asked if I would like to support Derek Nash. I've known Derek for quite a while and it is cool to be supporting Protect the Beat. I've got their album and I'm a bit of a fan!
Derek: I've played with Jools Holland's Rhythm and Blues Orchestra for nearly 12 years. People are very faithful to Jools because he's such a lovely guy to work for. It's a big band, with five saxophones, three trombones, three trumpets, a piano, bass, drums, Hammond organ, two backing vocalists and Ruby Turner as a feature vocalist. This year, we already have 66 gigs booked, but because people always book Jools Holland's band well in advance, I can plan the rest of my music career around those dates.
Graeme: We do not commit to having a certain number of gigs or a particular day of the month, as these musicians play all over the world so it depends on their schedule. We do though, ensure that we host music on a Saturday night whenever we can.
Richard: We are working with a mailing list of about 250-300 names, and with a capacity of about 80, we only need 20% of them to book tickets to sell out. We post YouTube clips so people can see the acts appearing.
Harry: My trio includes bass player Marty Prior and Afrika Green, who plays drums. We only formed about a year and a half ago but we have played at some good venues, including the Olympic Park in London for the staff of the velodrome, and the GB v Australia hockey match in February. I do enjoy playing in a trio as you can improvise with the music, more so than you can with a larger band to a degree.
Derek: Protect the Beat has been going for about 15 years and we are putting together our third album. I also lead Sax Appeal, and the Derek Nash Acoustic Quartet, with which I have won a British Jazz Award. More recently, I have started writing more Latin-inspired music with a band called Picante, and one of our songs was used on Strictly Come Dancing recently.
Graeme: You might think it would be hard to attract bands to Coolham, but it is never a hard sell as bands want to play venues where they are up close and personal with the audience. Here, we always have a good atmosphere. Herbie Flowers has played here, as has guitarist Micky Moody of Whitesnake.
Richard: Musicians like to play to an appreciative audience. You will see that nobody here is talking over the music. When bands play in a pub or a club they are usually fighting to get themselves heard. Here the audience is very respectful.
Derek: There may be only 80 people, but it's 80 people who will love the music, so we will get a fantastic reaction. Also, because it's my original music, I care even more about what they think. When I play with the Jools Holland Rhythm and Blues Orchestra, there are about 20 people in the band, so I might only do two or three solos over a two hour set. Tonight, I'll have big solos in every tune, as this is my band. So for me, whilst it is a small crowd, there is job satisfaction.
Harry: Our drummer, Afrika, was playing in front of 20,000 people at the O2 last week. Now we're the support act here in Coolham, but we jumped at the chance to do it.
Graeme: The bring your own beer idea really helps with the atmosphere too. For an extra £5, people can order a fish and chips supper. They all arrive still hot at 9pm, when we also have a collection for Chestnut Tree children's hospice. Since May, we've raised over £1,000.
Richard: We do this as we love music, so Coolham Live Music Club is a not-for-profit organisation. Graeme takes a financial risk and loses out if the event doesn't sell out, but so far every night has been a sell out or very close to being one. Our overheads are low so most of the £15 ticket price goes straight to the band.
Derek: You do spend a lot of your life travelling as a musician. You have to be dedicated to be successful, but if you keep at it for long enough then you can make a living. About 98% of musicians will just about survive but will be spiritually satisfied, and 2% might be millionaires!
Visit the 'Graeme Tame Promotions' page on Facebook. You can also browse www.protectthebeat.com and the Harry Greene Trio on the 'Harry Greene Musician' page on Facebook.
WORDS: BEN MORRIS; PICTURES: TOBY PHILLIPS
This article was published in the March 2016 edition of AAH Magazine