KEEP SINGING WITH ROCK CHOIR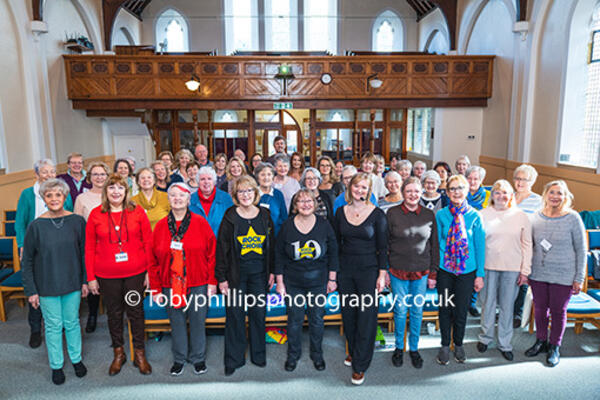 Published on 1st September 2020
For members of Rock Choir in Horsham, the group offers so much more than just somewhere to sing.
Sandy Wheeler joined nine years ago to help quell loneliness after the loss of her husband. She hasn't looked back since. "Rock Choir saved me," she says. "I've always enjoyed singing and was looking for a group to join when my sister-in-law found an article about the first Rock Choir in Farnham. I thought I'd try it with my friend Catherine, and the first time we sang an ABBA song together we were hooked! We both live in Worthing but joined Horsham as it was the closest group at the time. Others have formed since then, but we still come here as there's a great social connection. We've also enjoyed some amazing experiences over the years."
Sarah Willis leads the Wednesday morning group at the London Road Methodist Church, one of two Rock Choirs based in Horsham. After leading the choir in a moving rendition of I'll Be There by Jess Glynne, Sarah sat down for a chat with AAH…
How long have you been running local Rock Choirs? I've been with Rock Choir for four years, taking on a role as Leader after my predecessor moved to the West Country, where she started new Rock Choirs. There are two groups in Horsham, with Georgie Standage running an evening Rock Choir at Forest School on Wednesdays. I also run choirs in Worthing, Billingshurst, Chichester and Horley. It is a full-time occupation, although it doesn't feel like work. I consider myself very lucky!
How are Rock Choirs run? Founder Caroline Redman Lusher launched the first group in Farnham in 2005. Since then, it has expanded across the country and is now recognised as the world's largest contemporary choir. We have about 70 people in the Horsham group and there's fantastic support from a network of Leaders. On a national scale, we use the same arrangements, effectively all singing to the same hymn sheet! that means when people move to a new area or join a different group, they can settle in quickly.
How are songs arranged? Caroline used to write every arrangement but now has a creative team of Leaders around her that have gradually perfected the art. Usually, at the start of each term, we begin with a simple song, like Super Trouper by ABBA. It'll be an upbeat song familiar to members, which allows people to learn about their vocal range, be they a soprano, alto, tenor or bass. As we progress, arrangements become more complex. One recent example is All of Me by John Legend, where it's only when you pull all the different elements together that you fully appreciate the sound we can create.
Is there as much 'Rock' music as people initially assume? There's variety, with old classics to contemporary songs that will become better known with the passage of time. Today, we started with I'll Be There (Jess Glynne) which is beautiful as a choir arrangement and even though most hadn't heard the song before, members now love to sing it. Our repertoire also includes renditions of I'm Still Standing (Elton John), Mandy (Barry Manilow) or Something Inside So Strong (Labi Siffre). Whether modern or classic, our songs tend to have a message that speaks to members and enforces the ethos of Rock Choir. People usually have a reason for being here and the songs we sing reflect their experiences.
Do groups occasionally combine? The choirs work individually, serving the community. Then, at a regional level, we come together to perform. Occasionally, we have very special events where thousands of members join forces to create an incredible sound. That's one of the things that makes Rock Choir unique.
Is Rock Choir in danger of becoming too popular? Because of how big it has become and its high-profile reputation, people can make the mistake of thinking it's soulless or too commercial. That couldn't be further from the truth. Each group has its own identity and there's a family feel. Even as the concept has spread, Rock Choir has maintained its original ethos and that's why people love it. For thousands of members it's a highlight of the week. Every Leader has the best intentions for the choir and an understanding of what is needed to keep members happy and challenged. It's that drive which opens new doors and presents opportunities that other choirs don't have.
What kind of opportunities? It could be recording at Abbey Road studios, as many Rock Choir members have, or singing at prestigious venues like Birmingham NEC, O2 Arena or Wembley Stadium. Rock Choirs have backed notable artists and chart acts too, including The Soldiers and Russell Watson, and performed on television. This year marks the 15th anniversary of Rock Choir, so two big shows were being organised at the NEC in November, with thousands of members coming together. We hope this can be re-arranged in future, as to be a part of that is something you don't forget.
Do you perform local concerts? In 2018, we sang at The Capitol, which was important as it gave members the chance to sing in front of friends and family. We're hoping also to organise a performance at Collyer's in collaboration with The Charlie Gard Foundation. Charitable work and supporting the community is vital as it reinforces our ethos.
How have you operated under lockdown?The whole concept of singing in a choir has had to be re-imagined, which has presented challenges. It was a strange evening on the Monday that lockdown was announced. Most choir Leaders were preparing for a normal session when the Prime Minister announced the restrictions, meaning we couldn't meet. We immediately found new ways of reaching and engaging with members online. We are so passionate about singing that simply cancelling Rock Choir was not an option, so we started thinking about the best way forward. Eventually, we came up with a new landscape that would change the way we engage and sing but still provide a togetherness through music.
Presumably operating online? Each week, the Leader records and upload video tutorials to teach members the parts to new songs. Rock Choir now arguably offers more singing tuition than ever! We gave members extra songs during our Virtual Summer Term and had such enthusiastic feedback that many people are asking for them to continue even as we come out of lockdown! Also, we meet face-to-face on Zoom each week, where the Leaders can re-create the energy of a normal session live for members, who enjoy being able to see their choir friends. Then every day at 3pm on the Rock Choir Facebook page, a different Leader hosts a live sing-a-long session, which we call 'Keep Britain Singing.'
Has all of this helped maintained people's spirits? Using Facebook has proved extremely popular. During Mental Health Awareness Week, we hosted 24 hours of Rock Choir on Facebook, featuring Leaders from all over the country including founder Caroline Redman Lusher. We sang, danced, shared stories and made cocktails, raising over £40,000. There's been so much going on to provide as many opportunities to engage with the feel-good power of singing as possible.

For more on Rock Choir visit: https://rockchoir.com
For details of the local groups run by Sarah Willis visit the Facebook page

Photos: Toby Phillips Photography; Interview: Ben Morris