STANE STREET SINFONIETTA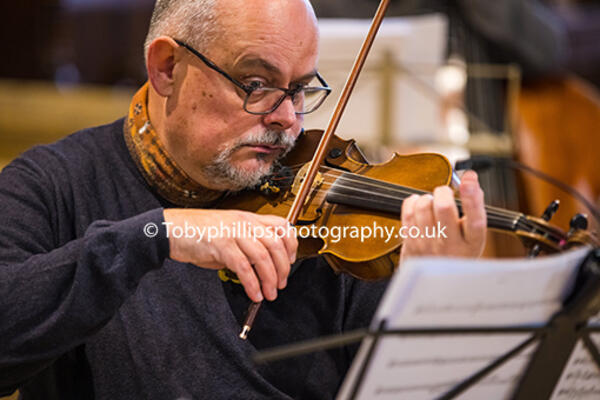 Published on 1st November 2020
It's Saturday afternoon and a stream of people trickle through the doors of St Mary's Church in the Causeway. Their name must be on the list, as numbers are strictly limited. After a squirt of hand sanitiser, each individual or small group finds an unoccupied pew, takes a seat and remove their face masks. Eventually, the audience of about 70 people spreads to the back of the hall, dotted around like players at a football match.
They have come to see the Stane Street Sinfonietta perform music for strings, including famous pieces by Mozart and Samuel Barber's Adagio for Strings. This is the first of three performances held during the day. Only an hour long, the short concert mean that more people can enjoy live music, whilst allowing the musicians to make a small amount of money.

For the performers, playing to even a modest audience is a step in the right direction after a challenging year.
Steve Dummer, conductor of the Sinfonietta and of Horsham Symphony Orchestra, said: "For professional musicians, these are difficult times. To go from performing live every day to being unable to perform for months has been tough. It's been a dreadful time, as they have financial commitments and families, and suddenly they have no income. This series of concerts is a drop in the ocean in terms of providing musicians with work, yet I've been amazed by how much it has meant to those involved. I was quite choked up after the first concert!"
"Just to be able to come together and meet with friends has been hugely important, and we're grateful to those who have supported the concerts and made donations so there is enough money to pay the musicians."

PROFESSIONAL PLAYERS
The Stane Street Sinfonietta brings together professional musicians, experienced amateurs and some of the most promising prospects in the area. Amongst the players is trumpeter Chris Deacon, who re-recorded the famous theme tune to Coronation Street in 2010. Young talents include Katy Ellis, who was set to tour with a new production of Mallory Towers before Coronavirus hit, and Horsham resident Toril Azzalini-Machecler, a percussionist and BBC Young Musician of the Year 2020 finalist.
Slinfold violinist Judith Templeman plays with the Royal Philharmonic Orchestra (RPO). She said: "I've not been very busy with the RPO recently, although we did record Christmas carols at Abbey Road earlier this month. Because its studios are so spacious, we managed to fit 15 string musicians inside, with the wind, brass and percussion recordings held the next day."
"The RPO received a grant from the Government's culture fund, so I'm sure it will survive and hopefully I can return to playing regularly soon. I teach music too, which has helped keep me going, but it has been a tough few months. It's been wonderful to play live at St Mary's, as performing online using a click track as audio cues isn't the same as playing Mozart to an audience in an acoustic space!"
"It's nice to come together with other professional musicians from the area too, especially with Steve conducting. As I usually play symphonic concerts, it's good to have the opportunities to perform chamber music too."

THE LIVE BUZZ
Stane Street Sinfonietta was founded with the idea of bringing together professional musicians living in West Sussex. Its first concert was held at St Mary's in November 2018, where the programme included Holst's St Paul's Suite and Elgar's Serenade for Strings. Due to various commitments, no performances were held in 2019, although a string training day with the West Sussex Youth Orchestra was scheduled for this year. With the event curtailed by the pandemic, Steve instead decided to organise a series of three concerts at St Mary's, each requiring different instruments.
In one of the first live music events in the Horsham after lockdown, the Sinfonietta performed William Walton's Façade on 19 September, with Katy Ellis and Mark Bradbury reciting the challenging work. A fortnight later came A Soldier's Tale by Stravinsky, with Steve Watts narrating, before the series culminated with A Celebration of Music for Strings on 17 October. As far as Steve is concerned, nothing online can come close to the live experience...
"I know there have been concerts on Zoom, but they're a nightmare!" he said. "With live streaming, it's hard to adapt to musicians around you. Playing music in an ensemble or an orchestra is a beautiful, organic process that can't be replicated online. A friend described it as being like instant coffee. It doesn't seem that bad until you taste the real thing! Zoom sessions have been a lifeline for some and for one-to-one tuition can work well. But when we can return to some normality, I don't think anyone will be nostalgic for Zoom ensembles."

"I hope the success of our concert series will lead to more Sinfonietta events in future and I'm keen to attract an even wider range of professional musicians living in the area. We are spoilt with wonderful orchestral musicians, people who have experience of West End productions, session musicians for rock and pop acts, and even fantastic jazz and blues musicians. It would be great to bring them into the group, so we can offer more flexibility."
For details of future concert (no more events are currently scheduled) visit www.stanestreetsinfonietta.com
Words: Ben Morris / Photos: Toby Phillips Photography