HORSHAM FOLK CLUB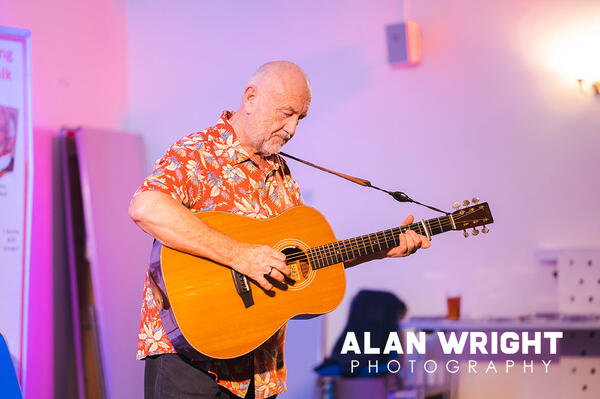 Published on 1st April 2022
Horsham Folk Club meets at the Normandy Centre in Denne Road, Horsham, every Sunday evening. Formed during a folk revival inspired by artists such as Martin Carthy, Peter Seegar and Bob Dylan, the club has survived countless venue changes over more than half a century.
Today, it remains true to its traditional roots, but can it appeal to a new generation? AAH met chairman and banjo player David Algar, bass and concertina player Dick Streeter, mother and daughter singers Cathy Barclay and Sarah Yarwood, and club founder and musician Dave Toye to find out…

Dave: I helped start the club in the summer of 1969 at the Station Hotel, with Lofty collecting entrance money. More than 50 years later, we're both still here. It followed the demise of the Horsham Song Swappers, which met at the old Albion Hall. On our opening night we welcomed Strawbs, who went on to be a successful prog rock band.
Dick: Sussex has a rich history of folk music with the likes of Ralph Vaughan Williams making some of the first recordings. We try to keep the memory of the town's folk legends alive, including Henry Burstow, Lucy Broadwood and more recently "Old" Harry Mousdell.
Dave: The club was one of many launched during the folk revival of the 1960s. Before moving to Horsham, I played at Redhill Folk Club on the same night as a young Paul Simon. Art Garfunkel sat on the floor and got up to join him for the last number. The night man first landed on the moon, we booked an expensive guess and hardly anyone turned up! Gradually, folk's appeal waned and we were losing money. Lofty and others kept the club going at The Swan on West Street (now the entrance to the shopping centre) and later The Anchor, The Queen's Head, The Nelson, Horsham Cricket Club and finally the Normandy Centre.
Dick: I started coming along in the early 1970s when we met behind The Anchor (now the Anchor Tap) on East Street. There was a blues club there too at the time. When the pub changed hands, some of us formed a barn dance band and hosted John Barleycorn Nights (named after a folk song) at The Queen's Head on Brighton Road. That has evolved into what we have now, with the band playing a few songs at the start of each night before we open up the floor for anyone to perform. Then once a month, we welcome a guest act.
David: I first came along as a schoolboy. My sister, who's a year old than me, dragged me along when it was behind The Anchor. I started playing the banjo at a bluegrass festival in Wadhurst, which used to be held a few times a year. They encouraged young people to learn an instrument and perform and that's what we do at Horsham Folk Club too. There's always the chance to stand up to recite some poetry or sing a song. I play the ukulele too, singing songs by the likes of George Formby. I don't imitate his voice though, as that was very much of its time!
Dave: I still perform in Sussex pubs, both as a solo singer and with folk bands, including Okee Dokee. I recently wrote a song called Boring Ordinary Fields, which made local news headlines as it upset Horsham District Council. It was about the proposed development at Buck Barn. When it comes to guest acts, we all have different tastes within the folk genre. Tonight's headline act Bob Fox isn't my cup of tea, as he's a traditionalist singing tunes heralding from the north-east. I personally prefer folk revivalists - the likes of John Martyn and Burt Jansch.
David: We try to offer variation. Bob has been on the circuit for many years and is always well-received, as songs like The Whitby Tailor get everyone involved. One of the great things is that anything can be turned into a folk song, as long as it can be performed live by one or two people. I've seen renditions of Fat Bottomed Girls by Queen and Money for Nothing by Dire Straits. Tonight, I sang Jesse James, a traditional country song played in the skiffle style, but we've had others play bluegrass or songs by English folk writers like Ewan McCall and Ralph McTell.
Cathy: I've been coming to the folk club on and off for 35 years. I used to sing with my husband and two friends in an a cappella group called Beggar's Velvet. My daughter, Sarah, grew up listening to folk music and now I enjoy singing alongside her. Family groups often work well together as their voices complement one another, so we're now working on an album. Tonight we sang Thirty Foot Trailer by Ewan McCall, but we also love American folk music by the likes of Stephen Foster.
Dick: While it's important to pay homage to the past, we need to encourage new music. Sadly, I think young people see this as being a club for older people, even though young artists inspired by folk music are emerging all the time. It's a shame, because it's an ideal place to play, get some encouragement and learn from experienced musicians. The club has a close association to Broadwood Morris, which is celebrating its 50th year, as well as other Morris Dancing sides. I am a long-serving member of Broadwood and it's a similar story there. When the side started, most of us were in our twenties, but now it's all the same faces and very few young people seem interested now.
Dave: I think part of the problem is that folk isn't entertaining enough. I mentioned people like Simon & Garfunkel and I don't think that level of talent is out there now, but folk clubs can be guilty of booking well-known acts on the circuit, rather than emerging singer-songwriters who might appeal to a fresh crowd.
Sarah: Folk festivals still attract big crowds and singalongs. They have younger audiences too, as they have new acts performing. There's more fusion in the folk movement now, with artists exploring new angles. The Wilderness Yet sing beautiful harmonies, Kate Rusby is a fantastic singer-songwriter, while the Unthank Sisters have their own take on folk (their song Magpie was featured in a beautiful scene for BBC comedy, Detectorists).
Cathy: This is the first time I have stood up and performed since before the pandemic and it feels good to be back. We sang a couple of times on Zoom during lockdown through the Covideo Folk Club on Facebook. It was a good way to keep singing when we were "bubbled" together but it's not quite the same as singing live.
David: The club is now opening up properly again after COVID. As we have an older membership, people were frightened of catching the virus, so we kept numbers down. Now, we are open again to non-members and numbers are increasing, but we'd love to see some new faces.
Further information: Horsham Folk Club meets at The Normandy Centre, Denne Road, Horsham on Sunday evenings at 8pm. The next guest acts are Stevedores, a ukulele trio, on 24 April and the John Ward Trio on 8 May. www.horshamfolkclub.co.uk
WORDS: BEN MORRIS
PHOTOS: ALAN WRIGHT