Horsham Ukulele Society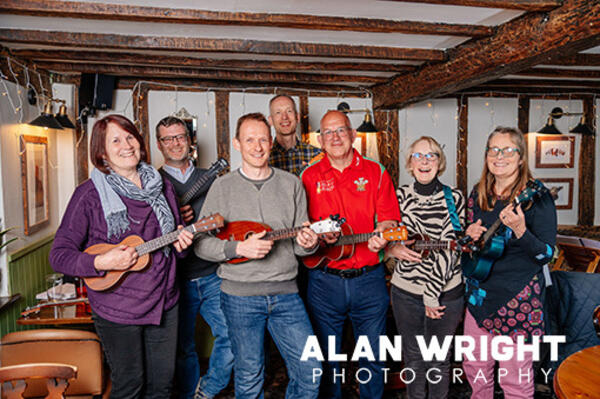 Published on 1st May 2023
The Horsham Ukulele Society meets on alternate Tuesdays at the King's Arms in the Bishopric. The Society was formed in 2019 by Matt Gunning, who had previously established a ukulele group in Balham, south London, before moving to Horsham.
Matt said: 'I started playing the uke about 15 years ago, when the instrument was enjoying a revival and was often heard in popular music. I played guitar already, but I wanted to do something socially with friends and the ukulele is perfect for that. When I moved here, I looked around for an established group to join. There was Hukuberry in Nuthurst, but I don't drive! So, I decided to start a new group in town, so I could walk to it.'
Initially, the Society met at The Rec Rooms, which offered fantastic acoustics but wasn't conducive to a good atmosphere. So, they moved to the King's Arms. Not only is it one of the most charming and historic pubs in town, making it ideal for the uke's folkish leanings, but it is run by Jodie Munday, a singer/songwriter who herself isn't immune to the charms of the four-stringed wooden instrument.
When the pandemic struck a month after their first get-together at the pub, it looked to have made the Society's existence a short one. However, when member Laurence Booth bumped into Matt in town, he decided to lead a post-pandemic revival. Laurence said: 'We all have busy lives, so we changed a few things. We keep admin down to a minimum so that there is no pressure on members to attend every night. We don't choose the songs we play in advance either. There is an excellent group called BilliUke that meets at The Six Bells in Billingshurst, and they're well organised in terms of the playlist. It suits us to be more informal, so we take turns to pick a song from the playbook.'
This approach results in a wide variety of songs, as members have their own preferences and musical tastes. Some acoustic anthems such as Half a World Away (Oasis) and Hotel Yorba (The White Stripes), adapt to the ukulele with ease. Others are foot-stomping classics best played after one or two beers have been sunk, such as Fisherman's Blues (The Waterboys) and 500 Miles (The Proclaimers). Then there are more challenging numbers like California Dreamin' (Mamas and The Papas) and Das Model (Kraftwerk) which can draw heavy sighs from members!
Laurence said: 'Going around the room makes it more exciting and creates an enjoyable atmosphere, especially when somebody throws in a curveball. Tonight, we tried Nick Cave's Red Right Hand, which you might think wouldn't adapt to the uke, but it did and was fun to play. One of the things I really like about this group is that we play music from all genres and eras, from 50s and 60s rock 'n' roll to 90s hip hop. We'll give anything a go.'
To add to the general merriment, Matt doesn't need much of an excuse to embark on a kazoo solo. It might not be a coincidence that several numbers in the songbook (including I Wanna Be Like You from The Jungle Book) call specifically for the instrument! Frank, Another regular, often introduces a fiddle too. For some members though, the biggest challenge is learning lyrics and hitting the vocal notes. This is especially difficult on songs like Rawhide, where efforts to reach the final high note cann incites laughter, and Don't You Want Me by The Human League, which has separate verses for male and female parts. That is all part of the fun for Lorna Samways.
'It can be difficult to sing and play at the same time. Some prefer to focus on chords and mumble along to the tune. However, Matt and Laurence are very good and set a tempo for the rest to follow, which helps. I'm also a member of Horsham Rock Choir, so I love singing. Some tunes like I'm a Believer are familiar to everyone, but it's nice to hear and learn new songs introduced to the songbook too.'
Horsham Ukulele Society's meetings used to start with a short lesson, helping newcomers to learn basic chords and strumming techniques. Although the progress of all its members has negated this need, Matt says that the uke is one of the easiest instruments to learn.
'Those who have played an instrument before, especially the guitar, can usually adapt quickly. That is why it was such a good instrument to play with my friends, as you can have fun with it straight away. The ukulele is also quite a forgiving instrument and when you're playing in a group, there's enough noise to cover any wrong chords. It's just an enjoyable and affordable way of playing in a group socially, and I'd recommend it to anyone who wants to play an instrument and have a good time.'
For more information, visit: www.horshamukesoc.uk