Marching On: Slinfold Concert Band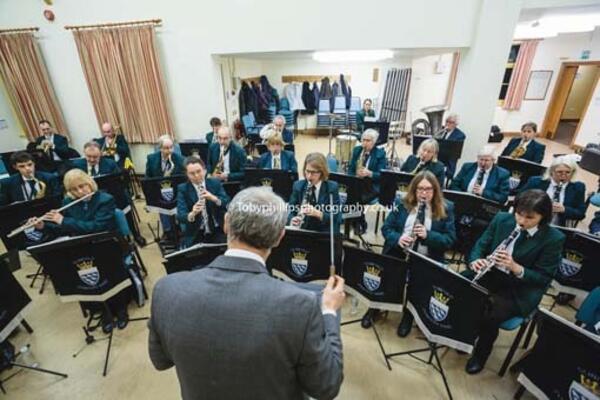 Published on 3 February 2015
Slinfold Concert Band was founded in 1978 with just a handful of players, but now a 50-strong Band performs a varied repertoire. AAH popped along to the Village Hall to meet its members...
Chris Youngman (trombone)
The band obviously started in Slinfold and I should think that initially most members would have been young people based in the village. We have a clarinet player who lives in the village, but otherwise band members are
primarily from Horsham, Billingshurst and across the district. We still meet on Tuesdays at Slinfold Village Hall.
Andrew Duncan (timps/alto clarinet/bass clarinet)
At each concert, we change most of the numbers we perform, although we have a programme of songs we play throughout the season. We have about 600 songs in our repertoire overall. There is always new music being released that you want to learn and also some pieces written long ago become popular. Chris, our musical director, likes the jazzier stuff so we play a certain amount of that. He decides what we play and that is as it should be, but that's with advice from the band.
Christopher Newport (Musical Director)
The Musical Director in a concert band basically decides what the band is going to play. I will listen to suggestions, but if anyone says that a piece of music is too hard then we see it as a challenge! I like to throw people in at the deep end and say 'let's give it a go!' I've been here for two and a half years now and they are used to it now.
Polly Hobbs (clarinet)
We played about 15 concerts last year. We performed at the bandstands in Horsham Park and Carfax, we played at Godalming in the Park and two big events at Ghyll Manor in Rusper. This year we are going back to The Capitol to perform, having not been there for several years. At rehearsals, we are quite relaxed and have a laugh but when we perform in public you have to be disciplined as it's the moment we put everything together.
Chris: There are not a great number of concert bands around. The nearest to us is probably Crawley Millennium Band, and some of our members play there too. Concert bands are different to brass bands in that they also have woodwind instruments such as clarinet, saxophone, bassoon and flute. Also, a brass band needs to sticks to a rigid formula in terms of the number of instruments, but we do not have those constraints.
Christopher: We are restricted in the sound we produce in some respects, as there are no strings - just wind, brass and percussion. But you can do an awful lot without strings. Some music can be very difficult to perform if it has been transcribed from an orchestral piece and sometimes it may not suit wind instruments, as players need time to breathe whereas string musicians can just keep playing.
Polly: I started playing the clarinet at school and then had a long break lasting 30 years before starting again, but that is quite common. It is amazing because it comes back to you really quickly - it is like riding a bike. A friend persuaded me to play in a show that she was putting on. I then joined the band in 2002. I had just moved into Horsham and was searching for bands online and found Slinfold.
Chris: I joined the band 12 years ago. In truth, my playing was not initially up to standard. I came from an Adult Education Band having not played for many years, and it was a case of having to improve. Fortunately I did. Most people will improve quickly in a disciplined environment. I don't think there's anyone particularly weak in the band, but certainly some of the better players are moving towards a professional standard.
Christopher: A lot of people haven't played since they were at school and then come back after they've had a family or career. I'm also the conductor of the Sussex Youth Orchestra and the numbers are really strong, with up to 100 children covering all sections of the orchestra. We have a good mix of ages here too - I think our youngest member is about 19 and the oldest is in their 70s.
Lisa Martin (drums)
I'm studying at the Academy of Contemporary Music in Guildford. One of my course tutors put me forward for the band as they needed a drummer. I was nervous initially as there are so many people in the band and it can be quite intimidating. But everyone is genuinely so nice and helpful. At first I didn't really know what to do, but you pick it up quickly!
Polly: I think the youngest band member we have had was only 11 when they started, although they were playing to a good standard. We do have people who leave to go to university, and some return during holidays.
Andrew: I have been with the band since 1997. My own musical taste is classical but we play all types of music here - swing, classical, jazz, big band and songs from the musicals too. Tonight we have been rehearsing Frank Sinatra songs and music from TV detective shows. Everybody has a pad with about 60 pieces of music at any one time.
Christopher: We perform traditional concert band pieces such as band marches, some classical, and we've just played an arrangement based on 20th century cartoons, including The Flintstones and Tom and Jerry. I think a concert band should be open to play anything. Sometimes, players need six weeks to learn a piece, but we don't necessarily have that time so I leave themto it. Nowadays, people can download music on iTunes so they can play along at home and learn their part.
Lisa: I'm studying contemporary drumming, so playing in a concert band is very different for me. Contemporary drumming is based more in rock and jazz. Here, I have to follow the conductor, whereas with contemporary drums I'm normally leading.
Chris: We have about 45 members in the band, and usually fluctuate between 40 and 50. When we play on the bandstands, we have to scale down as there is not enough room for everyone. At full strength in a concert hall we can all play.
Andrew: We do like to play music that we think people want to hear, as it brings back memories for them. We are currently learning a cartoon medley, which is actually very difficult. Often, the lighter the piece of music, the more difficult it seems to be to play!
Christopher: Our concerts are a chance to show the public what we have learnt over the past few months and to show that we are enjoying ourselves. Also, it's an opportunity to play under concert conditions rather than stopping and starting as we do at rehearsals.
Chris: We are a friendly band. We meet socially too, hosting skittles evenings and things like that, and we often have a drink in the pub after rehearsals. A group of us even met up on New Year's Eve, as we have done for many years. Everyone always says that we are a friendly band and that certainly doesn't apply to all bands.
Polly: Within a week of moving to the area and not knowing anybody, I was part of a concert band and I felt straight at home. I walked in, they said 'here's our new clarinet player' and made me welcome. A lot of
people say that about Slinfold.
The Band will perform a concert at The Capitol, Horsham, on Sunday 17 May at 3pm. Tickets cost £12.50 (£1 for Under-16's) from 01403 750220. For more details visit
www.slinfoldconcertband.org