Piano Centre is A Major success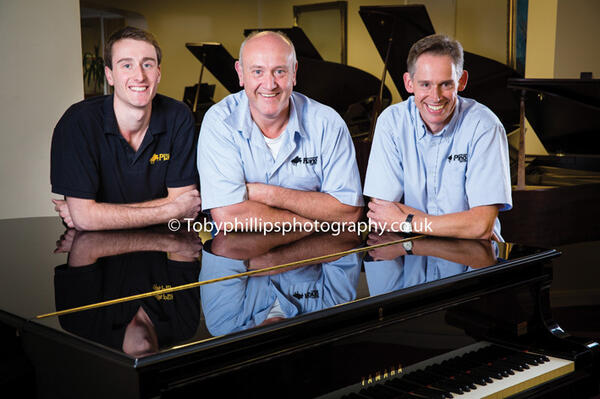 Some years ago, when Paolo Gucci lived in Rusper, he decided that his furniture didn't quite suit the extravagant décor and pink curtains of his mansion. Gucci turned to an interior design company in Horsham to adorn the house in a style befitting the Vice President of one of the world's leading fashion empires.
On his wish list was a pink piano, and the job was passed on to the Horsham Piano Centre in Queens Street, Horsham.
Gucci's demands were very precise; he wanted the piano to be pink but he wanted to see the wood grain as well.
So the instrument was stripped to the shell and the wood was bleached many times until it was white. Then the pink varnish was added and the piano was polished, created a striking and unique grand piano so Gucci could tickle the ivories in perfect harmony with his hanging fabrics.
Such extravagant jobs are rare, but even today the piano centre cares for instruments steeped in history. Currently in the shop there is a piano that for many years lived at Ridge Farm Studios in Rusper, where it is likely to have been played by bands such as Black Sabbath and Queen. It was at Ridge Farm that Queen first started rehearsing Bohemian Rhapsody.
The Horsham Piano Centre probably has the worst ratio in town in terms of the number of window shoppers it attracts to the number who actually enter the shop. Many people look in, briefly dreaming of one day stunning their friends with a perfect recital of Flight of the Bumblebee or Rachmaninoff's Piano Concerto No.3, before realising it's unlikely to happen and walking away!
When you do enter the shop, next to the iron bridge, it's a surprise to see how large it is, with an area devoted to piano restoration at the rear of the shop. But it has been even bigger.
The shop was opened in 1980 by Paul Smith, but is now run by his brother, Andrew, as well as Shaun Durrant and Andrew's son, Sam. Shaun's grandad used to run a piano shop in North Street, where The Black Jug now is, and his uncle, the late John Durrant, was also a well-known piano tuner in the town.
Andrew said: "This site has a lot of history to it, as it's on the site of the old Horsham jail. We believe this was the yard area and people were probably hanged here. A couple of years ago, a woman in her 70s came in. She used to live in the flat above the shop and told us that she and her sisters would never come downstairs at night as they would scare themselves silly with ghost stories!
"When my brother first took over the shop, one of his first customers was a policeman who said 'Last time I was in this building I was removing a dead body'. Apparently there was a brothel in one of the flats above and there were several incidents there. Spooky things do seem to happen here!
"It was my brother who opened the store. He was a pianist, and went to the London College of Music to study. He loved pianos and wanted to carry on working with them. Our father told him that he would never make any money in pianos, so Paul decided to go back to college to learn about tuning and furniture restoration.
"When he left college in 1980, he was offered the chance to set up a workshop for Steinway & Sons in Australia, but he declined and he took on the shop here instead. He had a colleague who then left to set up a piano shop in New Zealand, so he needed someone to help him.
"I wasn't particularly happy with what I was doing so I said 'I'll come and help you for a bit'. I thought I would be here six months, but that was back in 1983 and I've been here ever since!"
There was huge demand for pianos in the 1980s, and the Horsham Piano Centre was importing pianos by the container load, displaying up to 100 instruments at the shop and storing the rest at a warehouse in Denne Parade. All kinds of pianos were being sold; Young Chang pianos from Korea and Steinway pianos from Germany and America sat alongside leading English piano manufacturers including Welmar, Knights, Kemble and Broadwood and Sons.
At a time when lots of people had surplus money, pianos sold in large numbers. Such healthy trade ensured that there were half a dozen specialist piano shops in West Sussex alone. Now, Horsham Piano Centre is the only one in the county and the vast majority of English piano makers have disappeared or been bought by overseas investment companies.
Paul downsized the business from three to two shop units in 1991, a year before he retired. He has recorded several albums as Paul Sylvan, and now lives with his wife on a barge and travels extensively. Andrew took over the business and soon after recruited Shaun, who later became a director.
Their most dramatic moment came in 2007 when a fire, caused by a faulty electrical meter, caused £400,000 of damage in the store. Several of the pianos were totally destroyed by fire, and many more were lost due to severe smoke damage.
As time has gone on, the sales side of the business has dwindled as piano demand waned, but the restoration and storage arms has helped keep the business profitable.
Shaun said: "It has been tough at times and it's still up and down.Overall, it's not too bad, but selling new or second hand pianos alone will not provide enough business, so you have to do restorations. There's no point in selling things such as piano books either as people order these on the internet these days.
"We are slightly protected from the internet as experienced players need to know how a piano feels. They will come in and test the instruments themselves, as some have a light touch and some have a heavy touch. Each
instrument has its own character.
"For example, all Steinways won't sound the same. I remember reading an article about the factory in New York, and they said that certain ones sound fantastic and others don't. The wood will transfer the sound in a
different way every time.
"But the internet has hit the digital sales in quite a big way. We have the Kawai CN34, KDP80, CL26 and CL36, and KCP-90, and in recent years the sound has improved a lot due to responsive hammer action. New piano sales have also been affected. You will see people come in, see one they like and then play with their phones to see if they can buy it cheaper from a warehouse somewhere. They don't understand that they need tuning and proper preparation."
With the demise of the leading English brands, Steinway has now been joined in a group of elite piano makers by the likes of Yamaha, Bechstein of Germany, Bosendorfer of Austria, and Fazioli of Italy.
A vastly tweaked Yamaha C3 grand piano owned by the Horsham Piano Centre is often hired out by leading artists. The instrument has been graced by many musicians performing at the Capitol in Horsham and at venues along the south coast.
Jamie Cullum and Toploader have played it, and in November it'll be used by Alexander Armstrong's band for their sell-out Capitol concert. To keep themselves busy though, Andrew, Shaun and Sam always have restoration projects on the go.
Andrew said: "We started doing tuning work in the early days and gradually we built up a client base. When you sell a piano you're not likely to sell another one to the same customer again, unless they want to upgrade to a grand piano. But if it's a second hand piano there is a likelihood of it needing the odd piece of repair work, so that brings some work in.
"Also, over the years, we've built up the restoration side of the business and that's something we enjoy doing. In terms of our business, it's now evenly split between restoration and sales. People inheriting a grand piano are now thinking 'That's quite a decent piano, we'll spend some money to bring it back to shape' rather than buying a new grand piano for £8,000.
"It'll normally cost upwards of £3,000 for an extensive restoration, although seeing as it takes a month in man hours, that's very good value.Each instrument that comes in is a fresh challenge, as they all have different finishes and require different materials. We are currently working on an English Broadwood, restringing it and restoring the sound board.
"Some arrive looking like they're in a terrible state, with busted hammer shanks and missing key tops, but sometimes this is not too serious. But it's always a balance in terms of justifying it financially, for us and the customer.With the upright pianos from the 1920s and 1930s, it costs several thousand pounds to bring them up to good working condition, but they do not carry great value. You can buy a new piano for the price of restoration.
"Some pianos we come across have cracked frames and once that happens it's pretty much the end of the instrument. It's firewood.
"We do offer a disposal service, but some people decide to take a sledgehammer to it instead, rather than paying, which is actually quite a dangerous thing to do. The string tension is about 20 tonnes of pressure and if you hit that you'll have shrapnel and strings going everywhere. You only do that once!"
Whilst the internet may have eaten up a huge part of the musical instrument trade, there is, seemingly, some hope for businesses built on strong word-of-mouth.
"We're a little out-of-town here," said Andrew. "But because we are in a specialist industry, people are still going to come here. "But, I have to say, I think we have a good reputation and people like a business that has been around for a long, long time."
The Horsham Piano Centre is at 1 Queens Street, Horsham. Call 01403 254223 or visit www.horshampianocentre.co.uk