The Horsham Performers Platform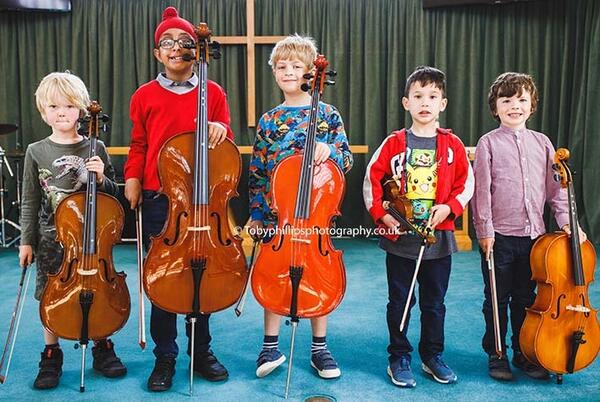 Published on 1st July 2019
For ten years, Horsham Performers Platform (HPP) has offered the chance for singers and musicians to showcase their talents. It has evolved to become a two-week long festival catering for all, from novices to seasoned performers, culminating in a celebration concert of outstanding musicians.
Rather than handing out placings or prizes, experienced adjudicators mark each performance, ranging from Fair, Moderate and Merit to Commended, Distinction and Outstanding.
Rachel Ellis, Co-Chair of HPP, said: "One of the distinguishing features of the Horsham Performers Platform is that it's non-competitive. Many festivals hand out awards but we find that teachers, participants and their parents prefer our format, as there's no added pressure. Music isn't a sport. One performance shouldn't be measured against another. For those who learn an instrument, music is its own reward."

THAT'S ENTERTAINMENT
HPP blossomed from an idea by three local musicians. Rachel Ellis (violin), Kay Tucker (cello) and Rosemary Hensor (piano) performed as a trio. They also taught music individually and every year would come together so that their students could perform. This event grew steadily and they felt that other music tutors in the Horsham area should also be involved, presenting more young players with the opportunity to perform. So, the first HPP Festival was held at St John's Church, Broadbridge Heath in 2010.
Rosemary said: "Performing in public is a great confidence builder. All of us need to stand up and perform at various times in our life, be it a job interview, a wedding speech or a presentation at work. It is nerve-wracking if you're not used to it."
"Performing in front of others at an early age helps you to gain confidence and when someone gives you positive feedback - remarking how well you've done or how brave you are to have tried - it can only help you improve. The confidence people gain from performing here makes them better musicians and impacts other aspects of life."
"For many youngsters, the only time they play is when they're approaching a music exam and it's alien to them, as they receive no feedback, as adjudicators sit there writing. Here, you can see on their faces how delighted they are to receive a round of applause for their performance. It teaches children that they can entertain, as music is a performing art."
ABSOLUTE BEGINNERS

Some musicians in this year's HPP line-up may go on to achieve great things in music. They wouldn't be the first and can take inspiration from the likes of Laura van der Heijden (BBC Young Musician of the Year 2012) and saxophonist Jess Gillam, who closed the 2018 BBC Proms in style.
Rachel said: "I remember a boy called Lawrence Schofield coming through the festival. He was a beginner on the baritone in the brass section, but stood up and gave a wonderful performance. He absolutely blew us away and received an 'Outstanding' from the adjudicator, which is rare for someone so young."
"Lawrence has recently been appointed the principal trombone in the National Youth Orchestra and it's been nice for us all to see his journey, as he was a regular at HPP. He's also a skilled arranger and a brass ensemble played one of his pieces at this year's festival."

WALTZ & MATILDA
Having started predominantly with strings and piano, HPP's repertoire expanded. The woodwind and brass sections separated as the number of performances increased, with trombones, baritones and French horns now held on one day and woodwind on another. The variety has increased too. There are opportunities for pre-grade 1 performers, as well as pupils of Kay's Stringbabies classes for cello and violin. Duets allow teachers to perform with pupils, while occasional special performances have included a saxophone quartet.
Whilst the Horsham District is well represented, HPP attracts people from much further afield. Keen musicians play at lots of festivals to gain experience and pick up advise from experienced adjudicators. At this year's HPP, they included Graeme Humphrey (who taught piano at Royal Academy of Music for 36 years), soprano Jane Wilkinson (Head of Singing at Chelsea Academy), Jena Pang (who studied Music at St Peter's College, Oxford), Benjamin Costello (Artistic Director of Thames Concerts) and Liz Childs (Director of the Bedfordshire Woodwind Academy).
Kay said: "We have seen a wider variety of music being performed too, from classical to contemporary. That's especially the case with vocal performances. Yesterday, we heard a young boy singing an operatic song, Panis Angelica, before a girl sung a song from Matilda. Our adjudicators are very experienced and are at ease with classical, jazz, musical theatre or contemporary pop music. We see everything here and occasionally welcome families performing together."

LEITH HILL EVENT
Throughout its lifespan, HPP has been held at St John's Church in Broadbridge Heath, which the three founders attend. Rachel's late husband, Hugo Ellis, ran a Space Arts Project at the church, recognising not only the hall's fine acoustics but also the intimate setting which puts musicians at ease. Hugo is remembered by a self-accompanied song category named in his honour.
"One of the reasons we chose St John's was because of the community here," says Kay. "We have a devoted group working behind-the-scenes, providing meals for adjudicators, serving tea and coffee, manning front of house, helping with fundraising, year after year. We've also benefitted hugely from the input of other teachers, who have introduced new elements to the festival and who continually provide us with feedback."
"A more recent element to HPP is that we take a selection of performers to Leith Hill Place, the childhood home of Ralph Vaughan Williams, to experience what it feels like to play in a prestigious venue. We're always looking at how we can improve and encourage more people to enjoy performing, as playing music at any level is richly rewarding."

WORDS: BEN MORRIS
PHOTOS: TOBY PHILLIPS

For more information visit www.horsham-performers-platform.co.uk