South Downs Strings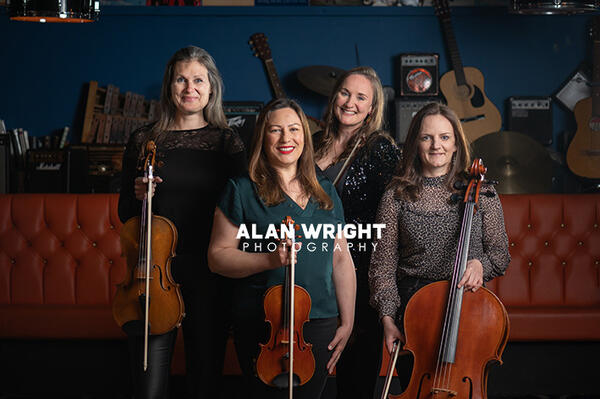 Published: 1st May 2021
Who do we have here? South Downs Strings featuring violinists Sheraine Lynsdale-Nock and Dawn Kelleher, cellist Emily Mitchell and Bimbi Urquhart on viola. They perform at weddings and events across West Sussex and beyond.
A String Quartet then? It's more a collective of musicians. A handful of others can be called upon, depending on commitments of individual members. This means they can even play at different venues on the same day.
Big demand for Mozart then, is there? Well, South Downs Strings do things a bit differently. As well as performing pieces by the great composers, they play string arrangements of pop songs. Sheraine says, "As a young musician, when I should have been practising, I was working out how to play Rick Astley's 'Never Gonna Give You Up'." It's a similar story with the others. Now, thanks to lockdown TV, there's huge demand for this type of music.

How come? One word. Bridgerton.

Sorry? Bridgerton is a wildly successful period drama on Netflix, loved not just for its lavish costumes and saucy scenes, but a wonderful soundtrack. As well as introducing a new audience to Beethoven, Bach and particularly Vivaldi (thanks to Max Richter's version of The Four Seasons), it features string arrangements of pop songs by artists including Taylor Swift, Ariana Grande and Maroon 5.
And people like it? Indeed they do! Sheraine says, "For every single wedding enquiry we've had over the past year, we've been asked to play music from Bridgerton. It has been a huge hit and the soundtrack features several songs by the Vitamin String Quartet. They're based in LA, but we are Sussex's answer to the group. One recent commission was from a client in the US who wanted 'Strange' by Celeste for her wedding. They loved the idea of having the piece arranged by a UK musician."
Surely there hasn't been much demand lately? Normally, SDS play a minimum of 30 performances a year. Even though the pandemic decimated the wedding and entertainment industries, the group managed to perform a couple of times and were also picked up by a bespoke music agency in the French Riviera. Now, thanks to a combination of re-arranged weddings and the "Netflix effect", bookings have gone through the roof.
Do the group enjoy playing classical versions of pop music? Enough for them to see sheet music for Frank Sinatra's 'My Way' hanging on the wall at The Rec Rooms and spontaneously perform it! Sheraine says, "We don't make any distinction between pop and classical and certainly don't think contemporary music is less worthy. We're not afraid to mix genres and will happily play a Haydn string quartet followed by 'Sweet Child O' Mine' by Guns 'n' Roses. Pop music can be just as dynamic."
Do many songs work in classical form? Because string instruments are very versatile, most songs translate quite easily. Bimbi has been working on arrangements to songs by Clean Bandit, a successful British band who have conquered the charts by combining classical and pop elements, with songs including 'Rockabye' and 'Symphony'. Ed Sheeran is another artist whose songs suit strings. Bimbi says, "His voice is naturally quite low, but he sings high notes too, which lends itself to strings as we can be flexible and play beyond a singer's vocal range."
So, do all the musicians follow the same notes? A good classical arrangement of a song will incorporate the differing sounds of the cello, viola and violin. SDS even add rhythmic and percussion elements too. "Musicians are forever exploring ways to create sounds and enhance the capabilities of instruments," says Bimbi. "You can create percussion by hitting your instrument in a technique known as chopping. It has its roots in folk and Celtic music, but classical performers can adapt it too."
Do SDS write their own arrangements? There's a fast growing library of string versions of pop songs and the group's repertoire is now so big that they need to store it digitally to avoid carrying around thick piles of sheet music. However, sometimes members do arrange pieces themselves. Bimbi says, "Sometimes we have a request for a song that isn't well-known and need to write a new arrangement. People are hearing classical versions of contemporary songs and wondering how their own favourites would sound. We've even performed works by Metallica and Led Zeppelin, as classic rock tends to be multi-layered and translates well."
How to people react to it? Some get up and dance! Sheraine says, "That's not what we're booked to be, so when it happens, it's a spontaneous reaction and a sign that we're connecting with people."
So, how did the group first come together? Sheraine is a Horsham-based musician who met Dawn 20 years ago through a violin teacher, then working at Christ's Hospital. Sheraine later met Bimby when she played William Walton's Viola Concerto with Horsham Symphony Orchestra. Emily is a well-respected soloist and arranger and joined the quartet after a gig in Brighton. South Downs Strings finally came together five years ago.
Do they perform outside the group too? Yes. Bimbi has played with pop rock band Bastille, both recording and on the festival circuit, including Glastonbury. Sometimes, others join the group. Marie-Anne Bruccheri is a violinist who has played with the quartet before and has also performed with Eminem as one of six violinists at the rapper's London gigs.
What's next for South Downs Strings? They play at a Yoga & Music event on 30 June. Held in collaboration with Summerhouse Yoga, the event aids Help Musicians UK and Crohn's & Colitis UK. They also hope to perform at the Brighton Fringe Festival with Brighton-based singer Ela Southgate on 6 June and are seeking performance opportunities with local businesses.
What about recording? An idea of recording classical versions of music associated with Tom Cruise films has been mooted.
Sounds a risky business... In what way?
Like, a mission impossible…Oh, I see. The idea actually stems from Sheraine's love of Top Gun. That aside, the group has discussed the idea of exploring an orchestral disco sound to appeal to new audiences.
Exciting times ahead then? There are opportunities as classical music heads in new directions. Scala, a digital radio station, launched in 2019 and is attracting younger listeners. Even the Royal Opera House is using TikTok so that the arias of Verdi and Puccini can reach new fans. Sheraine says, "This evolution is a good thing and I'm always mindful as to how we speak about classical music, because people don't have the vocabulary to know about adagios or allegros. Nobody should worry about using the right words! If music moves you, then that's all that matters."
Words: Ben Morris
Photos: Alan Wright Photography
Further information: www.southdownsstrings.com