Mature Melodies from Route 42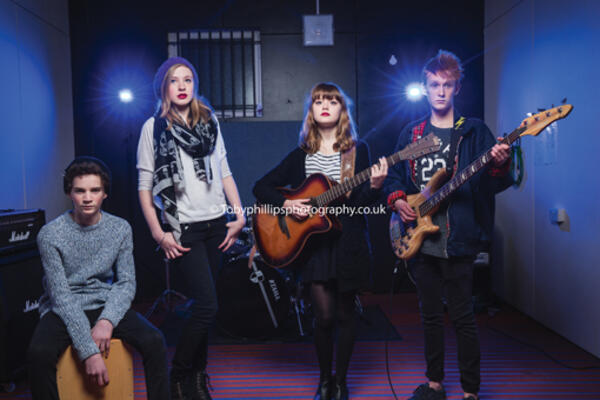 Published on 6 April 2015
I remember my own musical career lasted exactly one afternoon. As a 14-year-old fan of The Smashing Pumpkins with the (lack of) ability to play three chords on the guitar, I joined forces with a friend who worshipped Liam Gallagher. It was 1994 and that was normal for the time.
I played a tune, of sorts, and my friend made up words as he mumbled along. Thus our only song was the comically titled 'Time is the Way That we Live Our Day.'
A couple of years later, I threatened to play the recording at a party, and my friend grabbed the cassette (kids, that's an old format that made it sound as though the music was coming from inside a washing machine which itself was in a faraway nuclear bunker) and hepromptly smashed it to pieces.
It was just one of many songs in existence that prove that there is a very good reason why the masses don't get to hear songs written by 14-year-olds! Learn to play an instrument, by all means, and cover songs that you love by your favourite bands. But please spare us your own material!
So when I received an email from a reader of AAH whose son was one quarter of a band with 'incredible talent' that had 'captivated audiences' in Steyning, I immediately dismissed his views as blinkered parental pride.
For my own amusement, I thought I would give this band – Route 42 – a listen.
I must confess to being hugely disappointed with the poor comical value in their songs. There was nothing particularly funny about it at all. Instead, there was a confident maturity to the lyrics and a pleasing melody too.
There was more than a hint of First Aid Kit about it, but as I quite like the Swedish folk duo, I didn't mind at all.
So I headed off to QM Studios in Horsham, where the band recently recorded their first EP, Paper Moon.
With parents left down the hall chatting over a cup of tea, we met 14-year-olds Jack Harding, Maisie Peters and Hayden Taylor, and Kat Whitting – a comparatively worldly 15-year-old.
They took us through the Route 42 story...
Hayden (Guitar/Cajón)
We are all Year 10 pupils at Steyning Grammar School, and three of us were all in the same maths class. During a lesson, our teacher happened to refer to 'Route 42' when discussing mathematics, and Kat and I looked at each other as though we both thought it could make for a good band name. We were due to play a show a couple of days after that and we needed a name!
Jack (guitar/bass)
I went to Ashington Primary School, which was a very musical scope because of (then) head teacher Mr Garrett. I wrote a song whilst I was there called 'Freewheeling' and performed it at the primary school concert. I got a standing ovation! I didn't know much about music because I was only nine at that time but after that I started practising with Hayden, who was a really good singer and played a few instruments too.
Kat Whitting (Vocals/Keyboards)
The band started to come together in Year 9. Maisie and I had sung a few things together, but nothing serious. We used to sing old Disney songs from films like The Jungle Book and The Little Mermaid. We both went to an after school club called Rock Factory, where people could meet up and play music together. Hayden and Jack are in my form class at school so I knew them a little bit, but not very well. I guess we just bonded at Rock Factory.
Hayden
We played at a few times at school and then we performed at the autumn concert. I suppose that was the start of things for us as we were noticed for that. By noticed, I mean that our picture was put on the school message board and we were 'band of the month!' But for us, it was a big achievement.
Maisie (vocals, guitar)
To begin with, there was only a vague sort of band without a name, and several people came in and out of the group. We were mainly singing covers, including Crazy in Love by Beyonce, but we always tried to make the songs our own. But then we started writing our own material and that cemented the bond between us. Jack came to us with the basis for our first song, and we started writing lyrics for it. That song is now called Falling and is the last song on our EP.
Kat
Maisie is amazing at song writing. We started writing a song about Peter Pan and she was coming out with lyrics that I would never even think of and they sound great. We write the lyrics together, but the boys bring a lot too so everyone contributes to different songs. We don't take individual credit for any of them.
Hayden
Things started happening after we entered a competition at Northbrook College in Worthing. We represented Steyning Grammar at the event which was like a band slam competition for local schools. We only played one song and it didn't go that well as the acoustic guitar wasn't even switched on. So we didn't win, but afterwards the organisers contacted our music teacher and said that we showed 'flair'. They invited us to go back to Northbrook for a recording session.
Maisie
Another music teacher at Steyning plays in a band, and he was playing at the Live Lounge in Steyning, which showcases local talent across the arts. You can just go along and perform, whether it's one song or 10 songs, and the organisers and crowd are really supportive. We were invited along for a gig there and it was great.
Kat
Until then, we hadn't really played in front of an audience that wasn't made up of our parents and friends. Of course, they always tell us how good we are, so it was nice to play to a proper audience. We were nervous right at the beginning but everyone is really encouraging and we have now gone back to the Live Lounge a couple of times, playing with some very good bands like Epsilon. At our first gig there, we covered a song called Cool Kids by Echosmith, but I just went blank and missed my start point several times! We had to start over five times and I never did get it right.
Hayden
The crowd was really supportive even though we were getting it wrong every time, which was really good because it could have been awkward!
Kat
It is great though to have the support of our parents. My mum didn't even know I could sing before all of this, because I never used to sing as well as I could. When she heard me at the autumn concert she started crying and when we were recording, she had tears in her eyes again!
Maisie
I sang all of the time at home and have written songs since I was in Year 7, so I have never been shy about it. One of my favourite bands is First Aid Kit. I have a twin sister and I'm forever telling her to learn an instrument so we can be like First Aid Kit, but she has so far refused! But that is the sort of sound Route 42 has, with Kat and I singing together. I much prefer the format of singing with Kat though as it gives the song more harmony.
Kat
It's the same for me. Maisie was on holiday for one of the gigs that we did at Ashington Carnival, which was a big deal for us. I asked a school friend to step in and she is a brilliant singer and very talented, but somehow our voices didn't seem to work as well together. Maisie and I have been singing together for so long now that we know what the other one is going to do. We started writing a new song the other day and started humming the same melody.
Jack
Now we have our new EP, called Paper Moon, with five tracks on it. We recorded the EP at QM Studios over Christmas, with a brilliant producer called Patrick Fitzroy who really understands what we want to sound like. Even after the first day of recording it was like when you had known him for years. We have the title track, Paper Moon, as well as Darling, which is an acoustic love song with a cool twist. Then we have Flatline, Alice and the final track, called Falling. That song ends very abruptly and at gigs we try and do a little punky jump at the end!
Hayden
I designed the sleeve for the EP. It is in the style of a paper cut, so you take a big sheet of back paper and use a scalpel to cut into it before placing it on another piece of paper. It was originally my art project but when I started
designing it and showed it to the band they said 'that's brilliant' and that it should be the sleeve because there was a paper moon!
The Paper Moon EP will be available on iTunes and Spotify soon. You can also purchase a copy directly by email from jon@hardings.biz