HORSHAM BOROUGH BAND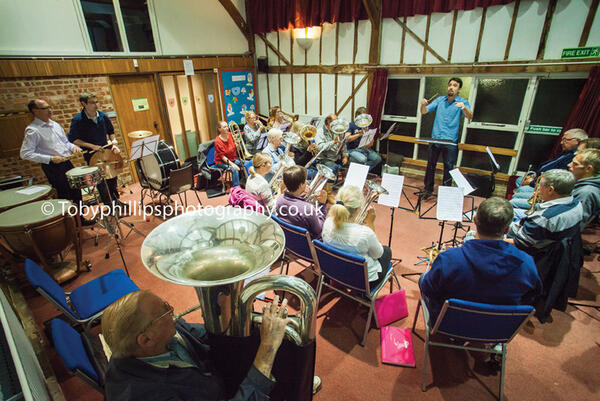 Queen Victoria was still the reigning monarch when Horsham Borough Band played for the first time.
The band, which later became the Silver Recreation Band before settling on Horsham Borough band in 1974, made its first public appearance in the town in 1903. They had though already performed in Cowfold to mark the Coronation of King Edward VII in June 1902, two years after the band was formed at a meeting.
Incredibly, the band still exists today, playing to a high standard in competition and regularly performing concerts. Later this month, a concert will be held at London Road Methodist Church, with the band performing music that was performed by the band during its early days.
The October 13th concert has been organised by the band in association with Horsham Museum to recognise the contribution of William Albery. Albery was a founder member of the band as well as a keen historian. When he died in 1950 his extensive collection of historic posters was donated to the Museum.
Many of the concerts raised money for good causes both at home and abroad. The band raised funds for those affected by a mining disaster in 1913 which claimed the lives of 429 men in Senghenydd, as well as the Empress of Ireland tragedy of 1914 that saw 1,000 people lose their lives. A special concert in 1912 for the Titanic Disaster Fund raised £20.
Thanks to Albery, posters from these concerts, as well as many more, survive and many of them will be protected for the future thanks to a Heritage Lottery funded project. These posters will be projected on to a screen to provide an interesting backdrop to October's concert. Geoff Clarke, who has been playing ercussion with the band for ten years, said: "We were contacted by the Friends of Horsham Museum who have Albery's poster collection. Of the
200 posters in his collection, about 60 feature Horsham Borough Band.
"The Friends asked if we would like to do a concert around the theme of these posters. I went through our own archives of material, including programmes of the Coronation and Silver Jubilee concerts. Within that we found
programmes that matched the concerts advertised on the posters and discovered what music was played.
"We thought we would see if we could make a concert around that music. So we will be playing pieces that were played by the band 100 years ago. Some of the pieces we still play now – there is a piece called the Punchinello March (William Rimmer) which is well known and that was played in the 1920s. There are all sorts of classical pieces such as Mozart's Magic Flute Overture which are popular too.
"We are also hoping to play a piece called Return to Horsham which was written by the brother of Fred
Woods, one of our longest-serving members."
Having featured at many civic events, winning musical awards and playing live concerts on the BBC, the band has an interesting history. The archives reveal that it was amongst the best brass bands in the country in the 1930s and was the first outside of the north of England to play live on the BBC. For one of these requisitions, they were paid 15 guineas and was asked to play at 2am as the concert was being transmitted live to Canada.
The minutes from an Annual General Meeting during the First World Way suggest that the band had lost some 40 players and five conductors as they had been called up for service. But they trained local boys to learn the instruments and the band played on throughout The Great War, often raising money for relief funds.
Horsham Borough Band has also performed well in competition, qualifying for the National Finals at Harrogate in 2005, their first appearance for 15 years, earning a creditable 5th place and promotion to the First Section. They remain in that section of the London and the South East Contest and also play locally in Southern Counties Amateur Bands Association (SCABA) contests (the highest level is Championship Level, and then comes First, Second and Third Sections).
Two members - trumpet player Fred Woods and bass tuba player Peter Long have been with the band since 1948 and 1960 respectively. Peter said: "It's a much better band now than it was when I joined, but before my time they were playing at a Championship standard at places such as Crystal Palace.
"The band has been through some hard times but I can't recall any time when it was in danger of dying out. In terms of membership it has always been okay but at the moment it's very strong. To work something up and play it properly is rewarding for me.
"I'm too old for the socialising! I'm in my eightieth year so soon I'll want to leave and be replaced by someone younger but someone younger hasn't come along yet. The playing is not tough, but it's handling the instrument.
If I was a better player I'd be playing something smaller! But I like playing bass, I wouldn't play anything else."
Whilst some faces are part of the furniture, Horsham Borough Band is bold enough to make changes. Andy Kershaw has recently been recruited as Musical Director, in the hope that the band can maintain their position in First Section. It has in the past performed at the higher Championship level, but the First Section demands a high standard of musical ability.
Andy said: "The band is in great health. It is conceived that in general bands are not that young and it is a struggle to get young players coming through, but it goes in fits and starts. It's true that there are not as many young people coming through music systems at school so that is a bit problematic for the future of brass bands.
"At the moment we have a band with members across the age range, which is nice. Most of the chairs are full for rehearsals twice a week. We have the occasional guest player as it's a friendly community and players from other bands will help us out and vice versa when needed.
"For competitions, there is a cap on the number of band members, usually around 25. It's a horrible mix of music and sport, but the competitions were going long before X-Factor, probably about 100 years ago. All these bands, especially in areas where there are many bands concentrated in a small area, wanted to find out who was best. So there is now this national and international scene where bands are graded and you move up or down depending on your performances.
"You spend many weeks leading up to the competitions playing one piece and honing your skills and it either goes well or it doesn't. This is a good band and it's doing well. There was a realisation that it needed to up its game a bit. I work with a Championship Section band in Bedfordshire too, so I've got a bit of experience of working with a band playing to a fairly high standard. I have to say I don't conduct rehearsals any differently for the two. These guys work really hard. They wanted to move on to the next level.
"The band's work ethic is high and they were looking for somebody to put in as much as they do. Now we're getting good results."
It is common to assume that, as a brass band, Horsham Borough Band is primarily a marching band. But that is only part of its repertoire. They perform a lot of transcriptions of orchestral music, performing classic overtures by the likes of Mozart and Beethoven through to modern overtures by composers including Shostakovich that have been written specifically for brass bands. Brass bands also perform arrangements of music from films and musicals.
Andy said: "By playing concerts in public spaces we hope that we bring brass band music to people's attention. They might hear the Star Wars theme tune for example and think 'Hang on - I didn't know you could play that on brass.'
"One of the most famous string pieces of all – Barber's Adagio for Strings – is a beautiful arrangement for brass and if you're skilled and talented enough you can make it sound quite stunning. As well as these arrangements there is new music being written all of the time for brass bands."
The Albery Concert will be held at 7:30pm on Saturday, 13th October 2012 in the London Road Methodist Church in Horsham. Tickets cost £7.50 (£5 for students) and can be obtained from Horsham Museum or the band on 01403 263620.