The Shipley Arts Festival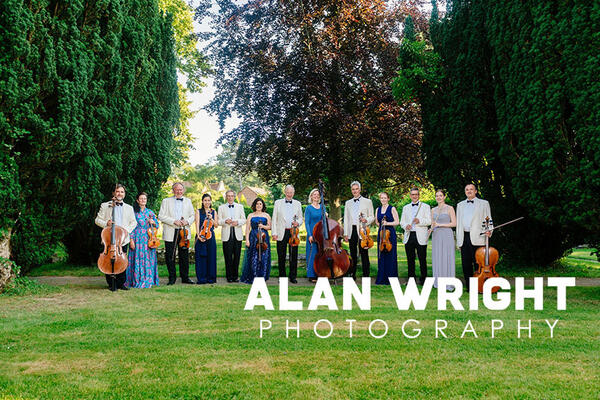 Published 1st August 2021
A day before the official "Freedom Day" of Monday 19 July, something special was happening at St Andrew's Church in the village of Nuthurst. On a day when 140,000 people crammed into Silverstone to see Lewis Hamilton and Max Verstappen take their rivalry to a whole new level, the small audience at the church still had to abide by social distancing guidelines for one last time. So, only a small crowd were present to hear the world premiere of a Violin Concerto by composer Paul Lewis. However, it was another significant moment for the Shipley Arts Festival, now in its 21st year, and one that further strengthens its reputation.

1696 Stradivarius
The Shipley Arts Festival (SAF) has established itself as one of the leading festivals of classical music in the UK. Similar in format to the Aldeburgh Festival (founded by composer Benjamin Britten), SAF is a series of events held over several months. Musical concerts ranging from opera to jazz or baroque to tangos are held at places of worship, schools and privately-owned homes, mostly within the Horsham District, including Warnham Park, The Blue Idol, Windlesham House School and St Mary the Virgin Church in Shipley.
At the heart of the festival is local violinist Andrew Bernardi, who plays a 1696 Stradivarius violin. As well as performing as a soloist, Andrew plays in trios and ensembles as part of the Bernardi Music Group (BMG), which features some of the most talented musicians in the area.

He could be forgiven for keeping his valuable violin under lock-and-key and playing a less valuable instrument in public. But for Andrew, it's important that the Stradivarius is appreciated by the whole community. "For a professional violinist, the Stradivarius is the pinnacle," he said. "It's like a racing driver stepping behind the wheel of a Formula One car. It's an indescribably good feeling." "What's special about the 1696 is that it's owned by a consortium of friends and supporters of the festival. It's a shrewd financial investment but an even shrewder cultural investment, as it reflects the musical heritage of Sussex. All but one of our investors is locally-based and they believe in what we're trying to achieve, in terms of bringing the community together."
"Since we bought it in 2013, the violin has been at the heart of the festival. It's become an emblem of excellence and something for the young players in our String Academy to aspire to. That's why every year we lend it to an outstanding violinist to play."
World Premiere
One of the most exciting aspects of this year's festival is a new Violin Concerto, composed by Paul Lewis. It was due to be performed last year, but was delayed when live music events were curtailed by Covid. The Concerto is composed in three movements, of which only the second, Shipley Idyll, has been previously performed (at Findon Place in June). The whole piece was heard for the first time at Nuthurst. Paul, who was present to conduct his own composition, said: "It's quite conceptual in that the historical 1696 Stradivarius inspired the Concerto. It has a standard three movement form but doesn't follow conventional classical procedures."

"The first movement takes the form of a jolly Italian dance and is called Cremona 1696, after the Italian city where the violin was made. The second is Shipley Idyll, to represent the festival and where the violin now lives. This movement takes inspiration from the glorious Sussex countryside, surrounded by the spirit of great composers such as Ralph Vaughan Williams and John Ireland. The final movement is Chinese Adventure, because Andrew has formed an association with an art school in China that we hope will lead to an exciting new chapter for the festival."
"All three movements are linked by a four-note motif representing the date 1696. The work opens with that, then I gush about the Sussex countryside before there's a mad Chinese gallop for the finale!"

Let John Listen...
Paul is best known for compositions for TV and radio, having spent 47 years what he calls "lurching from one show to another!"He wrote theme tunes to Woof! (about a boy who could turn into a dog) and Bernard's Watch (about a boy who could stop time with a magical watch). His music has also featured on The Benny Hill Show, Monty Python's Flying Circus and Antiques Roadshow.
Paul said: "Early in my career, I wrote library music, which is off-the-shelf music for TV, film and radio when there isn't the time or money to record something specific. Over the years, these have turned up in anything from British Pathé videos to American TV commercials.""When I was 22, I recorded Abject Terror, a mock Hammer Horror piece that sat in the library for decades without attention. Then I started getting royalties from a show called Spongebob Squarepants and had no idea what it was. I was in New Zealand when my wife's children turned on the TV and – lo and behold – it was my song with this strange cartoon sea sponge!"
"Now, I focus on concert music and I'm thrilled to have finally performed the Violin Concerto. It's nice to have played it in the same church where Vaughan Williams once performed. Of course, Shipley Church would have been wonderful too, as it's the home of the festival and another great English composer - John Ireland - is buried there. Whenever we perform in Shipley, I always leave the door open to let John listen."
Something in the Air
The programme for the Nuthurst Concert also included Bach's Air in D Major, as well as the German composer's Brandenburg Concerto No.4. While playing pieces by great composers such as Bach, Mozart and Vivaldi helps sell tickets, SAF takes pride in supporting new work by contemporary composers. Among its most successful commissions was To Notice Such Things by the late John Lord, formerly of rock band Deep Purple. The recording reached No.4 on the classical music chart.
This year, in addition to Paul's Violin Concerto, the Bernardi Music Group performed Great Hills by Cecilia McDowell, a leading light in a new generation of British composers. The first movement is entitled Lady Blunt's Stradivarius, in reference to the 1721 instrument which sold at auction for more than $15m in 2011. Lady Blunt is the great-grandmother of Lord Lytton, a patron of the festival.

The festival also has a String Academy. Here, young players benefit from the experience of musicians in the BMG, many of whom also play in renowned orchestras, including the Royal Philharmonic. The String Academy has formed an association with the Yehudi Menuhin School. Menuhin was one of the great violinists of the 20th century and as a former teacher of Andrew's had a major influence on his career. Even now, Andrew still plays his Stradivarius with Menuhin's bow!
Victoria Greenwood, who plays and teaches viola and violin, said: "When Andrew launched the festival 21 years ago, I was one of the few young students involved. It wasn't a fully-fledged String Academy then, because it was in its infancy, but it gave me the chance to learn from experienced musicians."
"I first learned how to play the violin at The Weald, before attending Trinity College of Music. But I maintained local connections and now teach at both Junior Trinity Laban Conservatoire of Music and Drama, and the String Academy. Young musicians are mentored to reach a higher standard and there are opportunities to perform at festival events. It's a great idea and has helped many young musicians gain scholarships to good schools or to pursue careers in music."

Arts Council
It's been a challenging two years, with Covid limiting opportunities for live performances. Yet the SAF has enhanced its reputation by continuing to host events online. It was this commitment, coupled with efforts to nurture talent through the Academy, that led to the SAF receiving a significant grant from the Arts Council earlier this year. Two of these online events – a concert in aid of Dementia Action Week and a celebration of the festival (including John Ireland's Toccata) are still available on the website.
Such events helped musicians get through a challenging time and maintain high standards until the welcome return of live music. This year's festival has included a concert at Lackenhurst featuring jazz violinist/composer Joe Townsend. At Durrance Manor in Shipley, the audience enjoyed music by Beethoven and Handel. Still to come are concerts at Warnham Park, hosted by Jonathan and Caroline Lucas, with a programme including Helen Ottaway's White Storks, a 2020 commission by the SAF. And on 6 November, there's an Evening of Fireworks at the Old Vicarage in Washington, featuring Handel's Music of the Royal Fireworks.

In addition to the festival, the BMG has performed a series of Summer Concerts at Leonardslee Lakes and Gardens. On 1 September, they will perform with two up-and-coming opera singers, soprano Charlotte Broker and tenor Ben Thapa, with famous arias including Puccini's Nessun Dorma and Delibes' Flower Duet.
Bruce Martin, who plays flute and piccolo, first met Andrew in 1994 while playing with the London Concert Orchestra for 27 years. He has performed with the BMG since its foundation and still gets excited about playing live. He says: "I started playing flute at a young age and still feel like that same child when I perform. I play with feeling and respond to the other musicians. Today, we played Bach's Brandenburg Concerto and I've never played it the same way twice. I like combining with other musicians to create little mini structures within a piece to get the best out of it."
"Sometimes, I get quite emotional. Once, I was playing a Piccolo Concerto and it was so emotional, I had to turn my back to the audience. But that's what music is about. We all have songs that transport us to a certain time or place, and stir happy or painful memories. For me, if I can translate that feeling to one person in the audience, then it's been a good day at the office."
Andrew hopes that the festival will spread further afield and already the BMG has forged links to China, with one live performance on TV watched by 40 million people there. "Exciting things are happening for the festival in China and Paul's third movement in his new Concerto reflects that. But even if we attract international attention, we won't get starry-eyed and lose sight of our core base. We have to stay rooted!"

WORDS: BEN MORRIS / PHOTOS: ALAN WRIGHT/AAH
Further information:The Shipley Arts Festival is sponsored by Wakefields, Toovey's; Kreston Reeves; Nyetimber; NFU Mutual Henfield branch and YuYuan Arts. For details of future concerts for the Shipley Arts Festival or Leonardslee Summer Series, visit www.bernardimusicgroup.com