CHRIST'S HOSPITAL CHORAL SOCIETY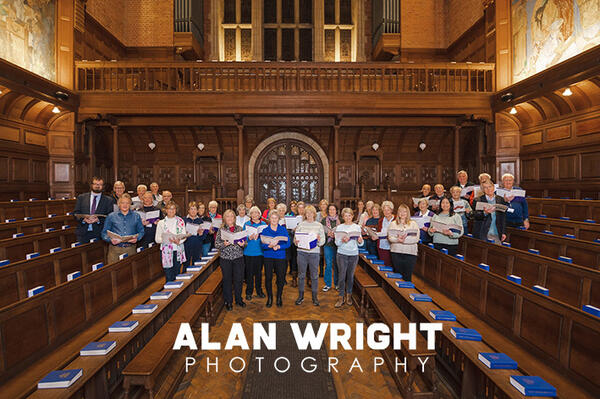 Published on 1st March 2022
As the Christ's Hospital Choral Society prepares for a series of concerts and workshops, AAH slipped in amongst the tenors during rehearsals at the School's Chapel. Later, we spoke to Conductor and Organist Ruaraidh Sutherland, Society Chairman Jonathan Copeland, alto Esther Clark, husband and wife choristers Mike and Patsy Cade, and Richard Phipps, one of a handful of Old Blues involved…

Jonathan: The CH Choral Society was founded about 40 years ago, initially for staff and select pupils of the School. Later, it welcomed people from the wider community and today, there are not many staff or Old Blues (former pupils) involved. The Society's Director of Music has always been the School's own Musical Director. Now, that's changed slightly, as we're led by Ruaraidh, the School's Organist.
Ruaraidh: The tradition of the choir being led by the Director of Music started in the 1980s and I'm the first person to break the cycle. Alex Hodgkinson, Musical Director at CH, passed the baton to me not long before COVID struck. But it's always been kept in-house and run by musicians at the School. If I cannot be here, somebody else from the department would step in. The choir has members from inside the CH community as well as people with no affiliation to the School. Ideally, I'd like to see more parents, former parents and Old Blues involved than there are currently.
Richard: I attended CH as a boarder from 1957 – 64. After retiring, my wife and I decided to locate to the area to be closer to our daughter and her family. I was reading an article in the County Times about the Society, which didn't exist when I was a pupil, and thought I'd go along, as I enjoyed music as a pupil, joining in with choral activities and playing the piano and organ. There are two organs still at the School that I used to practice on. For me, it's sounds rather than sights that bring back memories. When I heard the organ again, I instantly recognised its distinct notes and it was the same with the School bell. To be back at CH after so long away is a strange phenomenon!
Esther: When I was a girl, I sang in musical groups and loved it. When you have a family, you give certain things up, but singing was something that I missed. I didn't grow up with choral music, but decided to come along for the first time eight years ago. If I'd seen rehearsals beforehand, I'd have probably been too intimated, but fortunately I didn't and I'm still here!

Mike: My wife and I joined about 15 years ago, having sung in other choirs in Horsham. One of our neighbours and friends was Head of Chemistry at CH and his wife taught piano too. They sang in the choir and invited us along. People assume it's a School choir or that you need some affiliation to CH, but that's not the case. I was a bit scared initially, as I thought the choir would be so good that I'd be chucked out immediately! But it's very friendly and you're not pressured into learning how to sight read either.
Jonathan: I sang when I was at Dulwich College and got to perform at venues like Westminster Abbey and St Paul's Cathedral. I find that the things you love as a child tend to stay with you throughout your life, and for me singing is one of them. So, I joined the Choral Society in 1994 and it has been wonderful. I'm a tenor, which is great as tenors are in demand. Very few men sing, which is a pity. We welcome anyone though and although an ability to read music helps, it's not crucial and several members can't.
Ruaraidh: I choose the programme for concerts, but there's input from the committee. They have been known to tell me they don't like a certain piece and we find something else to sing! Planning this year's concert programme was hard, as we didn't know what shape the choir would be in after COVID. We met online for a year and now the choir is picking up again. Although I don't like the phrase "build back better", that's essentially what we're doing.
Esther: We normally host three or four concerts a year, but not much happened for a year and a half. We held a workshop in the Chapel last August, which was a success, and also held a Christmas concert.
Patsy: Our Christmas Concert is a mix of carols, where everyone can join in, as well as other festive songs. About 250 people attended and we had mulled wine and mince pies too, which was wonderful after what we've been through with COVID. For some people, the Christmas concert is part of their traditional festive rituals.
Jonathan: Next up is the Angus Ross Concert, an annual music highlight at CH School, where we will sing Faure's Requiem. I April, we present Happy & Glorious, our Jubilee concert, at St March's Church in Horsham, where the audience will be invited to join us in singing pieces such as Parry's Jerusalem. For me, the most satisfying music to perform are those great works - Mozart's Requiem, Handel's Messiah, Faure's Requiem – as they are joyful and uplifting. And I don't even speak Latin! I've sung in many choirs, but this is the one I've stayed with and that's partly because we sing the greatest music that's ever been written.
Ruaraidh: We'll always sing the classics, because that's what the choir enjoys most. It is also the music I believe people should be exposed to. Without getting into a cultural debate, people should have at least a passing awareness of great works like Handel's Zadok the Priest. By performing them, they'll continue to be known and loved.
Esther: I like singing music that has layers, where you're always discovering new things within the piece and adapting as a choir. In other words, music that challenges you. I also find it interesting to research the stories behind the music. At the Jubilee concert, we'll sing Zadok the Priest, one of Handel's Coronation Anthems (football fans will recognise it as the UEFA Champions League anthem) and found out that it's set to biblical text that has been used at every Coronation since King Edgar was crowned in 953.
Mike: It's a privilege to sing in such beautiful surroundings. Of course, the CH Chapel is very special and has lovely acoustics, although as a choir we prefer to rehearse in the Hertford Centre. The Society is an important part of our lives. My wife and I keep busy and do other things individually, but singing is one thing we love to do together.
Jonathan: In May, contemporary composer Matthew Coleridge hosts a Requiem-in-a-day choral workshop, which will be quite an experience. It's hard to imagine he'll ever be as renowned as someone like Mozart, but those that first sang Mozart's Requiem would never have thought it would still be popular more than 200 years later. So, meeting a modern composer and understanding how and why he wrote his own will be fascinating.
Esther: Normally, you think of a Requiem as being something composed centuries ago, but Coleridge has written a contemporary piece that still sounds very classical. Whereas requiems are usually associated with death, he wrote his after the birth of his son, so it's lighter and has fabulous harmonies. Workshops attract people from other choirs, as they're open to non-members, so hopefully we can attract new face. Certainly, learning a piece from the composer and performing it isn't something you often get a chance to do.
Ruaraidh: We're also working towards our November concert, performing Haydn's Harmoniemesse. It's technically challenging and not the sort of piece the choir is used to singing. But I think with time and preparation, they will rise to the challenge, as vocally, it remains a very strong choir.


Further information: The CH Choral Society rehearse on Tuesday evenings at Christ's Hospital School, 7.30 - 9.30pm. For details visit www.chchoralsoc.org
INTERVIEWS: BEN MORRIS / PHOTOS: ALAN WRIGHT