QM Studios: Beat of the Community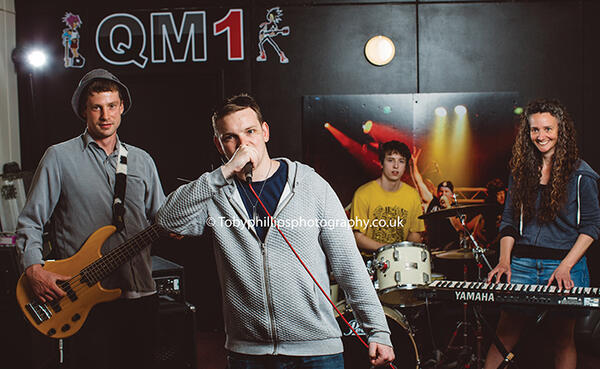 Published on 1st July 2017
It was a burgeoning local music scene that led to the foundation of the Horsham and District Live Music Alliance (HDLMA) in 1999.
The HDLMA would launch the popular Battle of the Bands competition that same year, an event that remains an annual highlight almost 20 years later. With so many bands across all musical genres, the late HDLMA co-founder Graham Ansell approached Horsham District Council to help them find a central location that could be used by bands to rehearse.Graham's widow Mandy Ansell, who continues to run QM Studios with the help of a small but devoted committee, recalls: "Graham was heavily involved in local music as a sound engineer and our son was in a band, so he wanted a place for musicians to practice.
"There was a studio in Cowfold that bands used but people wanted somewhere in Horsham. So, Graham and other HDLMA members met Trevor Beadle, Community and Culture officer at the council, who offered to help."Trevor identified the former Quartermaster's store behind the Drill Hall on Denne Road as a location," said Mandy. "That gave the studio its name. Everybody involved had the drive to make it happen."
Plug in and Play
At that time, the HDLMA would attract dozens of bands to compete in the Battle of the Bands. Heats were required before the final was held in front of a huge audience at The Drill Hall or Carfax Bandstand.The rehearsal space in Horsham proved popular too. Rooms were kitted out with amps for guitars and bass, microphones, drum kits and a PA system, as QM Studios adopted a 'plug in and play' approach.
This drew in rock and metal bands in particular and was pivotal in driving the HDLMA's efforts to create a local music community.Yet whilst the rehearsal rooms were booked out most evenings, the facility was rarely utilised during the day. The council looked at ways it could change this.Nick Jenkins, Community Development Officer for the Arts at HDC, said: "In recent years, there has been a shift in the support the council provides.
"Certainly the focus is moving towards health and well-being through hosting workshops and supporting different groups across the community. "We're working with day centres, community projects such as the Reaching Higher project, and groups helping people with learning disabilities to provide more opportunities to play music and even learn about sound engineering and recording.
"They are not therapy sessions, bute there is a therapeutic side to music as it boosts confidence and self-esteem. "The bands that rehearse here in the evening contribute a little additional income for QM Studios to help us fulfill social responsibilities and reach more people.
"So gradually, the role of QM Studios has become more diverse and there's now much more of a community focus. It's also now an approved exam centre for Rock School. We're increasingly finding that the good work carried out at the Studios us having a knock-on effect, with people developing musical interests and organising their own community events."
Boom-Bastic
The studios have a Mac-based 16-track digital recording system, with professional Logic software. A vocal booth has also been built, opening-up the option of bands and community groups not just rehearsing, but recording music.
Adam Gellibrand, who along with Kay Whiteley is a key part of community music projects and is director of the popular samba band, Boom Tribe, said: "With this new community focus, we have already reached out to local schools, including Forest and Farlington, as well as colleges, day centres and community groups. "These include the Strawford Centre, which cares for adults with learning disabilities, The Richmond Fellowship, Springboard Project, Blue Oasis and Outreach 3 Way in Crawley.
"We host percussion sessions too, with groups including Reaching Higher, through our links with the council. "When Outreach 3 Way visited, the group learnt the words to Three Little Birds by Bob Marley. Several of our young volunteers joined us to create a community band and we recorded the song in the QM vocal booth. "We've now produced a CD of the recording, so those involved can take a copy away, which is special for them. "A long-term aim is to initiate an educational-based Academy, offering courses in sound engineering and production as an addition to what we already offer. It would be fantastic to expand on our current work if circumstances allow it in future."
Krystal Gob
One musician to have benefited from the community-focused projects at QM Studios is Dominic McMahon, aka Krystal Gob. In 2009, he reached the final of a national beat boxing competition. Now aged 29, music is still a big part of Dominic's life and QM Studios has given him the opportunity to record in a professional vocal booth."When I started out, beat boxing was huge," says Dominic.
"There are beat boxers on YouTube with a big following, but it needs something new to bring it into the mainstream. "I draw from a lot of different sources and my influences are quite eclectic. I want to convey a message, covering political or religious subjects, so it's not just about beat boxing. "I was thinking about packing it in as I was losing confidence, but people told me I should carry on, because music is my passion.
"Performing music is therapeutic; it is like a medicine. It helps you to channel energy into something positive. Now I have the confidence to perform."I have been coming to QM Studios for a few years. I visit every week and help at the workshops they organise for people with disabilities. I like just to help them do what they love doing. It's is a big part of my life now.

Jazz Recording
Photos of some of the best known local acts, including Battle of the Bands winners Everafta and Blue Stragglers, line the walls of the studios whilst some groups, including Psycho Babble, have been regulars since its early days. It's not just rock bands that use the studios either.
QM has graced everything from a gospel choir to death metal rockers, whilst David Essex recently rehearsed there before a national tour.The addition of the vocal booth and recording equipment also presents new opportunities for QM. One of the musicians to have recorded there is clarinet player Alan Cresswell, who performs live with numerous bands including Muskrat Ramblers, the Golden Eagle Jazz Band and Burt Butler's Jazz Pilgrims.
Alan said: "Jazz has always been around but the audiences are getting older and so are the band members. I'm not sure where the future of jazz lies. "Still, I play with several bands at a lot of weekend festivals and jazz clubs and they are often sold out.I occasionally play West Chiltington Jazz Club too, which is doing well. "Recently, I recorded a double CD at QM Studios with some musician friends, in aid of Macmillan Cancer Support.
"The first CD features four musicians, including Johnny McCallum, who played with Chris Barber's Band for many years. The second CD is built around the sounds of jazz pianist Keith Nichols."The record sounds fantastic. Not many people use QM for recording, but it's very good. We have already sold over 300 copies, raising over £2000, and we hope we can sell 500 by Christmas."

Changing Focus
The next step for QM Studios depends on it being granted the charitable status that it has applied for.Nick said: "As much of our work is charitable in nature, we thought we should make it official as being an official charity might open up new revenues of funding.
"If successful, it would mean that events like Battle of the Bands (currently organised by a sub-committee of the HDLMA) continues independently as QM Studios pursues its charitable objectives. Mandy said: "Supporting BOTB is something we always did as it was a key reason for the forming of the HDLMA.
"In recent years, the event has been taken on by a younger group of local musicians and has become part of the Horsham Garden Music Festival."They've worked hard and created something different, which the event really needed. We have supported them and that is not going to change but if we do obtain charitable status, it might be that we can't support it financially and that BOTB will need to identify other funding streams.
"Our objectives have changed over the years and now we're focusing on different things that are needed in the community."

WORDS: BEN MORRIS
PICTURES: TOBY PHILLIPS
For more details visit https://www.qmstudios.co.uk