Sandgate Singers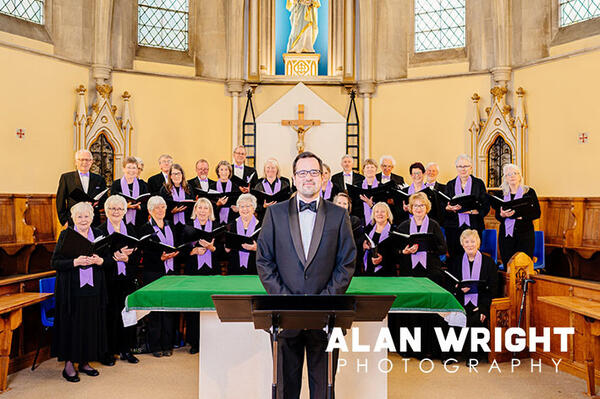 Published: 1st May 2022
During the long Easter weekend, you may have been listening to Classic FM's Hall of Fame, an annual countdown of the 300 greatest pieces of classical music, as voted for by listeners. You may have wondered where you own favourite would appear, or if Vaughan Williams' The Lark Ascending had again claimed top spot (it had!) But John Fisher, Chairperson of the Sandgate Singers, was contemplating why so few choral pieces were placed near the top of the list. Are they falling out of favour?
When compiling a choral concert programme, choirs often have to turn to better known works to attract a bigger audience, such as Handel's Messiah (featuring the Hallelujah Chorus), Vivaldi's Gloria or Lacrimosa from Mozart's Requiem. After a while, it can all become a little too familiar and that is perhaps one reason why choral choirs can struggle to appeal to younger generations. Fortunately for the Sandgate Singers, they do things a little differently to most choirs and look beyond classical music for inspiration.

Noreen Gazey, Deputy Chairperson, said: "We hold two concerts a year and the summer event usually has a combination of both classical and more light-hearted music. Last year, we celebrated 100 years of Broadway and previously we've performed the works of Gilbert and Sullivan. This year, we're hoping to perform a choral interpretation of a song from West Side Story. This helps us appeal to a wider audience, as people love to sing and hear songs from films and musicals."

"We also don't just sing baroque choral works either, often performing more contemporary work, like Carl Orff's Carmina Burana and Benedictus from Karl Jenkins' The Armed Man. Several members even travelled to Berlin to perform The Armed Man with the composer, singing alongside 1600 other choristers from all around the world. That came about after we performed it at a very successful concert at Arundel Cathedral. We'd like to reach those heights again, but to do so we need new members after a difficult time, some of which can be attributed to COVID."

Hope & Glory
The Sandgate Singers is a community-based choir that meets in the Sullington Parish Hall every Monday evening in term times. Sandgate refers to the name of an estate and popular park close to Storrington. The choir was formed in 1983, initially as an evening class at Rydon School (now the Rock Road campus of Steyning Grammar School). Membership grew when it amalgamated with Trinity Church Choir and it has maintained a close relationship with the community, often holding concerts at Our Lady of England Catholic Church in Storrington.
At its peak, the choir had close to 100 members, but the last two years has seen a decline, with a particular shortage of basses and tenors. During lockdown, members continued to meet on Zoom, helping maintain the club's strong social side. Inevitably, it was hard to sing choral pieces in harmony, but with former Musical Director Peter Allwood at the helm, the Zoom get-togethers helped to ensure the club survived financially.
After hosting several concerts online, the choir returned to live performances last November with Haydn's Choral Mass. Then this April, the Singers performed Faure's Requiem alongside works by contemporary British composers Bob Chilcott, John Rutter and the aforementioned Karl Jenkins. The choir is now preparing for its Jubilee Celebration Concert on Sunday 26 June.
John Fisher said: "We've tried to create a programme of music associated to the Queen, as well as her own favourites. So, we have Handel's Zadok the Priest alongside Shirley Bassey's Diamonds are Forever. This concert will be very different, as we'll be singing the National Anthem too and we hope there will be a good atmosphere, with tea and cakes and audience participation too."

New Messiah
June's concert will be the choir's first conducted by new Musical Director William Waine. Will sang at his Parish Church as a boy, before taking up a Choral Scholarship at Christ Church, Oxford, where he directed the Christ Church College Choir.
During a short time as Lay Clerk at Gloucester Cathedral, he occasionally conducted the Cathedral Choir and Youth Choir, before he became Musical Director of the City of Wolverhampton Choir and later Cantemus in Havant. He is also the founding director of the Chichester Cathedral Voluntary Choir. Now with Sandgate Singers, he'll be working closely with accompanist Alison Manton, who has been with the group for 30 years.
Will said: "I've known about the choir for a while, as I was a soloist when they performed Messiah some years ago. The vacant MD's position came up at an ideal time for me, as I needed a new challenge. Now I'm looking forward to sharing the music I love with the choir and the audience. "People will be familiar with some of it, as my passion is baroque by the likes of Bach. However, there are works that people aren't so familiar with and in some cases, you can present a new take on a piece that the choir has sung many times before. For example, Handel included extracts of Messiah into his Foundling Hospital Anthem, a lesser-known yet beautiful piece with a 25-minute cantata that most people won't have sung before, and at its heart is the rousing Hallelujah Chorus."

"I like to run choirs for the benefit of the people who sing in them, as much as the audience. I try help singers to achieve something they perhaps didn't think they were capable of and also to make them think differently about music that's familiar to them. By creating a sense of individual achievement, we can improve as a choir and that will shine through in our performances."

Weigh A Pie…
The choir has also been involved in a number of community engagements and it's hoped these can happen once again as the country returns to some normality. This includes singing to elderly or vulnerable people in the community.
John Fisher said: "My mum didn't talk for the last few years of her life, but once I visited her at the care home and sang Hubert Parry's Jerusalem, and something changed. She remembered it from her church days and started singing along. The care workers were amazed, as she hadn't spoken in two years. That inspired us as a choir to visit other care homes, as music triggers happy memories. You see people singing along or tapping their feet in tune. When it comes to such events, we focus on songs like The White Cliffs of Dover, The Lambeth Walk and Somewhere Over the Rainbow, as they help to form memories. It's a wonderful way of putting something back into the community and makes a real difference."

"Before COVID, about 20 of us were involved in this. We'd like to get it going again, but we need new faces to make us stronger. Many people love singing at home, yet may be reluctant to join a choir. We would encourage them to come along. We don't hold auditions, so there's nothing to be nervous about. If they give it a go, they can make their own judgement as to how the music fits their scale. We're a very friendly club and that's why so many of us have stuck with it for decades!"
WORDS: BEN MORRIS
PHOTOS: ALAN WRIGHT
Further information: Sandgate Singers meet at Sullington Parish Hall, Thakeham Road, Storrington, RH20 3PP on Mondays from 7.30 – 9.30pm. Free parking. www.sandgatesingers.com