Carving a Career in Guitars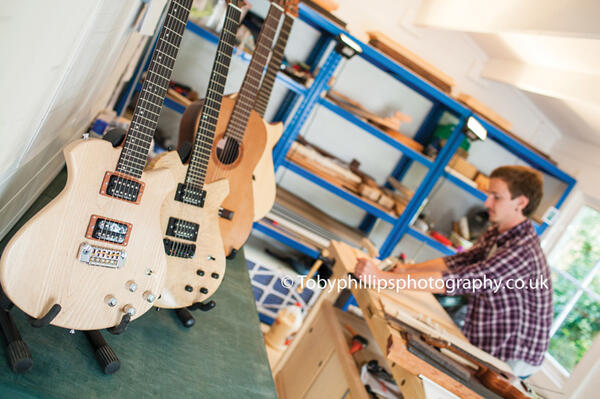 Guitars can be worth an incredible amount of money, depending on who created it and more importantly played it. The 1968 Fender Stratocaster played by Jimi Hendrix at Woodstock sold for $2million in 1998, whilst a Washburn 22 series Hawk owned by reggae legend Bob Marley also fetched over $1million dollars at auction.
So if you happen to have a guitar owned by Jimmy Page, Keith Richards, Eric Clapton, Stevie Ray Vaughan, Slash or Duane Allman gathering dust in the loft, it might be worth getting it valued…
Great guitarists are not created overnight, and the same can be said for guitar makers. The likes of Gibson – which creates the world-famous Les Paul, Fender – responsible for the renowned Stratocaster, and Rickenbacker – a favourite of The Beatles, have been established for decades. Perhaps one day, JKB will be revered by guitarists around the world…
JKB is a new guitar making company set up by Jacob Menear in a studio at his home in Storrington. The business is in its infancy, but Jacob is already demonstrating a skill for creating inventive, experimental acoustic and electric guitars. Jacob's desire to build instruments only developed in recent years. He said: "I started Sixth Form wanting to be a doctor and so studied Maths and Sciences at A' level.
"But during my second year I couldn't find a science course that I wanted to do. I found a guitar making course by accident and I bought some books and read up on it. I found it fascinating and changed my plan from there. I
studied at London Metropolitan University. In the first year there was more than 30 of us but by the third year there were perhaps ten of us that were still there.
"I got a First and decided to do a Masters course in guitar making to improve my skills before I headed out into the real world and started making guitars that I could sell. I saved money for a few years and invested in some equipment and a stock of materials so I was able to set up on my own quickly."
Even for somebody who has excelled during four years of study, making instruments is not easy. Each new guitar represents a new challenge, every minor alteration brings with it sound and tone complications, and the different wood varieties impact the instrument's performance in its own ways. There is so much variety in the way you can do things that will affect the outcome that it is just so interesting," said Jacob.
"It's great to experiment as no two instruments are the same due to the different materials or how you shape a particular part. You've got to figure out what kind of guitar you want and the sound you are after as that will influence your materials. There are a number of tone woods that can be used. Soft woods such as cedar are good for the sound boards as they are flexible but often need to maintain stiffness. Cedar will give a darker tone to the sound while spruce will have a brighter sound.
"You can also use hard woods, such as maple and mahogany and are more common for electric guitars. Gibson Les Pauls, like the one that Slash (Guns N' Roses) uses, are far heavier as they are primarily mahogany. The materials act differently under the same circumstances. You have rosewood which bends nicely whereas Bubinga wood bends like bulletproof glass. You have to test different materials in different ways in order to get the same result so a lot of it is trial and error. So you choose your materials at the beginning based on the sound that you want it to make."
Jacob starts building his guitars with the basic materials which must all be cut, shaped and manipulated over many months to create a finished product. He buys the tone woods as un-cut blocks of wood, and also buys fret wire, bridges, fingerboards and everything else needed from luthier merchandisers. The wood for the back of the guitars is also bought rough and thick but they are book-matched when they are cut from the log so they will be symmetrical.
The challenge for Jacob is to create guitars with their own identity, but Jacob feels he has the ability to forge a reputation for high quality craftsmanship and sound performance.
"Every guitar maker has criteria that they like to meet with their instrument. Some try and replicate vintage instruments such as a C.F Martin guitar, copying to a millimetre of how they were built. Other makers try to be more experimental, and they will add extra strings or make them longer or shorter, create different body shapes, or invent things like harp guitars with bass strings added. I'm in the experimental region as I don't like copying the guitar shapes of other people.
"There are lots of people specialising in making replicas of Martin guitars or Fenders and I don't think the world needs another one. If I'm going to make an instrument I might as well make it different. Acoustic guitars have a fairly standard structure that has been established for hundreds of years, and so it is through the use of materials
that you manipulate the sound. But with electric guitars, although the wood you use does affect the tone and sound, it is with the pick-ups and hardware used that really puts the sound across.
"You can have a bit more fun without being penalised heavily in terms of sound. My style is to have a shorter length of body. Usually they are longer and cover more of the fingerboard. I haven't really seen anything
like the head shape I use and I also shape the body into the neck. With most guitars you have 24 frets, but it is
uncomfortable to play past a certain point without hitting a big square. I have tried to make it as comfortable as possible to use.
"At the moment I'm making them for demonstration pieces so that when I go to shows people can come along and have a go and see if there is anything here that suits them. Guitarists will often have instruments hand-made because they will find it very difficult to get the sound that they want from a shop.
"Most manufacturer guitars are very mechanical. All the tops and soundboards are cut to the same thickness. With the cheaper instruments you will have a veneer of cedar wood and the rest is made out of a much cheaper
material and the sound quality of the wood on the outside is not going to be carried through the instrument."
Whilst Jacob is trying to create his own style, he does cite the work of an American guitar maker called Fred Carlson as an influence. Perhaps Jacob's most unusual guitar adopts a similar technique used by Carlson to create an acoustic with a sound similar to that of an Indian sitar.
He said: "Carlson is very experimental. His designs are far different to what anybody else is creating at the moment and I too would like to create individual instruments. I have made a guitar based on one of his ideas. He blended sympathetic, resonating strings with an acoustic guitar. The sympathetic strings are normally found on instruments such as the sitar and also in baroque instruments.
"You tune them to a scale, a chord or notes that you want to pick out from a song, and when you match those notes on the fingerboard they will vibrate to give more resonance. I have gone through five different versions of
this instrument, each one trying to overcome a new problem! The first one had 18 strings altogether and was really heavy at the top. So we had to make it more balanced. The sympathetic strings were also inside the guitar initially and there was a door you could open to adjust them, but that was tedious work. So I angled the neck forward so all of the strings run over the face of the soundboard. You don't stop learning."
Jacob will be spending the next few months in his studio working solidly and hopes to build up some stock so he can tour guitar shops and craft shows with his product. He may also soon exhibit his instruments at GJ's Guitars in Storrington. He also hopes that as an instrument the guitar becomes as popular as it did around the turn of the century, when production reached an all-time high. New computer software may have turned people away from instruments, but it could also inspire a comeback.
"I think that the whole Guitar Hero thing didn't help," he said. "The idea of pressing a button to generate a sound made some people put down their instruments, which were of course harder to play. But there are now new learning devices such as Rocksmith, where you can plug in your real guitar to a games system and play songs as they would be played. So computers don't have to signal the end!"
"In terms of my instruments, I would like to get to a point where I've got a selection of maybe five or six types of instrument that I am able to make well with people able to view videos online and say 'I want this but can you make it like this and with this material?'
"Then hopefully, rather than coming to me and asking for a replica guitar, they will ask for my style instead!"
For more visit www.jkmguitars.com