HAODS: WHITE CHRISTMAS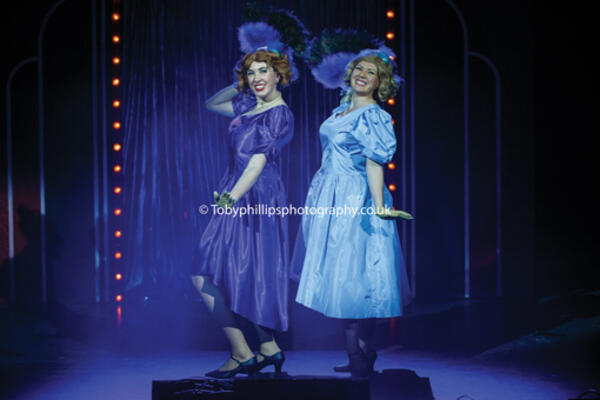 Published on 4th December 2015
Loyal readers may recall that in the very first edition of AAH in May 2011, we featured Horsham Amateur Operatic and Dramatic Society's (HAODS) production of Half a Sixpence. Since then, HAODS has performed 12 more productions at The Capitol, including Sweeney Todd, The Mikado and Steel Magnolias.
In need of a festive feature, AAH headed to rehearsals for White Christmas, and found the amateur dramatics group still in good health. Thriving with the energy of new, young members combining with the experience of some old hands, the society is bravely tackling new ground...tap dancing routines!
ANYTHING GOES!
Philip Chadwell, Chairman of HAODS
"I've been with HAODS for over 30 years, but this is the first time I've been Chairman. At this time, the society is doing extremely well. We received NODA (National Operatic and Dramatic Association) awards for all three of our shows in 2014; Sweeney Todd, The Rivals and Hello, Dolly!
In terms of our membership, it varies, but is steadily over 100 and most of those people come from the Horsham district. As is always the case with amateur dramatics, we do need more young men. However, we have many members in the teens and in their twenties. On the other end of the scale, General Waverly is played by Howard Collis, who has been with HAODS for about 40 years.
Not everybody does every show. The audience doesn't want to see the same actors in every show, so we change the type of show that we present and different plays require a different set of talents. The one constant is that we always maintain a high standard.
As an amateur society, our actors are not paid, although the orchestra is. In the past, we have also needed to 'hire' in certain actors, particularly leading men. Talented male performers often move between societies
because there is a shortage of leading men in amateur theatre.
However, in White Christmas, all of the cast are members of HAODS as we are fortunate to currently have two good leading men in Martin Bracewell and Kevin Summers."
CAN YOU FEEL THE LOVE TONIGHT?
Martin Bracewell (Playing Phil Davis)
"I joined HAODS four years ago. I was a member of an amateur dramatics group up north, and when I moved down here I didn't know anyone. I made all of my friends up north through the theatre, so I looked online and discovered HAODS. When I saw that its next production was Guys and Dolls, I thought it was perfect for me as it requires a younger cast.
HAODS is a very active society. Next year, we are performing full stage musicals with The Pajama Game and Annie, as well as a full stage comedy with A Midsummer Night's Dream. We also have Young HAODS for 5 to 15-year-old, and we are constantly promoting the society by performing in the town centre or at nursing homes.
We do well to attract younger members. It's brilliant to see people in their 80s chatting to teenagers about the show. Several of the girls are only 14 or 15 years-old and yet have already been involved with several productions.
Amateur dramatics is a fantastic place for a young person to develop stage craft, and the same can be said for those interested in working backstage.
One of the Crown jewels of HAODS is that everyone works closely. The actors do not separate themselves from the backstage crew - there is togetherness and everyone goes the extra mile. Take my uniform, for example, which is an authentic US Army uniform from the 1940s. We could have used an outfit from our own costume collections, but we like to be professional. That is why the audiences keep coming back.
The feedback to our shows is always good. We have had people say "this is almost as good as the West End." In all honesty, that's not quite right, but we do strive to be as good as we possibly can."
EMPTY CHAIRS AT EMPTY TABLES
Steff Shepherd, Properties Mistress
"There are people backstage that don't care much for being in the spotlight! I have been with HAODS for 21 years and I've only ever been in the cast once, for Chicago. We needed people for the jury, so the backstage team were in costume for a few minutes before we had to 'strike' the scene.
I didn't have a single line, but I still hated being out there. I prefer it backstage. For White Christmas, I have a Props crew of eight. We are responsible for items that decorate a scene, so moving around tables and chairs, and any items the actors need when they go on and off stage.
We have a different crew who prepare the flat packed scenery. There are companies that have sets for each of the major productions, kept in huge storage barns, and they hire them out to dramatics groups across the country. So we hire the scenery and it normally takes us a full day to build and organise the changeovers, which is a big undertaking. In White Christmas, for instance, the train carriage set takes up a huge amount of space backstage.
ANY DREAM WILL DO
Alicia Marson (Playing Betty Haynes)
I play Betty in White Christmas and this is my first lead role, although I was the understudy as Glinda (The Good Witch) in Wizard of Oz earlier this year.
I joined HAODS in 2009 when I was 14, and it feels like I've spent those six years building up to this and now my time has come to play the lead. I love coming to HAODS and it feels like a second family for me. I see my friends here more than I see my actual family, as I'm rehearsing so much!
You do have people of all ages here. The more experienced members are very good at bringing young people through and most importantly giving them a chance on the stage. That is what makes us all so close.
I am interested in a career in the theatre, so this is an ideal introduction as I can learn about stagecraft in an environment that isn't massively competitive. HAODS does give you a chance to develop in a pleasant environment, and even if acting isn't your cup of tea as a career choice, amateur theatre is still an amazing hobby where people can escape from day-to-day life and have a great time!"
TAP YOUR TROUBLES AWAY
Rachel Farrant (Playing Judy Haynes)
"I have had a few lead roles in the past, although none quite as challenging as this, There are a lot of dance moves involved in White Christmas, perhaps a lot more than you would expect from an amateur dramatics production.
Stephanie O'Connoll has done an incredible job choreographing the routines, because we are not tap dancers, yet she has made us look like dancers, which is an achievement as tap is one of the more complicated dance forms."
Stephanie said: "It was a challenge, because normally I work with young girls who have grown up dancing, developing their ability gradually. With HAODS, I was teaching many beginnerss so we've worked them very hard!"
CLIMB EV'RY MOUNTAIN
Martin Bracewell
"White Christmas is a real challenge. We've recently been through technical singing challenges with Sweeney Todd, but this production requires so much dancing! I have had to pretty much learn how to tap dance!
We have several girls amongst our membership who are good dancers, having learnt outside of the society, and this allows them to show off their skills. But it's been a big challenge for us as a society, because tap dancing is not something we traditionally do.
We always like something in each production that helps move the society onwards. With Sweeney Todd, it was the dark intensity of those challenging songs, and White Christmas is really pushing the dancing envelope."
THE WINNER TAKES IT ALL
Stacey James (Director)
"I have directed Pride and Prejudice and Steel Magnolias for HAODS, having previously gained a Master's Degree in Theatre Direction. White Christmas though requires a much bigger cast, with 42 people. HAODS has several different directors. Yvonne Chadwell and Brian Steel have both directed many productions, but I was happy to direct White Christmas as it's my mum's favourite film.
There was a thought that we should ditch the tap dancing routines, but I said 'If I'm going to do the show, I want to do it properly.'
For me, one bad dance routine can ruin the entire show, and we like to be semi-professional. So I went out and found Steph, who is a really fantastic choreographer, to work on the dance routines. At HAODS, we have everyone from teenagers to 70-year-olds, so there's a massive range of people with skills in different areas. It's a matter of bringing them all together and making the best possible show that you can.
"We've also done a lot of promotion. We've been on the 'Break a Leg' slot on Elaine Paige's Sunday show on BBC Radio 2 as we have to sell a lot of tickets to ensure that HAODS can continue to operate. As White Christmas is well-known, the show sold really well, and now we have to put on a good show. If the audience enjoys this production, they'll hopefully come to the next one!"
ONE SINGULAR SENSATION
Steff Shepherd
"HAODS has been a big part of my life, as I actually met my husband here, and he still leads the lighting design.
I do get a buzz when the show runs smoothly and a scene looks really good.
HAODS also has a very strong costumes department, which has been built up over the years. We have a Costumes Mistress too, with a huge room at HAODS House at Broadbridge Heath rammed full of outfits and props. For every show we are given a list of things and a budget and it's down to us to produce the goods. Sometimes we need to hire out certain things. We didn't have the right US Military uniforms for White Christmas, so we went to Harvey's of Hove, a well-known military uniform stockist.
We have a lot of fun chasing down props. I remember that for My Fair Lady, we went to local auctions and bought encyclopaedia sets. When it came to decorating Professor Higgins' study, we laid them all out and it looked great."
I AM REVIEWING THE SITUATION
Philip Chadwell
"We can only 'break even' once we start selling tickets on the balcony at The Capitol. The budget for each show ranges between £24,000 and £28,000 because we must pay for the theatre, hire musicians and in some cases hire props and costumes.
The audiences keep coming to see us though, and I think a huge part of that is the theatre. We are one of the few societies in the region that still performs in a proper town centre venue. We have found in the past that audiences will not travel out of town, even to Christ's Hospital, which has a lovely theatre that we used when The Capitol was being refurbished. So it is important for us to stay here.
The other problem facing HAODS is losing our rehearsal facilities at Broadbridge Heath Leisure Centre. The council has committed to building a new sports centre, but we are not being allocated space. We have had comments from the council that they don't want to see us 'homeless' but, as yet, we don't have a guaranteed solution.
It is at a sensitive stage. We need rehearsal space, costume storage and a workshop to build our props, and the problem is finding a venue where we have that kind of space. We appreciate that the council is under pressure to do more with less money from central government, so it is a difficult problem.
Technically, they could wash their hands of HAODS, but emotionally, I don't think that they will, as it's not something the council would wish to deprive the community of. However, right now, it is up in the air."
You can find out more about HAODS membership at www.haods.co.uk
The next production will be The Pajama Game at The Capitol on 19 - 23 April, with tickets now on sale.