Singergy: Contemporary Gospel Choir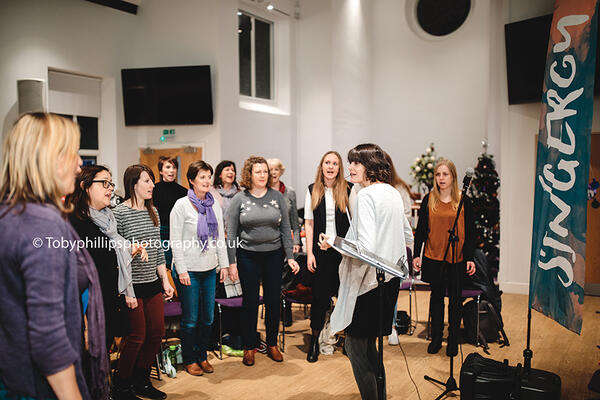 Published on 3rd January 2018
Singergy is a contemporary gospel choir for over 18s that meets at St Andrew's Church in Roffey every Monday night. With a repertoire that includes songs by Lana Del Rey and James Bay, the choir is attracting new members looking to hone their vocal craft. We sat in on rehearsals and spoke to choir conductor Anna Stroughton and members Jo Polley, Lou Shaw, Darren Paine and Maxine White.

Anna: There was a choir called Step up and Sing, which was established several years ago. When that came to an end, I stepped in and restructured the choir with a new name, Singergy. Having started in September 2016 with about a dozen members from the old choir, we now regularly have over 25 people attending.
Darren: I came across the group on Facebook and decided to try out as I wanted to see if I could sing. I hadn't sung properly since leaving school, but years ago I was told I had quite a good voice. So, I contacted Anna and went along for a voice test and have loved it ever since. When I first joined, I was the only male in the choir, but now there are several of us.
Jo: I've been with Singergy since it was first formed. I've been a singer for many years and been involved in other choirs, but I was looking for a contemporary gospel choir, which is precisely what this is.
Anna: We sing arrangements in a gospel style, which is good fun. I want to make sure people enjoy themselves whilst singing, so we choose upbeat, soulful numbers. Some are traditional gospel songs with a modern twist, whilst others are modern songs arranged in a gospel style. There is certainly a demand for a gospel choir in Horsham and people are amazed by the sound we can produce.
Lou: The demographic of the choir is quite young, in comparison to most. That's partly because the arrangements are fun and funky. Some of the songs we perform are by current artists, including Lana Del Ray. That injects a little bit of energy. I've never found myself clock watching here!
Jo: Even when we are singing modern songs, they will have gospel undertones. We have performed our own rendition of gospel songs such as 'Joyful, Joyful' from Sister Act, which was one of the films that first made me want to sing gospel music. We've also taken on more unusual numbers including U2's 'Beautiful Day' with a gospel arrangement.
Lou: I've never really liked U2 and when we were presented with 'Beautiful Day', I admit I gritted my teeth! But it worked brilliantly with a gospel arrangement. We've also sung 'Heaven' by Emile Sande, which you wouldn't necessarily label as gospel but again our arrangement made it very uplifting.
Anna: There is quite a variety to our performances. Some songs feature solos, others are split into several parts and we also sing a cappella numbers. We've even tried a few raps! We've performed an a cappella arrangement of 'Hold Back the River' by James Bay, combined with a traditional soul song called 'Down to the River to Pray.' We love to mix old songs with new songs to give a contemporary edge. We are currently working on 'Let the Sun Shine,' a contemporary song that has gospel elements. We have also just worked on '(Your Love Keeps Lifting Me) Higher and Higher' as well as an a cappella arrangement of Lana Del Rey's 'Young and Beautiful.' This is a song you wouldn't normally hear from a gospel choir, but it has a haunting arrangement.
Maxine: We're not just turning up to do karaoke; Anna wants us to be better singers. She is quite strict when it comes to technique, as she wants to develop us collectively.
Lou: I sing backing vocals for a local tribute act called The Almost Elvis Band, which has also been featured in AAH. I find that the choir really helps my performance. Anna is very technical when it comes to singing. We have fun, but she does teach proper techniques as well and provides private tuition to several of us in the choir.
Anna: I try to help everyone be as good as they can possibly be. It's important to feel valued and trusted as an individual in a choir. With some choirs, those who are less confident can be hidden away at the back, but there is real power in helping people be as good as they can be and ensure they sing with confidence. One lady here used to become nervous and panicky when singing a solo, but has since grown in confidence and performed an excellent solo at our end of year show. I aim for excellence within the choir but also encourage everyone who walks through the door to give it a good go. That way, we become a better choir.
Darren: Anna is fantastic for me personally, as she pushes me out of my comfort zone. She encourages us to do things that we don't necessarily want to do initially. For me, that was performing a solo. It felt like a big mountain to climb, but last year at the Christmas performance, I sang 'Ordinary People' by John Legend. I don't think it was a brilliant rendition, but I did it and now I hope to sing another solo next year. Don't get me wrong, the thought of doing it scares me to death! But I still want to do it.
Maxine: There are solo parts in many of the songs we sing, which offers an opportunity for many members of the choir to have their first taste of singing alone.
Jo: Singergy sessions involve a lot of technique. You can't just rock up, sing and go home! The sessions are structured, so we learn vocal techniques as well as rehearse songs for shows. There is an expectation for us all to practice our technique at home.
Maxine: Initially, Anna would ease us in gently and it took longer to learn each song. Now, we practice more at home and perfect them when the choir meets on Monday nights.
Lou: I've been in other choirs and sometimes there can be a lot of hanging about as everyone is brought up to speed. Singergy is more dynamic and we work on the finer details more quickly. Certainly though, everything sounds different when you're singing with the choir. You might sound great when you're singing in the kitchen by yourself, but when you are part of a choir, it tends to be more of a challenge. Everybody sounds like Beyonce in their own car!
Maxine: We perform several shows over the year. We sing at The Hawth in March, whilst in the summer we play events like the Horsham Garden Music Festival in the park, which was interesting although such an open space doesn't offer the right acoustics for a choir. We are soon going back to The Black Jug, where we have played before. It's interesting in the pub, as it is always busy and we all squeeze into a corner with people watching under our noses.
Anna: In the summer, we entered Pitch Battles, the BBC talent contest for choirs. We made it through to the audition stage, which was exciting. I think some of the members thought we might all be famous! It didn't turn out quite like that but it was a great experience to be involved in a show with people like Gareth Malone, and added a different dimension to the choir.
Jo: We have a wide range of people in the choir, but the common denominator is that we all love singing in the gospel style. It is a very friendly group that sticks together. There are no egos; everyone is incredibly supportive and that creates a good environment to develop and push yourself to improve.
Anna: People like the sense of family here and that they are worked hard, in a good way. There is a focus that challenges members of the choir and people enjoy that. Some have even said that Singergy is their weekly therapy session!
Maxine: When I first started here, we only had about a dozen regulars. Now, we see about 25 people every week and the interest is building. New faces join every term, which keeps the choir healthy and means we're always improving.

Singergy meets on Monday nights at St Andrew's Church, Roffey. For more details visit the website at www.singergychoir.com