Classical Folk: A Perfect Combination?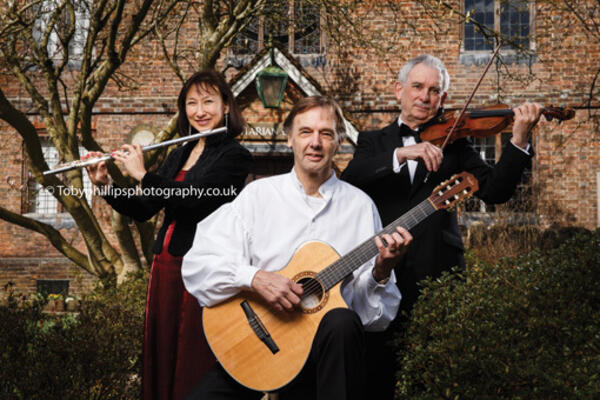 Published on 5 May 2015
During his 40 years with the Philharmonia Orchestra, violinist Andrew Wickens has performed alongside some of the greatest personalities from the world of classical music.
He played when Charles and Diana endured torrential rain to watch Pavarotti at Hyde Park in 1991, has performed under the guidance of famed conductors including Otto Klemperer and Simon Rattle, and even recalls a dramatic moment when Montserrat Caballé fainted during a Verdi opera.
But having retired from the Philharmonia in 2009, Andrew now plays his Galliano violin alongside the folk musician couple living next door to him in Lower Beeding.
Sylvia Akagi, Peter Golden and Andrew Wickens play regularly in the local area. They are known as Classical Folk, surely a contender for the as-yet-unconfirmed 'Most Appropriate Band Name' prize at the BRIT awards, sponsored by Ronseal.
AAH met the trio at Horsham Unitarian Church as they prepare for a performance in Brighton later in May...
Peter Golden: Sylvia and I met at Horsham Folk Club, which meets regularly at Normandy Hall on Denne Road. I was singing with The Full Shanty, a close harmony group, and Sylvia would often come along to the club as a musician too. There was an occasion when Sylvia was performing with an accompanist who couldn't provide all of the chords required for what she was singing, so I offered to help. That's how we started performing together.
Sylvia Akagi: Since I was a child I have been in choirs and played music. As well as singing, I play the flute and penny whistle. Going to the folk club gave me the opportunity to sing as a soloist, rather than being a conductor's instrument. Peter and I moved to Lower Beeding in 2003 and met Andrew at the garden gate!
Andrew Wickens: I've been playing the violin professionally since 1969. I was with the BBC Concert Orchestra initially and in 1972 I joined the Philharmonia, from which I retired in 2009. The life of an orchestra is busy, as you have concerts in London, as well as tours all over the world, classical recordings and even film scores. It was a hectic life. You might be playing a concert in Cardiff one night, and then having to get up early to fly out to Japan the next morning.
Sylvia: Peter and I feel privileged to play with somebody who has played on the same stage as so many famous opera singers and conductors, including The Three Tenors.
Andrew: I have taken part in some wonderful concerts. I would struggle to pick out individual highlights as I
performed with so many great soloists and singers from the past 40 years. I remember performing at Hyde Park and us musicians were the only ones in the dry. Pavarotti turned to me and in that great manner of his said: 'It's marvellous - this weather, and they still come out to see me!' The era of digital recording started in the late 1970s and this meant that much of the classical music repertoire was recorded again, so there was a tremendous boom in classical recordings. I would be tempted to call it a golden age for classical music as things were simpler back then. Now, it is pressurised world because of the financial demands of looking after a full orchestra.
Peter: After meeting Andrew, we started by trying to improvise with the music, but it didn't really work. Andrew is an incredible sight reader – if you put any piece of music in front of him he will play it – but he is not used to improvising. We were having a good time and enjoyed making music together though, so we looked at the things that we did well and at different pieces of music we could try.
Andrew: I'm used to reading notes, so even my memorisation of music had been diminished by sight reading. I never play from memory, even pieces that I have known for 50 years. But with Classical Folk, of course in most cases we are not playing with have the same instruments that the pieces were originally written for. So we have to rearrange them to suit our combination of violin, guitar and flute. There is a branch of classical music which lends itself to our style. Music by certain French composers from about 100 years ago, such as Gounod (famous for his Ave Maria) and Massenet, suits us. Schubert is another one we turn to because of the lightness of his music. We wouldn't do big dramatic pieces, such as a Verdi aria, as it wouldn't suit our style and Sylvia's voice.
Sylvia: I'm not an opera singer, so we take the music to the key that suits my voice. I can reach the notes that I need too, but there is a lot of composing and arranging that goes into the songs so that they suit Classical Folk. Playing alongside Andrew has been challenging as Peter and I have had to become better musicians to fit in with his style. I had to up my game to play harmonies, for instance, closer to the level of a player in the Philharmonia.
Andrew: There are one or two later great works that we perform. We play Cavatina, a classical piano piece used as the theme of The Deer Hunter. Pieces like that will never fade, and will always be in the repertoire.
Sylvia: We do have a few traditional songs from further afield. We have folk songs from Ireland and Scotland as well as songs like La Golondrina, a traditional Mexican tune. I also sing in French, Italian and German but we always have at least one verse in English as people don't like to miss the whole meaning of a song.
Peter: In my opinion, there is no compromise in the music we produce. We feel that we can bring out the best in every piece that we play and actually if the composers were alive to hear it they would like it and maybe even prefer it to what was originally done with the music. We do play with freedom, and really what we are trying to do is forget how you're supposed to play any one piece and just bring out the beauty in the music. Playing with Classical Folk is just lovely because you can interpret music the way you want to in a personal way.
Sylvia: I think we do make classical music more accessible to people who might otherwise be put off by it. A lot of people wonder what they're going to find at our concerts but there is always a lovely atmosphere. Often our concerts are received rapturously and people say 'It was wonderful.'
Peter: We tend to flavour our concerts depending on where we are playing. Our last concert was at the Unitarian Church in Horsham, and it was based on classical music. But the next one will be on 30 May as part of Brighton Fringe so it will be leaning towards our folk songs. We play lots of traditional folk songs, such as Greensleeves, Down by the Riverside, Lark in the Clear Air and Waters of Tyne. We have a couple of CDs that we have recorded at home, with Sylvia singing into a microphone, whilst my guitar is plugged directly into a computer with Andrew on the other side of a glass door. It is a slightly strange way of recording but works really well and people are impressed with the quality. The CD ends with one of my own compositions, The Reflected Light of Freedom.'
Andrew: My playing now is more of a soloist nature, as in an orchestra you might be playing with 30 violins so you have to blend with other people. I did find that my playing actually improved when I stopped playing professionally, as you can get tired in an orchestra as you're always playing. How long I'll carry on improving for I don't know, but I do find that I'm playing better and I'm re-learning work that I originally discovered at The Royal Academy of Music. My playing is becoming more interpretive too, but I still don't think I've learned to improvise much!
Classical Folk will next perform at Brighton Unitarian Church on Saturday 30 May at 8pm. For ticket details, or for more information on the band, visit www.classicalfolk.co.uk