Coachworks talk the torque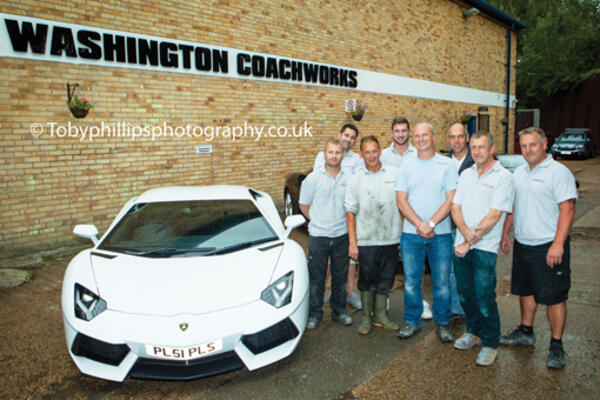 It's not the Manchester United training ground car park, a cafe in St Tropez, or the cast of The Stig's next Christmas DVD.
This is Washington Coachworks, a workshop tucked away in the corner of a small industrial estate occasionally livened up by the grunt of a V12 engine. As Lamborghinis and Ferraris line-up outside, there is much
more going on inside the body repair and re-spray specialists.
A Jenson Interceptor, barely recognisable in the early stages of restoration, sits alongside an MGB GT V8 which has been almost entirely rebuilt. A classic Jaguar, a Ferrari, a Porsche 911 and a Volkswagen Campervan are also on the receiving end of some tender loving treatment.
After a quick glance, you would be forgiven for thinking that Washington Coachworks is a specialist for prestige or high performance vehicles, where a select band of people who can actually afford the cars tested on Top Gear come for their repairs. But that is only a small part of the story of Washington Coachworks.
The badge on the bonnet doesn't have to have a prancing horse or a charging bull on it in order for your car to be repaired or re-sprayed here. Next to the Ferrari is a Honda Civic, whilst alongside the Porsche a Ford Focus is being repaired.
Phil Earl, a director at Washington coachworks, said: "The exotic cars are lovely – we are well known for our association with supercars and we've become quite renowned for it. We're grateful for that and the team here love working on those cars.But you have to attract people from the local area with their regular cars as well, as you cannot survive on a select number of customers with high performance cars.
"There is nothing that we won't do. We've had everything from Koenigsegg cars worth £1million all the way down to old Ford Fiestas and we treat each car the same."
Washington Coachworks was only launched in 2009, but was quickly able to build up its business thanks to the reputations that its two directors - Neil Johnston and Phil Earl – had previously established. Phil said: "Neil and I worked together for many years together at Frosts, and we had this vision that we could start our own body shop centre.
"Neil went the self-employed route and I went the management route, later working for the Harwoods Group. But we always had this idea we could work together at some point. He found this site in Washington and we looked at it and thought it was perfect. It was the right size for us, and it was accessible for people from Horsham, Crawley, Chichester, Brighton and Worthing. Neil started the company and I joined him after a few months.
"Neil always had a good name for paint work and I bought in management skills. We were very fortunate in that we were able to hit the ground running. We had dealt with some lovely people in the past who have since become customers of ours."
Everything was going well for Washington Coachworks, but in October 2010, Neil died suddenly. Phil said: "It was always a business we both wanted to do, and it's a great shame that it is not him and me running it together, and not a day goes by when I don't miss him and wish he was here as there was so much he could do.
"He was a great character – there was nobody else like him.Everybody who ever met him would remember him and he put a smile on everybody's face."
Despite the loss of its hugely popular and charismatic founder, Washington Coachworks continued to go from strength to strength. It has strong links with many dealerships in the area, including Horsham Car Centre which is an official Dodge, Chrysler and Jeep dealership, Kia at Washington, Godfey's Mazda in Southwater and Alfa Romeo specialists Monza Sports in Ashington. They are also associated with Brighton Honda as well as Suzuki at West Sussex Motors.
As well as providing body repairs for large dealerships, Washington Coachworks is in partnership with several smaller independent companies. One such company is Parr Porsche in Crawley, with Washington Coachworks sponsoring its entry into the Carrera Cup Championship.
Recently, Phil has found that the company is branching out beyond cars. They have recently re-sprayed several drop tanks from Harrier jump jets, and one regular customer recently asked for his furniture to be re-sprayed in 'Brooklands Green'.
Phil said: "We have a 'can do' attitude here and we've done work in aviation, helicopters, boats, caravans and motorhomes in addition to the cars. For a while we've been doing work for MCA Aviation in Shoreham and they sometimes need work to be done quickly. Because of the size of the paint shop we can spray commercial vehicles up to the size of a high top Mercedes Sprinter, which comes in handy for people with camper vans too."
Another part of the business is restoration, but with two extensive projects someway off completion, there is little scope to take on any more major rebuilds at present. Recent projects have included the restoration and repaint of a 1969 TVR Vixen, the restoration of a 1985 Porsche 911 Targa and the part rebuild and repaint of an English Racing Association (ERA) car from 1934. Sometime after completing the ERA job, Phil and Alan Edwards, part of the experienced team at Coachworks, came across the car and remarked on its stunning paintwork - before realising it was their own handiwork!
Another assignment meant finding a new bumper for a Lamborghini Murcielago, which cost no less than £24,000 from the Italian manufacturer! Many other projects have involved supercars with which Washington Coachworks is most commonly associated it with. The company is increasingly involved in the 'supercar' day of the Piazza Italia festival in Horsham, with regular customers driving cars such as the Pagani Zonda and the De Tomaso Pantera in the parade.
Phil said: "We are fortunate that we have some people who are huge car enthusiasts that are both friends and customers. Phil Stebbings founded the De Tomaso Drivers Club and there are a lot of people in that club that have amazing cars. We're fortunate to operate within those circles, but of course you need to do a good job to ensure they keep coming here.
"I take my Porsche out at Goodwood and attend track days hosted by Peter Saywell and that helps gets your name and face out there and attracts new business too. Most of what we do here is through word of mouth, and we have a very good team here and that is why we've been so successful."
Sarah Earl added: "'Our philosophy is one of teamwork, and we are very fortunate to have a great team
here with a wealth of experience who all pitch in and work exceptionally hard to produce a quality job. That is a considerable factor in why we continue to go from strength to strength in what is a tough economic climate."
For more information visit the website at www.washingtoncoachworks.co.uk or call 01903 892700.