ALL REVVED UP AT PILGRIM MOTORSPORTS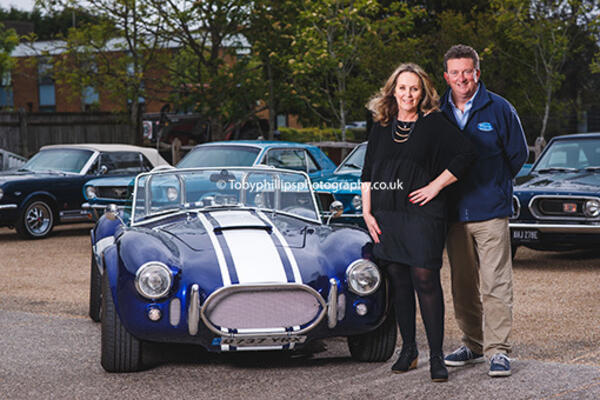 Published on 1st June 2019
When it comes to choosing the greatest car chase ever committed to celluloid, there are several leading candidates. Motoring movie fans could make a case for the high-speed chase through Paris in Ronin, or the thrilling getaway that introduces more recent hit, Baby Driver.But in terms of iconic status, nothing comes close to 1968 classic Bullitt, featuring a Ford Mustang GT 390. Fifty years on, it continues to inspire global passion for the Mustang.
One business to benefit from this is Pilgrim Motorsports in Henfield, renowned as a leading restorer of Mustangs. Paul Bennett, director at Pilgrim Motorsports, said: "We have a lot to thank Steve McQueen for. Half a century after that chase through San Francisco, the legacy of the Mustang is as strong as ever!"

But Pilgrim doesn't only deal in Mustangs. It also manufactures Cobras, replicating the original model by AC, as well as the classic Porsche Speedster.

To those passionate about a certain breed of classic car, Pilgrim is an established name. The business has been running for about 35 years, but has reached new heights under current owners Paul Bennett and Adrian Hewittson. Having sold a previous business, Paul arranged a trip to America with fellow classic car enthusiast Adrian. It was a trip that would eventually lead them to Pilgrim. Their Arizona tour culminated with them buying a dozen cars, which they duly transported across the Atlantic. "We rented some space in the back workshop at Pilgrim Cars, which at the time was struggling," says Paul. "We restored the cars for several months, before we discussed the idea of buying the business."
"We were both up for the challenge and our offer was accepted. We changed the name to Pilgrim Motorsports and substantially increased what we offered. Today, we're a one-stop shop for all makes of classic cars. We have a body shop and paint shop, so we're able to repair and restore cars, and our team has invaluable experience."
"We are well-known for Mustangs, but Pilgrim has also built and sold more Cobras than all other Cobra specialists in the UK combined. They are also very popular in France and Germany, where it is commonly known as a Pilgrim, such is our reputation."

AC was a British car company that found success with the AC Ace. But a letter from an American named Carroll Shelby set events in motion that would alter motor racing history. Shelby asked AC to modify the bodywork of the Ace so that it could accommodate a Ford V8. The result was the AC Cobra.

"Shelby took the car to Le Mans and shocked the world of motor sport," said Paul. "His Cobra Shelby beat the Ferraris and people couldn't believe what they were seeing. That was how Shelby became a legend and why children of my generation had Cobra pictures on their bedroom wall."
Early in the 1980's, the original owner of Pilgrim decided to replicate the Cobra, with design patents having expired. He used an original AC Cobra, which today would be worth over £1million, to create a body mould.
Ever since, Pilgrim Cobras have been created from scratch, with parts built around a fibreglass shell. Customers can select their own colour and V8 engine, with options including a Rover engine, a Chevrolet 350 or a Ford 302.
"We are building cars as they used to be built and that is what people love about Pilgrim," said Paul. "Customers often come in and watch, as everything is done by hand, as it was 50 years ago. I often say that there are two car manufacturers in the south-east of England; Rolls-Royce and Pilgrim Motorsports!"

"We also sell Cobras and Speedsters as kits, supplying the components. It's like a Meccano set, complete with an instruction guide!"
"The Speedster Replica is based on the Porsche 356, which is a car with its own legend because of its association with James Dean. We use a VW Beetle chassis and rebuild from there, with consideration given to every detail to make them look authentic. But they drive better than the original, as they benefit from modern braking and power steering!"

Manufacturing the Speedster and Cobra Replicas makes business sense, as original examples are rare and so collectable that they are beyond the budget of most people. However, the Mustang is one of the most widely produced cars in automotive history. So, Pilgrim deals with the real thing.
Adrian is based permanently in Arizona and spends his working life driving the highways in search of classic gems."The dry states of California and Arizona are a perfect place to find good cars, as they as less likely to rust," says Director Nicola Bennett. "A solid bodywork is the most important thing when it comes to buying a Mustang. The metalwork must be intact. We can paint a car, find parts and repair the engine, but the chassis must be structurally sound. So, we are very selective about what we buy and Adrian's knowledge is second to none.
"Nowadays, when people buy a classic car, they look after them and make sure they're not exposed to the elements. But when these cars were originally bought, that wasn't the case. Finding good ones is harder than ever and Adrian turns most down. Only last week, he drove 2,300 miles in nine days, looking at 12 cars in different States. He only bought two of them."
"People think it's easy to do what we do, but you need an expert eye. Many people advertise "dry state cars" but they might have spent 25 years in New York. We've seen prize-winning cars that look immaculate, but when you look underneath, you could put your fist through the chassis."
Pilgrim Motorsports may be a specialist with certain cars, but it attracts all manner of classics, from Minis to Ferraris. In the garage on the day of AAH's visit, there were cars ranging from a Nissan Z to a Corvette Stingray being serviced, restored, re-upholstered or repaired. Cars are coming in from and being shipped out all over Europe.
Paul said: "The great thing about the Pilgrim Cobra is that we have always built them with a galvanised chassis, so even those dating back decades are still in good condition. The owners come to us anytime they need a new wing mirror or manifold or even new interiors. With the Mustang, original models can be fitted with power steering to make them easier to drive on UK roads. We also look after modern Mustangs, which are also wonderful cars."
"We love attending events like Goodwood Festival of Speed and the Horsham AmeriCARna, as they help raise our profile locally. This is a great market for us, as there are many classic car enthusiasts around here. But Pilgrim is on a mission to be the number one name in the whole of the UK and even Europe when it comes to Mustangs."
"I believe we will achieve that as we have an incredible team and nobody else can do what we do. If we can build these cars from scratch, people know they can trust us to repair and service them too. "

WORDS: BEN MORRIS
PHOTOS: TOBY PHILLIPS
Visit Pilgrim Motorsports at Units 12-14, Mackley Industrial Estate, Small Dole, Henfield. www.pilgrim-motorsports.co.uk