Me and My Ford Hot Rod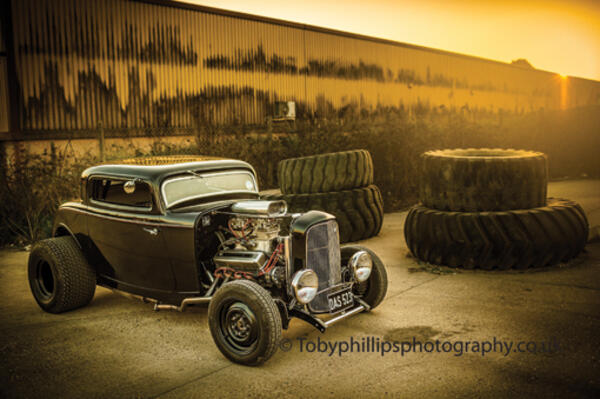 When David Mott was a young lad, his parents took him along to a drag racing day at Blackbushe in Camberley. It was the middle of the sixties and it was one of the first times that Americans had brought over their dragsters to compete in the UK.
For David it triggered a fascination in 'muscle cars' and Hot Rods that has lasted a lifetime. It's been three decades since the runways at the private airfield at Blackbushe have been used for drag racing, but venues such as Santa Pod still regularly attract thousands of people to drag racing and American car shows.
Now David owns several cars from across the pond, each a head-turner in its own right. He has a 1968 AMC Javelin Trans Am, painted in the same livery as the car raced in America by Peter Revson. Revson had long been a star of American racing when he was killed in a Formula One car in South Africa in 1974. David also has a 1972 Chevy Nova, a Station Wagon, a Mustang and an Austin Dorset from 1948 that he is trying to modify at the moment.
But the car we have featured here is, believe it or not, a 1932 Ford Model B Coupe, although in terms of original parts there's only "headlights and a general body shape".
Originally, the Model B was an updated version of the Model A and was replaced by the Model 48. It was a four-cylinder car with an improved Model A engine, but Ford also began producing a very similar car with a new flathead V8 engine. But David's car is somewhat different.
He said: "This car has a reproduction fibre glass Rodline body with a chopped top, a four point rolling cage, independent front suspension, electric windows with a Sony head unit with MP3 plug in, amps and a Sony Explode Subwoofer! The exposed engine is a Ford 460 cubic inch engine with tunnel ram. That's the distinctive double-carburettor intake system that hot rod enthusiasts love because it gives improved performance, and looks pretty cool too!
David said: "Hot rods really developed in the States due to cars like the early Fords, as people started to take the flathead engines out and' supe' them up a bit to race them at the salt lakes. From then on, it evolved into drag racing. I've had this car for nine months. The person who built the car lives up in Newcastle. I love going to drag racing, and have tried driving once before in another of my American cars, but I didn't set a very fast time compared to others you get up there.
"I haven't been brave enough to see how fast this Ford will go. It's quite agricultural in its ride compared with a modern car as there is no power steering or power assisted brakes. It'll happily whizz along at 70 or 80mph and is very quick off the line. But I just enjoy the whole scene, the driving side and the social aspect too. It's different and it's good fun. A lot of people come up to me and talk about the car. I took it to Goodwood Revival and there was a little crowd around it."
The Model B has been popular with Hot Rod builders for decades. In fact, the original Model B is extremely rare now because they have all been snapped up for modification! But as a hobby, American cars and Hot Rods remains a moderately affordable passion, at least when compared to collecting classic cars from the UK.
David said: "The whole Hot Rod and American car scene has really grown in this country and there are a lot more specialist car builders and suppliers now. They're turning out some really good stuff which is as good, if not better, than what they are making in the States. You can buy spares for American cars for less money than what you can for the English classics. I've just bought two headlights for the Station Wagon for £21 each.
"You don't have the number of drag racing venues that there were in the seventies, but at Santa Pod they have enormous crowds.There's still a great demand for it.
"I'd love to slide the car in between some Ferraris at the Piazza Italia. Maybe we can have an American Festival here in Horsham in the future – I reckon we would get quite a few people to turn up to that!"