Born Racers: Jolyon and William Palmer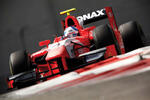 It was fairly likely that Jolyon and William Palmer were eventually going to be involved in motor racing. Their father Jonathan raced in Formula One from the end of the 1983 season up until 1989, and enjoyed a number of points finishes for Tyrrell in his final three seasons.
He then became a test driver for McLaren in 1990, the year in which Senna took his second word title, before he co-founded MotorSport Vision, a hugely successful company that would go on to own and manage many of the country's top racing circuits.
In 1991, Jolyon was born, and from the age of four, Jolyon would charge around the family home on a motorised cart, and growing up he took an increasing interest in motor sport. But he didn't actually start racing competitively until he was 13.
Now aged 20, he has just finished his first season in GP2, a Grand Prix support championship that is now seen as the best route into Formula One. Lewis Hamilton, Nico Rosberg and Pastor Maldonado are recent winners of the championship.
We spoke to Jolyon and his younger brother William at the family home in Southwater, which aside from several Formula One racing books on the coffee table, doesn't provide much visible evidence of the family's racing history. It's been a tough rookie year for Jolyon, blighted by bad luck, but it has done little to alter his dream of driving in Formula One.
Jolyon said: "I have to view this year as a learning year, like I did with my first year in Formula 2. The field in GP2 is so strong, and has such depth, but I was one of the top rookies. You have to consider that there are top drivers such as Roman Grosjean (who raced for Renault in 2009 but had the misfortune of being Fernando Alonso's team mate) and people who have been racing in the championship for several years. I've got winter testing now, which is a good opportunity to show what I can do in a proven top car. Some of the drivers are moving on, and next year I will have the chance to show what I can do against the rookies."
At the end of September, Jolyon spent time testing with leading GP2 teams iSport and Addax in Jerez, Spain. He ran consistently in the top ten over two days as he attempted to catch the eye of some of the top teams. He told AAH: "I need to show my potential in testing. I'm very hopeful that I'll be in GP2 next year, but it'll be good to prove to myself I have the speed."
At the other end of the racing scale, his brother William, aged 14, is only just starting out in racing. He has competed in one round of the Ginetta Junior Championship, having competed in a handful of karting events.
William said: "Up until the beginning of this year I really didn't think that I would be into racing. It was only recently that I started kart racing. I've driven in six kart races and I won three novice trophies, when I was first of the new drivers, so it went quite well.
"Now I've moved into the Ginetta Junior Championships. There is a winter series this year which I'm hoping to compete in and then hopefully race in next year's full championship. The series is for drivers aged from fourteen to seventeen, and the cars are limited to 119mph. On my first time in the car I went out and spun it at 80 miles per hour! I feel more comfortable with it now though and it's good fun. My first race was at Snetterton and I finished in 14th, and my next race is at Brands Hatch so I'm really looking forward to that."
William hopes to progress to higher levels of motor sport, but he'll have to prove his ability behind the wheel if he's to reach GP2 like his elder brother, let alone Formula One. He's doing very well academically at school, so his mum is making sure he maintains his good grades, but on the race track he can be sure of his dad's support.
Jolyon also admits that the support he has had from his father has been significant. Jonathan's company operated the Formula Palmer Audi championship that gave Jolyon his first taste of single-seater racing, as well as the Formula Two Championship, which the young racer then graduated to. Jolyon said: "It's helpful to have contacts through him. He has been in the background all the way through my career, having a word here and there and making sure I'm on the right track really."
The track he is on remains the right one. Having endured a nightmare first season in Formula Two, Jolyon came close to winning the title in his second season, losing out on the championship (and a Formula One test drive for Williams, who his father briefly raced for in 1983) to his only serious rival, Dean Stoneman. He did, though, become a race winner in Formula Two like his father, by taking the chequered flag at races in Monza, Silverstone,
Algarve and Brno.
Looking in from the outside, one might think it's not been a tough route to GP2, but Jolyon is a racer through and through, and knows better than anyone that only talent will get him on to the Grand Prix grid. Just like any other racer, it is all about winning for Jolyon.
Not even the death of his friend Henry Surtees at Brands Hatch has shaken his desire for racing. Jolyon was just in front of Henry when a tyre bounced across the track after another racer had crashed, and hit Henry on the head at high speed. He said: "The chances of that happening are so remote. It was unfortunate that Massa had his
accident with the spring only about a week later (Ferrari driver Felipe Massa was seriously injured when he was hit by a spring that had come off a rival car at the Hungarian GP) but I think you have to try and forget about that if you're a racing driver and move on. You can't step into a car with fear.
"I was the car in front of Henry, but you have to get on with it. As soon as you start driving around the track the only thing you think about is 'how do I go faster?'"
Due to the age difference, the siblings have never shared a race track, although there have been the occasional go-kart races where the brothers and their father take to the track. Jolyon believes that they probably all share a similar racing mentality. In Formula One, Jonathan was known as a smart, calculated driver rather than a blisteringly fast one, and Jolyon believes that one of his strengths is the ability to think through a race as it progresses.
Perhaps there will be a time when they all demonstrate their racing skills as a family – they have chatted about the Le Mans 24 Hour Race! Jolyon said: "My dad is a fan – he's been over there a couple of times in recent years and it's hard to watch it and not want to get involved. My focus is on getting into F1, but I would love to do Le Mans one day. There is no plan B for me. I'm just focused on GP2, and until that door closes and the route to Formula One ends, then that's all I will be focused on."
For more details about jolyon visit his website at www.jolyonpalmer.co.uk
Check on William's progress at www.ginetta.com/championship_junior