Plum's Campers: Life in the Slow Lane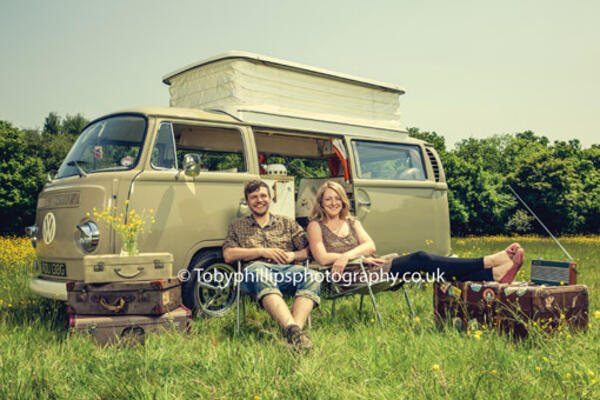 When I told friends that I would be taking my family camping in a 1969 Volkswagen Campervan, I was met by all the usual jokes.
'Send my regards to the AA man' was a good one. Others included 'Why don't you just walk so you can get there quicker?' and 'Don't forget to rock side-to-side when you're driving up a hill.' But as I had been assured, it was a smile-inducing experience quite unlike anything else.
Initially, driving a VW Campervan is a daunting experience. The steering wheel is roughly the average size of a fisherman's 'it was this big' description, and without power steering, sharp turns are a little like turning a cruise ship in a canal. Overtaking a cyclist (not a cyclist good enough to be wearing spandex, they'll be overtaking you) requires half a mile of empty road, and the emergency stopping distance from 40mph is longer than the Great Wall of China.
Yet, there is great pleasure in the driving experience. Dominic Walheim said: "Driving a VW Campervan is like driving any classic car. There is no power steering but when you are trundling along at 40mph it feels lovely.
"You sit there with your elbows resting on the wheel, grinning to yourself, and you don't worry when you look in the mirror and see a queue of 20 or 30 cars behind you.
"People smile as they pass by, and you wave at other campervans and it's just great. You are the slowest car on the road but it doesn't matter."
With his fiancé Plum Jacobs, Dom has set up a new business hiring out Volkswagen campers. Based in Southwater, the couple have two campers available to rent, one a 1965 'Split Screen Window' camper and the second a 1969 'Early Bay' model.
Plum, who works for Echo Care in Horsham, initially had the idea of setting up the business because she and Dom shared a passion for classic Volkswagens. Also, Dom's practical skills as an experienced boat builder at BW Marine means he is able to restore, repair and service the vehicles.
Plum said: "A few years ago we bought a bright yellow Campervan. Initially we were looking for a T25, which is the box-shaped Campervan that came into production after the Type 2 production ended. As it turned out, we almost bought a Commer camper. We missed out on that but it led to us wanting a round, bubbly van shape, and eventually that led to us buying our first VW Campervan.
"We loved camping in it, but it was a bad egg. There was constantly something wrong with it, and even with Dom fixing it himself it required too much maintenance, so we sold it and bought another VW. We still have that for ourselves, but it was never the intention to hire it out as it needs a lot of work.
"Instead, we looked for vans in a better state that we could hire out. Originally we were going to try and find two vans for £12,000, which was all the money we had. But we quickly realised that there was no way we could find two vehicles good enough to hire for that price.
"We found one we liked, an Early Bay (seen in most of the photos) in the New Forest area and we spent our entire budget on that. My mum has invested in the business too and bought a split screen van, and now we hire both out in a classic Savannah Beige colour."
The next step was how to make Plum Campers different from the other hire companies already established. The key was to provide an authentic experience. Dom said: "We think we are different because of the quality of Campervan we offer. A lot of companies renovate the interiors of the vans to make them easier to use, which is fine, but we wanted to offer a classic experience.
"So what we've tried to do is to keep the interior as original as possible. It is all reconditioned, but it feels kitsch and has character. We have fitted a fridge, cooker, sink, DVD player and a modern stereo with a USM connection so you can play your iPod. But that is all tucked away. On first inspection you'd be hard pushed to tell the difference between this and an original VW Campervan.
"We like it to look the part and give people the chance to go back in time."
Whilst there are a number of authentic elements, Dom has been tinkering about underneath the two vans. The original brake drums have been replaced with new brakes, suspensions have been reset and short shift gear sticks installed so you 'don't have to stir porridge'.
As for the issue of VW Campervans being susceptible to overheating, Dom says it is simply a matter of common sense. "An air cooled engine obviously needs to be moving along," he said. "So if it looks like you're going to be parked in traffic for a long time, it's best to park up, turn the engine off, put the kettle on and take a break before setting off again.
"I do go over the vans laboriously, and continue to keep on top of the brakes, engine, suspension and tyres, and so far we have never had an issue."
As the vans keep going, as does the enduring iconic status of VW Campervans. Good examples of Early Bay
models (1967-72) regularly exchange hands for upwards of £20,000, whilst some of the earlier models command huge sums of money.
One example of a Samba, a model built in the 1950's for touring the Alps, was sold for over £67,000. Another
enthusiast spent a considerable sum of money recovering a 1957 Samba that was pushed into a Fjord in Norway when it broke down in 1974. The enthusiast hired a mini submarine to locate the vehicle before bringing in a mobile crane to drag it to the surface!
Plum said: "People simply love them. It excites children and you also have older people coming up to you and saying 'I had one of these back in the day'.
"I think it's the lifestyle they represent. The VW Campervan has the association with hippies and surfing.
"These days it does tend to be the older middle classes that own them because they are so expensive, but it's that
association with freedom, the peace movement, and perhaps just a more relaxed and leisurely way of life, that give it appeal."
It's hard to disagree. I hadn't been behind the wheel for very long during what is normally a two hour journey to Swanage, when I relaxed, stopped worrying about the frustrated motorists lined up behind me, and just enjoyed myself.
Four hours later we crawled into the campsite, never having reached 50mph. Moving the interior around in order to set up the beds, including hammock type beds for our two young boys, is a little like playing vintage twister where every player has a bag of luggage as well. But it was another memory builder.
It was a short trip that will live long in the memory. It may look expensive to hire the campervans, but I felt we easily had our money's worth.
Plum hopes to see her vans heading off to the summer music festivals. I won't be going to any music festivals this year, but if I was, this would be how I'd like to travel! Every festival I've been to mostly comprised of people pretending they're having a better time than they really are and trying to convince themselves that the headlining act who was big in 1994 have 'still got it'.
So why not make it truly a weekend to remember and roll up in a classic Campervan. If you arrive happy and people are pleased to see you, then you'll probably find everything else will take care of itself. The VW Campervan just seems to have that knack...
For more details visit www.plumcampers.co.uk or call 07766 685862.