Me and my VW Camper Van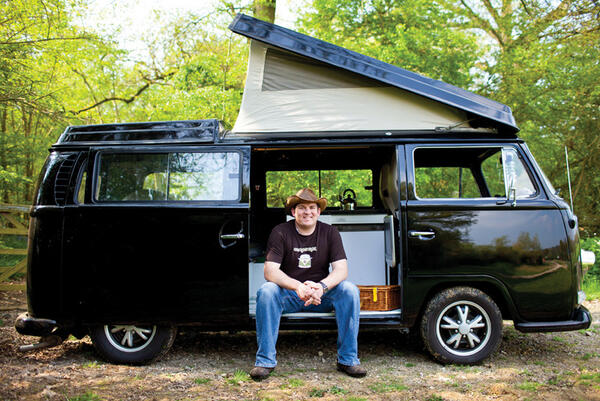 It's not the sort of classified advert that would immediately grab your attention.1969, left hand drive, no engine, no gearbox, no suspension, no seats, not fit to drive. But for Peter Middleton of Horsham, it was an obvious opportunity.
The vehicle in question was an original 1969 Volkswagen Westfalia camper van, one known to enthusiasts as an 'Early Bay'. Not one of the super rare Type 1 vans such as the Samba - that has fetched upwards of £50,000 - but nonetheless a coveted Type 2a worth about £20,000 in good condition.
Peter said: "I bought my first VW camper in 2004, a blue Bay Windows van from 1973, but I wanted an Early Bay Windows model (second generation VW camper vans are known either as Early Bay - before 1971 - or Late Bay).
"I bought this van from California in 2008, but it was just a shell. There was no engine, no gearbox, and no proper suspension. There are not that many early bays that come up for sale in that condition, as they rust easily, but in California it is so dry that rusting is not as much of a problem."
The camper was ordered through a Dutch company, so was shipped to Amsterdam. That meant Peter was able to avoid hefty duty fees, and instead put additional investment into the van's renovation. All the body work and the right hand drive conversion were carried out by a Chichester based company - Vdub Campers. They switched it to a right hand drive vehicle although you may note that the sliding door is now on the wrong side!
Peter said: "I did as much of the work as I could, such as the wiring and the easier mechanical jobs, while Vdub did the bodywork and the paintwork. All in all I probably spent about £12,000 on the van."
It was a huge investment and one that Peter admits his wife was nervous about - at the time they were saving up for a wedding - but the van has provided only happy memories. "I get a massive grin out of driving the van," said Peter. People always wave and honk their horns. You can't just pop out to the shops with it though as it'll take 20 minutes as people want to stop and chat to you about it!
"One thing that people always say to me is 'you can just put a Porsche engine in a VW camper van'. But that's not really true. It can be done with the very early Porsches such as the 356, but it's far more common to use a Subaru engine. That is also a flat four engine (flat engine with four cylinders arranged in two banks of two cylinders)."
Thanks to a new air cooled engine, the van has given Peter few reliability problems, and the addition of modern equipment has also made his camping experiences a little more enjoyable. A DVD player is in the front and a TV in the back with a fridge and cooker. Peter fitted Porsche seats in the front, taken out of an old 944, as well as Porsche branded wheels (actually off an NSU).Peter plans to add more home comforts by refitting the interior, as well as a quirky addition - a trailer made from the front end of his 1973 VW Camper!
Despite all of this, he claims he isn't as obsessed by the VW brand as many others. "I'm not way up there when it comes to being a VW nut," he said. "They don't rule my life but you've seen my cabinet (it's overflowing with models of VW camper vans). There are a lot of people who love camper vans. You get 50,000 people at some events like Bugjam, and the price of vans just keeps going up, it's crazy."
But Peter has no plans to sell his camper van for a profit (it's insured for £20,000), instead planning more trips with his wife and building up more memories. He said: "Probably the best trip we've had in it was to Barry Island in Wales. I went with Caroline before our wedding, and we wrote out all the wedding invitations in the back of the camper. I hope to keep hold of it quite a while. It's something that hopefully I can take the kids away in one day."