Motori Di Marino: Italian Passion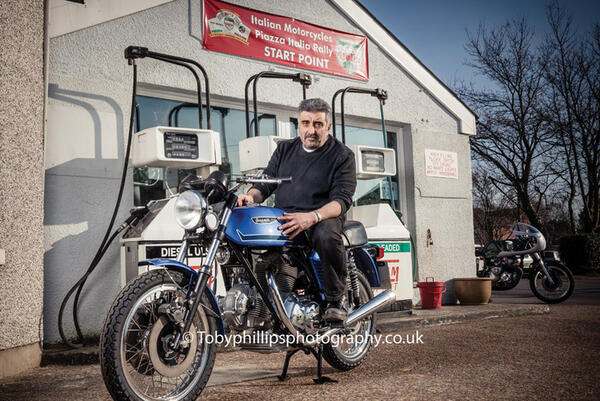 This year Piazza Italia will be celebrating its seventh year in Horsham. The event has grown considerably in that time. It is now held over three days with an Italian food market, wine tasting, opera singers, Scalextric challenges, street entertainment, and of course a few car and motorbike attractions that would shame many professionally-run motoring shows.
Traditionally, it is the Ferrari rally on Good Friday that grabs the headlines. This year we can expect, once again, somewhere in the region of 100 cars sporting the famous Prancing Horse badge to drive into the Carfax, including seven Ferrari F40s and seven Ferrari 'classics'.
But for many, the Italian motorbike parade has become the unsung highlight of Piazza Italia. Last year, about 200 historic bikes including Moto Guzzi, Ducati, Laverda and Benelli bikes came to town.
They had all made their way from a small garage in West Chiltington, quite unlike anything you would ever expect to find in a small West Sussex village.
Motori Di Marino is like a throwback to a different era, when villagers could top up their car at a family run petrol station without having to wait for people to pay for their groceries and collect vouchers for school sports equipment. An era where repair workshops could survive without the need for an accompanying state-of-the-art, glass-fronted dealership.
So in some respects, Motori Di Marino, owned by Pietro Di Marino, is as much a museum as anything. But the company's day to day business involves building, restoring, tuning and selling Italian bikes including Ducati, Moto Guzzi, MV Agusta, Ghezzi-Brian, Benelli, Gilera and a few other rarities.
Much of the work is for private customers, but Pietro and his small but experienced team also has a great number of ongoing restoration projects. When these bikes are finished, they will be added to the collection of bikes for sale. There can be few places in the country – or even Europe - that can boast such an extensive range of motorbikes. You certainly never know who or what is going to pull up outside the garage next.
Pietro said: "A Laverda motorcycle recently arrived as boxes of bits and the customer said 'can you make a motorbike out of this?' "For me, that is an interesting project. We are in a good position at the moment, as
there's enough demand to keep us going.
"There must be a handful of people scattered here and there who fix Italian bikes, but in this area we are certainly the only ones to have this much variety of motorcycles. We have our own projects and we have a huge warehouse full of old bike parts going back decades, but of course the customer comes first. When we have the time we work on our own stuff we do. I have some projects that have been going on for 15 years and when I finally find the right parts I will finish them!
"The oldest bike we have here at the moment is a 1939 Moto Guzzi, but we have a Mike Hailwood replica Ducati, a six cylinder Benelli and even a motorbike used by Italian postmen in the 1950s. Everything is either for sale, has sold, or is a project we are working on.
"When you have all of these bikes, you can't really have a favourite, although I admit I am not a pre-war enthusiast. After the Second World War, bikes started to improve in terms of brakes and reliability.
"But I like the designs of each era for different reasons. A lot of people like what they remember from their childhood. If your dad had a Norton Commando, and you reach a point in your life when you have a bit of money to spend and want to buy a classic bike, then that's probably the bike you will seek out. There's a lot of nostalgia involved.
"As it happens, I don't have a motorbike. People don't believe me when I tell them! If I had a bike I would then have a favourite, and wouldn't be able to ride and enjoy all of the other bikes!"
Even those with little interest in motorbikes or racing could fail to notice the charm of Motori di Marino. Rusty oil cans sit on shelves, fuel tanks straddle beams high above your head, and dozens of bike leathers hang from a rail in front of a sign declaring that 'It's great to be Italian'.
On Friday, 29th March, about 200 riders will whole-heartedly agree with that sentiment as they make their way to the garage to meet on the morning of Piazza Italia. Most will then enjoy a 26 mile ride through the Sussex countryside, visiting other villages within the district.
They will then meet the drivers with the Surrey and Sussex branches of the Ferrari Owners Club, before making their way into Horsham town centre. For many of the riders, the parade has become a not-to-be-missed event.
Pietro said: "A few years ago, I was asked by one of the local Ducati club members if they could start the parade from here, and Garry Mortimer-Cook (Horsham TownCentre Manager) came down to see us.
"We went from there. We probably had in the region of 70 or 80 bikes here in the first year, and last year we counted about 200 bikes. For me personally, it's always nice to see the varied machinery that comes up for the day. I see different bikes week in, week out as I specialise in Italian bikes, but it is nice to see them all in one go and the local people like it too as they have a little show.
"I do go into Horsham but I can't go in with the rest of the bikes as somebody has to stick around and tidy up the place and put some of the bikes back into the garage. But I always come into town later on and I think the Italian bikes and the Ferraris complement each other very well. Piazza Italia is a great event. I don't think it needs to grow, but I hope it'll keep going in its current format. It brings a lot of people to Horsham and it's a good day
out for everybody."
The Piazza Italia festival is organised by Horsham District Council in conjunction with local businesses, vehicle owners groups and partner organisations. This year's highlights include a rally of Ferraris and Italian bikes on Good Friday, the Vines Italian Job Mini Run with up to 100 Minis held on Easter Saturday, and supercars (a Pagani Zonda often attends) as well Alfas, Fiats and Scooters on Easter Monday.
The event will be in aid of Surrey & Sussex Air Ambulance, Chestnut Tree House Children's Hospice and The Children's Trust (Easter Monday).
For more of a flavour of what Horsham Piazza Italia is all about visit the Leisure and Tourism page at www.horsham.gov.uk