Trio set for Mongol Rally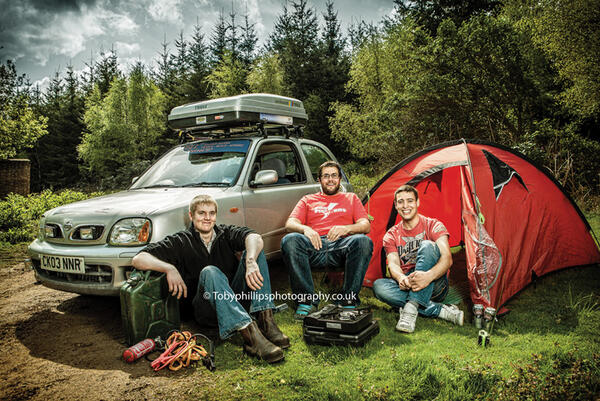 The Mongol Rally is a 10,000 mile journey that takes in some of the world's toughest terrain. It is a dangerous event. Competitors are unsupported as they make their way on an unspecified route to Ulan Bator in Mongolia.
Teams have been robbed at knife point, chased by armed bandits and jailed for crimes against the state. One car fell down a pot hole ten foot deep, whilst one unfortunate competitor was even stoned by a Nomad! As if this wasn't enough of a challenge, competitors have to enter in a car with a one litre engine.
In July, Paul Slogrove of Horsham will join Graham Lynn of Hove and Chris Hale of Worthing in embarking on this great adventure…in a Nissan Micra. They will set off from Goodwood race course on July 14th at the Festival of Slow, where all of the UK teams are meeting. The team, called the Bump Start Bandits, will then head on to a big European launch in the Czech Republic where most of the 500 or so entries will meet on July 16th before heading on to Mongolia.
Paul said: "I had heard about the Mongol rally a few years ago as one of my work colleagues showed me a
picture of a Fiat Panda he was taking off road on a similar rally and it really interested me. When Graham approached me in the pub and said 'do you want to go to Mongolia?' I knew what he was thinking and loved the idea.
"The rules are simple – go from Goodwood to Ulan Bator in Mongolia in a car that is less than 10 years old and has less than one litre engine. "Our Nissan Micra was an eBay find. We won the auction for £890, went to Bristol to pick it up, and we fell I love with it! Micra's are bulletproof!"
As a team of engineers, The Bump Start Bandits have fitted the car with new spotlights, a cut-off switch in case it's stolen, and have raised and stiffened the suspension. New brake discs and pads are being fitted soon, along with rally tyres for the tough terrain.In terms of route, the Bandits are playing it safe to a certain degree, but it'll still be a remarkable feat if they reach the Mongolian capital.
Graham said: "There is no set route, and it's unsupported so there's no one to come and help if you get into trouble. Some teams take weird and wonderful routes, but we're sticking to the bottom of Russia as we're a bit pressed for time and money. Others will go through Kazakhstan and Uzbekistan, up to the Arctic Circle or through Iraq.
"Some avoid Russia as you have to bribe yourself through it. We're going to France, Belgium, Germany, Czech
Republic, Poland, Ukraine, Russia and Mongolia. We're entering into a westerly point of Mongolia and that will be the most treacherous part as there are no roads. The undeveloped parts of Russia and Mongolia are supposed to be beautiful. It's difficult to comprehend how big those countries are. I think the scenery will be awe-inspiring and breath-taking.
"We plan to do it in three weeks, but that will rely on us not having any major breakdowns. But if you get stopped at each border that can add a week, and so can waiting for parts."
It'll be a demanding trip. The trio will be camping out each night and having to endure high temperatures in a small car with no air conditioning. It's also an expensive trip. The team estimate they will spend £2,000 on fuel alone. They have already secured some sponsorship and donations from Face and Body Studios in Southwater, Ring Automotive, Stadium Motor Spares of Hove, Masta Travel, Jewell Master Pavers of Shoreham and Cliffords of Hove.
At the end of the rally, the car will be donated to charity with the money goes to the Lotus Children's centre Charitable Trust. In addition, The Bump Start Bandits hope to raise £500 for the Sussex, Surrey and Kent Air Ambulance, in memory of Graham's friend Laurent Devroey, who died in a motorcycle accident in 2005.
If you would like to know more about their adventure visit the Mongol Rally website at www.theadventurists.com/the-adventures/mongol-rally
If you would like to sponsor the team please visit their Facebook page at https://www.facebook.com/thebump
startbandits