Dream Cars at Premier GT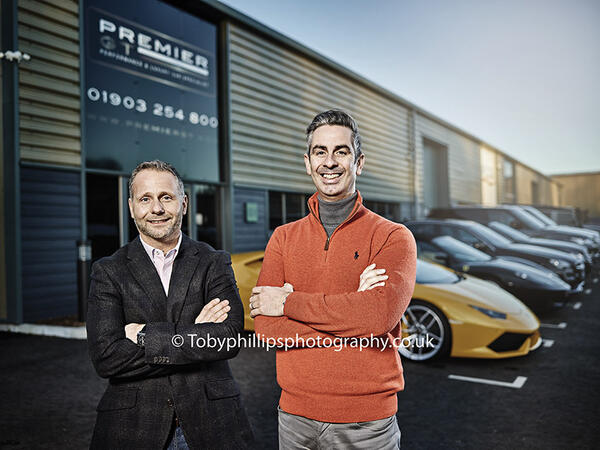 Published on 1st February 2017
Over the Easter Bank Holiday weekend, tens of thousands of people will once again gather in Horsham for the Piazza Italia festival.This year's Easter Monday supercar parade will be sponsored and led by a convoy from Premier GT Performance and Luxury Car Specialists in Washington.
Since moving to their new showroom at Rock Business Park, an increasing number of motoring enthusiasts have been enticed by the rare and unusual cars gracing the Premier GT showroom floor. After spending 10 minutes mesmerised by a 1978 Ferrari 512BB - an early 'pin-up' from the golden age of supercars - we spoke to joint owners and self-confessed petrol heads David Trigg and Nick Hall.
Are you all about supercars?
David: We sell a wide range of performance and luxury cars, from classics to modern supercars. We're always on the lookout for cars that offer something different to our clients. We consider its specification, colour, history, mileage, condition and provenance.Currently we have models by Porsche, Lamborghini, Maserati, Ferrari, Audi, TVR and even a Dodge Viper. For clients seeking luxury, we offer cars by Bentley, Aston Martin, Jaguar, Mercedes and a selection of top specification Range Rovers, including the latest Vogue and Sport models.
You are not associated primarily with any single manufacturer?
David: We're fortunate in that we have the freedom to choose which cars we sell, although we are very particular. Currently in the showroom, we have cars ranging from the Ferrari 512BB, which is a highly coveted classic supercar, through to a 2014 Lamborghini Huracán, a modern supercar, with only 2,000 miles on the clock.
Presumably you attract a certain kind of buyer?
Nick: Often it is an emotive purchase, made by somebody wanting to own a piece of supercar history or experience the thrill of a modern supercar. People looking for such a car can choose to visit several different manufacturers or alternatively, they can come here and see a more diverse selection of cars that each holds a certain appeal.
Why are classic supercars so desirable?
David: There is often a desire for someone to drive a car that they once had a picture of on their bedroom wall and also they are a sound financial investment. So, basically our clients can buy the car they dreamed of as a child with the confidence they are going to see a strong return on their purchase. We have more and more clients who are investing their money in cars. Some are building their collections whilst others may already have upwards of 20 appreciating cars.
Why not put the money in a savings account?
David: People will always look for areas to confidently invest their money and by purchasing classic and modern classic cars, they have an investment that is not only going to grow faster than their money in the bank, but also they have something they can look at, drive and enjoy. A good condition, low mileage Ferrari Testarossa (1984-91) could have been bought for £60,000 a decade ago and would now be worth comfortably triple that amount. So, it's understandable that people are putting money aside for classic cars.
These are investments that can be enjoyed…
Nick: They can be. Cars such as the Ferrari F430 are something to enjoy at the weekend rather than an everyday driving vehicle. If you have the money and have dreamt of driving one, you can buy such a car with the comfort of knowing that it's unlikely to decrease in value if it is well looked after.
Presumably they don't all increase in value?
Nick: Certain new supercars will of course depreciate initially. Rather than being bought as an investment, this type of car appeals to somebody who wants the thrill of a modern supercar experience. Instead of buying a car and only taking it out for special occasions, they want a car that they can have some fun in, put some miles on the clock, and experience the pinnacle of automotive technology.
At least until another supercar catches their eye?
David: We certainly have a few clients who change their cars every six to 12 months as they want a different experience. That is what car enthusiasts are like. Whether it's classic cars or modern supercars, our job at Premier GT is to help them fuel their passion. We always aim to build a special relationship with our clients, old and new, based on trust and a mutual passion for beautiful cars. And that bond is very useful when it comes to helping them choose a car they love.
How do you decide which cars to bring to Premier GT?
Nick: We are both very enthusiastic when it comes to buying our cars, so whilst of course we consider the business when making a purchase, this is also our passion. Consequently, when we have an opportunity to acquire a car that ticks the boxes in terms of quality and provenance for Premier GT, we will do our best to bring it here. David: We buy with our heads and our hearts. We run the business as if we were customers – if we are excited about a car, we know others will be too.
However, you can't buy every supercar available?
David: We look for and buy very individual cars. We recently bought a Ferrari California in special-order Mugello red with distinctive crema 'Daytona' seating and £20,000 of optional extras, as we knew that this unique colour combination and specification would be appealing to our clients. Our Huracán may be one of 30 for sale across the country, yet the distinctive colour combination and specification means it is the only one like it. People gravitate here because we offer something different that will stand out.
Do you have a favourite car?
Nick: David and I often debate which cars to bring here! However, when it comes to favourites, we agree that we don't have one, as they're all special in their individual ways. We sold a Cobra recently, which is a car I adore and yet it's not a car I could drive every day. I thought that the Ferrari 458 was incredible and then the Lamborghini Huracán turned up and in terms of driving experience it was another level. My expectations are continually being exceeded. It's like a drug – you constantly want to experience more.
How do you prepare cars for the showroom?
David: Every car is prepared to the highest standard so that when they are driven into the showroom, they are as close to new as they can possibly be. Clients often travel a long way to view the cars and they need to feel confident about a purchase. So, when it comes to repairs, we deal directly with the manufacturer.
Good customer service must be important when you're only appealing to a select group of people?
David: It's vital, otherwise they're likely to look elsewhere when they next buy a car. We recently met a client who came to Premier GT having been specifically searching for a black Ferrari F430 with cream leather interior, which we happened to have. A short time later, he returned for a Range Rover for his wife. It really is incredible how many referrals and recommendations we receive – it makes us very proud. Often it's easy to immediately connect with our clients as we already share a lifelong love of anything with four wheels. Our aim is to look after our customers as carefully as we do our cars.
Is it an advantage being based in West Sussex?
Nick: People certainly like to buy local. Customers have said that it's great to have somewhere like Premier GT on their doorstep. It's also important that clients can visit us and deal directly with people who are so passionate about cars. They know we will sell them a car that is in excellent order and prepared to the highest standard, provide competitive funding options if needed and provide great after-sales care. It's an ongoing relationship.
How did you two meet?David: I met Nick when he bought a Ferrari F430 from me. We became good friends through our mutual love of cars. After a few years of friendship, we had a chat about working together as equal partners and the rest is history. Nick: It can be difficult working in partnership with a close friend, but we both pull in the same direction. As a result, we've surpassed our expectations and we have created a fantastic business built on passion and enthusiasm.
Why choose to be based in Washington?
David: This new showroom is perfect for us as it's sleek, modern and allowed us to expand the size of the showroom. We're also more central to where we wanted to be, with easy access to the capital and Surrey, as well as the coastal towns and cities. We have easy access to the A24 which is useful for test drives. It's an ideal location.
Do you have to provide a little more for supercar clients?
David: We're fortunate in that we're also near Goodwood so we've taken clients on hospitality days to The Festival of Speed and The Revival. This year, we're also planning driving days on which drivers can meet at Premier GT and enjoy a bacon sandwich, before we take the cars out. That could be to Goodwood or just for a scenic drive before we come back to the showroom to watch the Grand Prix on our big screen. We have also planned driving trips further afield in the summer, including Ireland, the Champagne region, Le Mans for the 24 hours and Mondello Park near Dublin for some track action.
You're also involved in local events?
David: We are working closely with Garry Mortimer-Cook of HorshamDistrict Council, as we are sponsoring Supercar Monday at the 2017 Piazza Italia festival. The organisers are very passionate about the event, which we responded to. We're expecting to bring in a convoy of about 25 cars and we're hoping to provide a lot of car-based entertainment for everyone attending, including a race paddock and hospitality for our clients.
What will this entail?
David: We have many connections in the motor racing world and we're hoping to entice a few friends with rally cars and perhaps even ex-Moto GP World Championship bikes to display at Piazza Italia. There's a possibility that one of these could be a Barry Sheene Grand Prix Suzuki. We're keen to build relationships locally and our involvement in Piazza Italia is a key factor to that.
Premier GT will be present on Supercar Monday at Piazza Italia on 17 April. For more on Premier GT call 01903 254800, email sales@premiergt.com or visit the online showroom at www.premiergt.com