Tara Williams: My Harley Softail Deluxe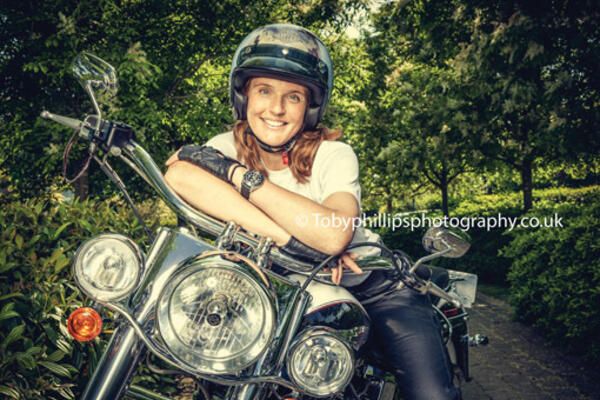 If Harley Davidson was a chocolate bar, it would surely be a Yorkie. It's simply not for girls.
It's a bike beyond the stature of most men. Only those with black jeans, tattoos and leather jackets over a Lynyrd Skynyrd T-shirt qualify. Beards, beer bellies and bar brawl experience are preferable.
But Tara Williams of Southwater might just change your perception of Harley owners. She has no tattoo of a bald eagle on her biceps, and has never been thrown through the window of an Arkansas 'choke and puke'.
Instead, she is a fitness fanatic, regularly taking part in ultra-marathons, and spends her days working for the RSPCA. Tara said: "It is a surprise when people see me take my helmet off. I used to ride with a friend and she had a black Harley Fatboy. We turned up to one rally where there was a Hell's Angel party and we backed the bikes in, took our helmets off, and the reaction was hilarious.
"The look on their faces was fantastic! I don't think they had ever seen two women ride in on two huge Harley Davidsons. But contrary to what people think, they were very nice, and welcomed us in to their party. I think we were giving a good impression of biker women until a huge bug flew by and we jumped up screaming with our arms flailing around!"
Tara rides a brand new Softail Deluxe. The white wall tyres, come as standard, but Tara has modified the bike so that it has 'beach bar' handlebars for added style, and raked out forks as she found the front end 'skittish'.
But this is not a recent fascination for Tara. From an early age, she had the desire to one day own and ride a Harley Davidson motorcycle. She said: "Since I was about 13-years-old, all I ever wanted was a Harley. It was not about the lifestyle or the Hell's Angels; it was the sound they made and the gleaming chrome style that most appealed to me. This passion stemmed from nowhere. My dad didn't ride and in fact he hated bikes. I just saw one and said 'I'm going to have one of those'."
"When I was 16 I told my dad that I was going to take my bike test and buy a Harley and he hit the roof, as most parents would. I put the idea on the backburner for a while, but a few years later, when I was accepted into Royal Military Academy Sandhurst, I told him that the joining instructions required me to have a motorcycle licence.
"There was no truth in that, but he didn't have an army background so it seemed quite logical and he went along with it!"
Having never experienced riding a motorcycle, Tara took the first part of her bike test, along with her father who had a dramatic change of heart. They then went to Wheels International in Leighton Buzzard to each buy a crash helmet. They came out with a Harley Fatboy!
Tara recalls: "They had to deliver it to us as we had only passed the first part of the test. Neither of us could ride the bike so we took it into the house and looked after it. We then both gained our full licence, but I couldn't get insured on the bike initially as I was only 21-years-old. I had to make do with riding the bike up and down the driveway whilst dad rode it properly. I became very good at riding slowly, turning sharp, and going up and down a drive!"
Tara joined the military academy and loved her time there, but unfortunately was discharged on medical grounds after developing back problems. But a few years later, Tara bought a Harley Fatboy of her own. She said: "I hadn't ridden in seven years and I couldn't even start a bike. I turned up to a refresher course and the instructor, a former police officer, asked what I wanted to do.
"I said 'I haven't ridden for seven years, I can't remember how to ride a bike. But I've got a Harley arriving this afternoon and I need to be able to ride it.' The poor bloke looked amazed, but we went through it all from a 125cc right the way through to bigger bikes.Then my first bike, a 1340cc Harley Davidson, arrived later that day."
A year later, Tara added a second Harley to her collection, a Dyna Wide Glide. But she came off the bike after hitting some oil, and whilst she escaped without injury, it dented her confidence on the bike. It was time for a trade-in…
She said: "When I first started riding in 1993, Harley brought out the Cow Glide, and that was the bike I wanted. But I couldn't buy one at the time. Then they brought out the Softail Deluxe in the Nostalgia series, and I thought 'I have to have that bike'. I traded in the Dyna Wide Glide, and bought one. Having ridden that, the Fatboy just felt so small, so I sold that too. I don't regret selling the Fatboy, but I was so upset at the time it was my first bike, my dream, and it encompassed everything."
Now Tara takes great pleasure in riding her Softail Deluxe and enjoys breaking the perceived mould of Harley Davidson riders. Although she is a lifetime member of the Owners Club, she doesn't attend a great number of the club rallies as often her weekends involve walking or running huge distances on ultra-marathons.
Tara has in the past been "totally misbehaving" at the Bisley rally on her Fatboy, and also went to Barcelona in 2003 for a huge rally and Rolling Stones concert to celebrate 100 years of Harley Davidson. She even decorated one of her Harleys with poppies and drove out to northern France for a tour of war sites and memorials.
She said: "I'm too busy with the ultra-marathons to go on rallies all through the summer, so I just like to use the bike when the weather is nice. People always want to chat about the bike. They come up to you in service stations, and you do see some funny looks when they see it's a woman!"