12 Hour Lawnmower race at Five Oaks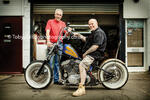 Harley Davidson has to a certain degree rid itself of its bad boy reputation. For many years, it was natural to associate the motorcycle manufacturer with the Hells Angels, the notorious gang whose members ride Harley Davidson bikes.
These days, the average age of a Harley Davidson owner is nearly fifty, and usually they are people with a high income. Worldwide there are more than a million members of the far more reputable Harley Owners Group (HOG) and that figure is growing, even in a recession. This most American of brands has found a fan base here in the South East of England. Unusually, the small Lyons Industrial Estate in Slinfold has become a local focal point for Harley Davidson owners.
Public Enemy Customs specialises in customised bikes and has recently moved into a unit that was occupied by Highside Motorcycles. Two doors down is P&D Custom Bikes, where Dave Batchelar has been involved in the fabrication and welding process of motorcycle maintenance for more than 25 years. Dave was based in Crawley for 14 years and is well known in motorcycling circles. Previously he had worked with Peter Bennett, who sold parts for custom bikes in Pease Pottage until the 1970s, before buying him out with a partner, Paul.
Eventually Dave moved to Slinfold, keeping the name P&D Custom Bikes although 'D' was now running the
business alone. Dave continues to be involved in fabrication, welding and upholstery. He said: "We like to work on Harleys if we can but we'll give every bikea fair chance if we are interested in the challenge. But superbikes wouldn't come here.
"It's mostly customising that we do – making the bikes the way that people want them. Owners like to have a bike with its own style – it's easier to do and costs less to do that it does for a car. People come here from all over the place and we also work for a couple of Harley Davidson dealerships in Guildford and London, so there's plenty to keep us busy.
"I think with Harley Davidson it's a heritage and a lifestyle attraction for people. It's a massive thing all over the world now – you buy a Harley and get membership of HOG for a year and then most people keep it going. When I got my first Harley it was different as they were not so popular – now everybody seems to have one! I'm not knocking that though. We sometimes take the Mickey out of HOG members but they go all over the world and do far more miles than I do on their bikes, so good luck to them."
Dave's first motorbike was a BSA Bantam, and later he built himself a Honda 500 Chopper. He had started building a 750 Chopper when he stumbled upon his first Harley project. He said: "A buddy of mine had a Harley Panhead Basket Case engine and gearbox for sale, so I dumped the Honda. It was all ruined and worn out but I built a nice bike out of it, before eventually I had to sell it. These days I ride a nice old red Harley Shovelhead.
"I've still got a passion for the bikes. Like anything else, you get fed up with it when things don't go right but when people say 'thanks, you did a good job', then that's a reward."
He now has a neighbour to share his passion for motorcycles. Gary Foley was in partnership with someone else but that dissolved, so he set up a business on his own. Gary said: "I started tinkering with bikes when I was a teenager and always worked from home. I built my client base up that way. I was riding motocross when I was 13 and found that I liked to fix the bikes as well as riding them. I was self-taught initially as I would work on bikes in the evening after I had finished work as a dustman.
"I also worked in a couple of bike shops. One of them specialised in drag bikes so I learnt a lot there before I got into the Harley Davidsons in the mid-1980s and it grew from there through word of mouth. Clients and friends spread the word and then I started off another company with a partner. That ended so I left to start up Public Enemy Customs.
"I've used Dave at P&D Bikes for a few years for all the fabrication work. If I need something making I will take it to Dave and if he needs something putting together he comes to me. I do mild work but with frames I need someone with lots of experience and Dave is well known in the industry. There was an opportunity here in
Slinfold and Dave let me know about it so I went for it.
"Most of my work here is with V-Twin Harley Davidson bikes, and I do anything from servicing up to full builds. It's a passion for me – what more can you ask for other than being paid to do something that you love? But in regards to Slinfold, the golden egg for me is that Dave has been here for so long. I get the passing trade and jobs through Dave. He is more into the metalwork side so if someone brings a bike in I will strip it, and then take it to Dave for modifications before I rebuild the bike."
Gary's first Harley was an FX Shovelhead – a purchase he described as a 'mid-life crisis'. But that is typical of Harley riders. He said:"It's not a hard sell. Harley Davidson sales are going up even in the recession. It's a middle aged man's bike. I like sports bikes but it's too easy – press a button and away you go. With an old Harley you have to get the spanners out and it feels personal. Every Harley is different – you rarely see two the same,
because of new customised parts and various paint jobs. It's a big market with many bolt-on parts, but it is
affordable.
"You can get a good second hand bike and use people like us to do it up without ripping you off. People are buying into this Harley way of life. You have the bad boy image but the riders are weekend cowboys!"