Me and My Triumph Stag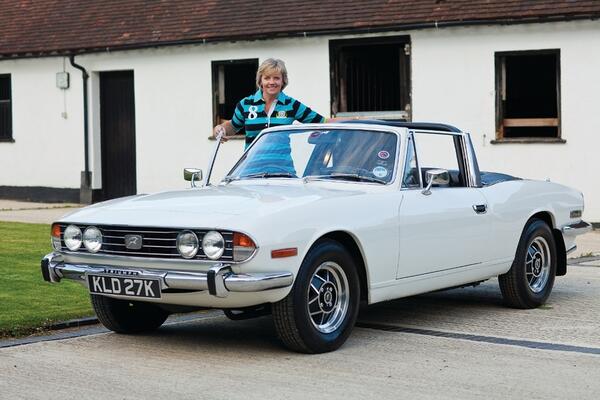 Not much from the early seventies has stood the test of time.Donny Osmond records, platform shoes, Chopper bikes, Tony Blackburn, Space Hoppers, The Wombles, Pans People, It Ain't Half Hot Mum, Gary Glitter...
But many cars of that time have steadily built up a cult status, and not just early supercars such as the Lamborghini Miura or the De Tomaso Pantera, but some British motors too. Cars such as the Ford Cortina and Capri, the Reliant Scimitar, The Hillman Avenger, were affordable, yet cool. Some were boosted by appearances in popular TV shows such as The Sweeney and The Professionals.
But in the eyes of Sally Napper, the best car of all was the Triumph Stag. It was the only car she wanted, but the opportunity never came about. That was until 2008, when Sally, from Partridge Green, came across an immaculately preserved 1972 mark I model at a stables in Shermanbury. Sally said: "As a young girl, I always loved Triumph Stags. I think they're gorgeous. I love the sound of the V8 engine and for me it was just the dream car.
"They were quite popular in detective programmes in the 70s. I first saw one in Hazell. James Hazell drove a bottle green one, and I was most upset when I saw the episode where they put a garden fork through the bonnet!
"My daughter has a horse and at the livery yard I looked through the window of one of the outbuildings and saw a car covered up. I asked one of the other ladies with a horse at the yard what the car was and she said thought it was a Triumph Stag.
"My eyes lit up! I had a sneaky look under the cover and saw the back end of a Stag and thought 'Oh wow, this looks special'
Sally's husband Steve asked the owner of the livery if he had ever considered selling the car, and it transpired he was quite keen to cash in. Sally finally had her dream car! The Stag was in pretty good condition, and just needed a clean and polish. It had been stored well though, and started first time. Sally said: "That was it, I fell in love with it there and then. It was the first time I'd ever actually driven one."
Sally's Stag has clocked up 104,000 miles on its original three litre V8 engine, but they only take it out during the summer months. The car - christened Stella - is a regular at meetings of both the West Sussex Stag Owners Club meetings (there are about 16 members) and national meetings too. The Triumph Stag, styled by the Italian designer Giovanni Michelotti, was sold between 1970 and 1978. The car was launched one year late in 1970, to a warm welcome, but like many British cars at that time, the Stags were hit by engine troubles.
That meant that production rates were lower than Triumph had hoped - only 25,877 cars were produced between 1970 and 1977. It is thought around a healthy amount of about 9,000 Stag survive in the UK, and the car has - nearly four decades on - been elevated to Classic status. Sally's car has suffered few reliability troubles, and the V8 still packs a punch, and is able to hit speeds in excess of 100mph, but Sally likes to take it easy and enjoy the ride.
She said: "It's a completely different way of driving compared to modern cars. You have to anticipate a lot more because the braking is different and the cornering is different. It has got power steering, it has got electric windows so for its age, it was well ahead of its time. It makes me feel really special. The first time we took her out, we ended up in a pub near Cuckmere Haven (East Sussex) and it was heaving. We drove in the car park and the chap there said 'you can park here right outside the pub, that's a proper car! I enjoy going out on a hot summer's day, stopping for a pub lunch, cruising and getting the odd admiring glances.
"We like going through the tunnel in Lewes or through Petworth with the high walls on either side, as you can hear the sound of the engine. People turn their heads and look and wherever you go, people want to talk to you. The only complaints are from Sophie in the back and she says it's too cold!"