Anthony James Cars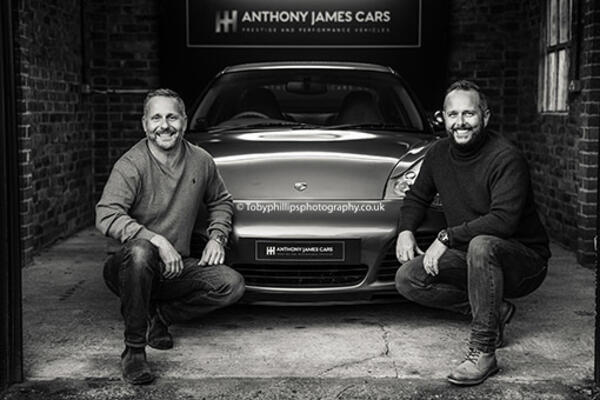 Published on 1st November 2019
Two brothers from Horsham, Daniel and Nick Hall, have drawn on their lifelong passion for cars to establish a unique new business.
Daniel's career has until recently been outside the motoring trade. However, as partners at Anthony James Cars, their shared interest has fuelled a new venture.Offering cars under £100,000 – from retro sport classics like the Ford RS2000, to the eternally cool AC Cobra and luxury marquees like Jaguar, BMW and Bentley – the Halls hope to appeal to a wide range of buyers in the used car market.
Daniel said: "People don't come to us for a wander around to see if something takes their fancy. They tend to know what they want beforehand. So, if they're looking for a red Porsche 911, they will buy one if it's well presented and sold at the right price. We sell cars that people have dreamed about owning. They might have had a poster of a Ford Mustang on their wall and promised themselves that they would buy one at a certain age. So, the purchase is an emotive experience rather than one of necessity."

Every Cloud…
Whilst the brothers are partners, it is Daniel who runs the day-to-day operations, as Nick maintains other business interests.
Daniel enjoyed a 20-year career as a Sales Director in fibre-optic infrastructure and later became a business consultant. But a collision three years ago dramatically altered his life. While taking his son to the dentist after school, his car was hit head on by a drink driver. Daniel has suffered from neck, back and jaw pain ever since and requires regular long-term medication. The strong painkillers he was prescribed initially affected his performance at work and he started to struggle with depression.
"My job was very demanding with lots of travelling and it reached a point where I couldn't sustain that level of work," he says. "After being out of work for a while, I needed to be earning to support my family. So, we formed Anthony James Cars, named after our father, who sadly passed away 20 years ago. The business was ultimately borne out of necessity, but is essentially a dream come true!"
"Nick has been a great support. Initially, I was working from my kitchen table and then his! Now we're preparing to expand into a new unit in the area. We started with only a handful of cars including a Porsche Cayenne and a Jaguar F-Type. Fortunately, we sold a few quickly and reinvested to grow our range. Slowly but surely, word of what we're doing is spreading."
Fresh Approach
Although they have extensive backgrounds in sales, Daniel and Nick are relative newcomers to the trade, although Nick has some experience of selling high performance and luxury cars.However, they believe that their focus on customer service sets them apart from competitors in the used car market.
"The time is right for a fresh approach to the way people buy used cars," says Daniel. "After 20 years in sales, I know it's key to understand the customer. We want to be a refreshing change to the standard sales practices that put people on the back foot. So, even on the website, we write our descriptions differently to most. Rather than just using technical jargon, we also use more emotive language, as we're catering for people looking for a dream car. That might be a Land Rover Discovery that offers luxury and safety, or the sports car you wanted when you were ten-years-old and which now fortunately happens to have some appreciation in value!"
"We buy cars that we like and what we think others will like too. There's no great science behind it. We carry out a pre-delivery inspection by an authorised independent garage and offer industry-leading finance packages and warranties. We also sell customers' cars on their behalf and as well as saving stress and hassle, we're able to offer a return that's better than what they might make selling privately. But we want to do more than that. We want to ensure customers are not just happy, but ecstatic, to the point that they will recommend us on social media and recommend us to friends and colleagues. That's how we'll prosper in the long term."
1980s Experience…
Nick is delighted to see how the business has transformed his brother. Transferring his skills into a new environment has given Daniel the focus and motivation he had before his accident.
"Because of the kind of cars on offer, it's an enjoyable experience for the buyer and the seller," says Nick. "If we were selling a basic family hatchback, it wouldn't be exciting for us, as it's a commoditised transaction. But this is very different and Daniel is going to extraordinary lengths to make it an even more memorable experience, creating a proper unveiling ceremony, arranging delivery on a closed trailer and in one case even sourcing a private number plate for a client."
"Rather than it being a hindrance, the fact that we don't have much experience in the trade helps us. We love cars – just like the buyers. Because of that, customers relax and it leads to conversations about all kinds of things, from our own business experience to cars we've owned or driven. When that happens, people can have fun and enjoy the experience. One customer recently brought along a cassette tape when he collected a 1986 Porsche 911 Super Sport, as he wanted the full 1980s experience on his drive home!"
Fulfilling a Passion
Looking at the cars offered, it's evident that Anthony James Cars is happy to take a few risks.The AC Cobra, Porsche 911 and Ford Mustang might be universally admired, but other gems are seeking the right buyer.
Take for example, a Ford RS2000 in an Alan Mann Racing gold and red colour scheme - a genuine barn find (now fully restored), complete with racing engine and roll cage. In the past, Nick was invited to drive injured servicemen around Goodwood for a charity day. Whilst it was one of the cheapest cars on display, the RS2000 was also one of the most popular.
"A dream car varies from person to person," says Daniel. "Certain cars just have something that makes you smile. What we do is sell cars that are achievable as a life goal for people. That's what makes it enjoyable. There's no aspiration to be the biggest used car trader in the area or boast a huge showroom - we just want to enjoy working together as a family while fulfilling our passion."
"We're buying from people who love cars, selling to people who love cars and we love cars too. That shouldn't be a chore!"

Anthony James Cars is located in the Horsham District. Viewing is by appointment only.
Tel: (01403) 627100
Email: daniel@anthonyjamescars.com