O'ROURKE'S COACHTRIMMERS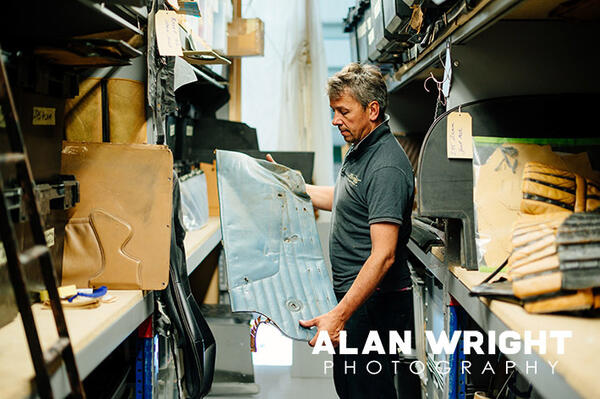 Published: 1st August 2021
At O'Rourke Coachtrimmers on the Old Rudgwick Brickworks, there is a storage room with rows of boxes lining the shelf. They are all labelled with the name of some of the world's most desirable cars: The Ferrari 250 GTO, Ferrari Daytona, Lamborghini Miura and Mercedes 300 SL Gullwing.
Each box contains a selection of original material and fabrics collected by owner Rob O'Rourke and his team over many years including seat covers, floor mats, carpets, gear stick covers and door trimmings. Some have sat on the shelf untouched for decades, but occasionally, a project comes up where these pieces prove vital to restoring a car to its original condition. That is what O'Rourke's do perhaps better than anyone, meticulously working on the interiors and soft furnishings of famous marquees including Rolls Royce, Bentley, Porsche and Ferrari.
Rob says: "It's not difficult with modern standards and materials to make the interiors of these cars better than they ever were. However, that would mean taking the character out of them and that's not what most customers want. They want the cars to look exactly as they did when they left the factory in Maranello. But over the years, some cars have been re-upholstered many times and original materials have been lost. Luckily, I've held on to a lot of things, but still find it best not to think about what I've thrown out!"
"When it comes to restoring a car interior to its original state, these old materials tell us everything we need to know. How the leather was stretched, where the stitching lines were, where the poppers were located in the door trims, what colour the carpets were. Everything has to be authentic, so even our floor mats are based on moulds of originals."
"We go about our work forensically as the tiniest details matter. Sometimes, we get lucky. With the Porsche America, we found fragments of the original carpet several layers down. There were only 17 of these cars ever made, with only 11 left, and the only photos from the factory are in black and white. So, finding even a tiny fragment is important as we can then match that colour."
"Classic Porsche and Ferrari have become more valuable than anyone could ever have imagined. If people had known, they would never have thrown anything away! But because they're so rare, original materials are highly sought and we're one of the few places equipped with the expertise to handle these cars. Now of course everyone knows the importance of original materials and they are treasured."
"Most restorers leave notes and clues during a project too, such as hiding carpet fragments, to help future restorers. I've found my own notes from cars I worked on 20 years ago! Recently, we worked on a Ferrari California and etched inside the door panel was a handwritten note from the guy who last trimmed the car!"

STARTING OUT
As a schoolboy, Rob (known as Rorky) would spend his holidays working at his father's company, Moto Technique in Molesey. Kevin O' Rourke built up one of the leading classic car restoration companies in the UK and Rob loved working on the world's most coveted cars. But is was the work of Nick Artuso, who specialised in interiors, that captured his imagination.

He says: "When it came to restoring a chassis, you could spent weeks lying in grease and dust. But with leatherwork, you had something to show after an eight-hour day and I found that very rewarding. I loved the feel and smell of the material and the detail of the leatherwork, and learned a lot from Nick. When he left to start his own business, I had to stand on my own two feet. It was difficult, as I was still learning, but gradually I built up the knowledge required."
Aged 32, Rob decided to start his own business, specialising in coach trimming. His specialist knowledge ensured he had enough clients to hit the ground running, but it was still a steep learning curve.
"I was offered the use of a barn for what the landlord described as a "peppercorn rent" and spent all my money on heating, flooring and security to bring it up to standard. I was then told the rent would be £12,000 a year, so that was my first valuable lesson: always get it in writing! I could just about afford it and for a while worked alone, restoring classic cars and hot rods. Then one day, I was putting a job notice in the window of the shop in Ewhurst, looking for someone who could help out. AJ walked by and said he was interested in cars, so came along to look around. He thought I worked with coaches, so when he saw a Ferrari 275 Spyder, he couldn't believe it! We've been mates ever since and he's helped build the business into what it is today."

AMERICAN DREAM
There is always an exciting project on the go at O'Rourke. Currently, the team are installing a new interior and sound system to a Ferrari Dino and giving a Fiat Panda 4x4 a stylish new look for Turnbull & Asser (a shirtmaker in London). Meanwhile, luxury car specialist Matt is restoring the interior of a Bentley Continental R-Type. Barry also has extensive experience working with Bentley and Rolls Royce cars, as well as the intricate work involved in button pleating veteran cars dating back to the dawn of motoring. Perhaps the pick of the current projects is a 1952 Porsche 356, known as an America Roadster. The one before restored at O'Rourke raced in the 12-hour at Sebring the same weekend it was delivered from the factory.
"Every year, we have a car that's new and exciting for us all," says Rob. "We've had a Ferrari California and a 250 GTO and I didn't think it could get any better. Then, we worked on a Dymaxion, a prototype designed by American Buckminster Fuller during the Great Depression. I hadn't heard about Dymaxion, but after researching the car, I would have done the job for free as it's the last remaining of three models ever built. It was an unbelievable project and our enthusiasm won us the job. When you see something like that in front of you, it feels like you have the best job in the world!

COMFY RIDE
The price of some of the best preserved and historic Ferraris has rocketed over the past decade. A 275 GTB Nart Spider sold for $27m, although that's loose change compared to the $70m paid for a 1963 Ferrari GTO. With such mind-boggling sums of money at stake, it's no wonder that some prefer not to use the original interiors. While some of the most coveted cars are kept in storage and rarely driven, more passionate enthusiasts like to show-off. But they often opt for a modern, more comfortable interior, while original materials are kept in a safe place.
"Sometimes, it's wise not to add wear to the original material by using it," says Rob. 'So, people have a modern restoration so they can go out and enjoy the car without being paranoid about damaging the leatherwork. Usually, it's more enjoyable to drive that way anyway. It's remarkable how poorly made some of the original components were, especially in right-hand drive models. Seat frames weren't always straight and cars that people drool over were in fact quite uncomfortable to drive.
So, as well as keeping original frames which we can replicate perfectly, we also make more comfortable versions!"
"When it comes to interiors, German marquees such as Mercedes and Porsche were very consistent, but that's not the case with Ferrari. No two are the same! That's why we do a thorough research of every car when it is stripped down, to check every tiny detail. When owners show their cars at concourse (an exhibit or competition) it is this attention to detail that will make the difference."

WORKS OF ART
But will future generations care as much about cars for the business to thrive in future? It's a question Rob ponders as the world edges closer to electric, self-drive vehicles. "We're seeing increased demand for cars from the 1980s, including Peugeot 205, VW Golf and BMW 3 Series. But the Ferraris are beyond the means of all but the super rich and are often bought by consortiums as investments."
"It'll be interesting to see what happens when you can't drive these cars because they're too expensive to insure, or fossil fuels are banned. Will their value drop because there's no need for them? Perhaps, but I believe that the most desirable models will become more like priceless works of art. They'll be something for all to treasure, like a Michelangelo painting."
WORDS: BEN MORRIS / PHOTOS: ALAN WRIGHT