BLMRA HOSTS 500-LAP RACE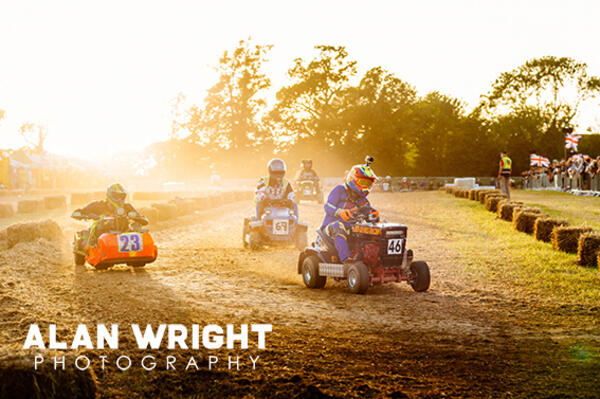 Published on 1st September 2023, replacing an earlier article on the BLMRA from 2015
To celebrate its 50th anniversary, the British Lawn Mower Racing Association (BLMRA) staged a special endurance race on 12 - 13 August, with 51 mowers competing at high speeds in a field in Five Oaks.
Traditionally held annually, this was the first time the event has been held since 2019. As well as the disruption of Covid, the organisers had to find a location to host what is known as the jewel in the crown of British lawn mower racing.
Finding somewhere local was vital, as the BLMRA was founded when the late Jim Gavin, a motorsport enthusiast and amateur racing driver, organised the first race in Wisborough Green in 1973. After chatting to friends in The Cricketers Arms, they staged the event on the village green. Since then, famous names including Sir Stirling Moss, Derek Bell, Guy Martin and Oliver Reed have taken part.
TOURIST TROPHY
Normally held over 12-hours, this year's race was extended to include 500 laps, which took the winning mower a shade over 14 hours to complete. Prior to Covid, the number of entries had dipped below 40, some way short of the race's heyday. After a four-year break, some wondered if the BLMRA's flagship event would ever be held again. However, the 50th anniversary had a galvanizing effect, with 51 mowers lining up for a Le Mans-style start at 7pm on Saturday 12 August.
Several teams had travelled from overseas, and one of these, Gash It and Bash It (No. 82) claimed pole position. The team were regular front-runners at the 12-hr race prior to Covid, but are yet to step on to the top step of the podium. Peter Reddell, who shared driving duties with Peter Merrien and Kevin Bradford, said: 'We've travelled from Guernsey, as this is the biggest and best lawnmower race in the country. Because we're based outside of the British Isles, we're classed as Tourists. There are also Americans, French, Belgium and German drivers, and although there are variations in terms of mower designs, we all compete fairly for honours.'
This year, Gash It and Bash It's challenge for victory faded, as they were one of many to suffer from reliability problems. The first hour of the race saw a fascinating tussle for the lead between Northerners Kick Grass, who have won on multiple occasions, and Bullseye Racing, a team who had made the short trip from Burgess Hill. Eventually, it was the Bullseye team of Alfie Smith, son Jack and brother Kenny Goodesmith who took the chequered flag just after 9am on Sunday morning.
Speaking early in the race, Alfie told AAH: 'We took part for the first time in 2019 and this is the first 12-hour race that they've held since then. However, we've competed in BLMRA sprint races for the past four years and I'm current British champion, while Kenny is world champion. So, although we only finished 12th in 2019, we're hoping to do much better this year!'
CLASS HONOURS
While they did precisely that to claim overall victory, there are other honours up for grabs. There are four different groups in the race (Group 2, Group 3, Group 4 and Tourist) and although they start at the same time, they do not have equal machinery, so group honours are highly-prized.
The leading teams mostly use Group 4 machines, which are wheel-driven mowers with bonnets. Group 3 mowers are more compact and don't have bonnets, while Tourists are overseas competitors. These mowers may not necessarily comply with all BLMRA regulations, as they often race in other championships, yet they compete fairly, with engines limited to 13hp so no unfair advantage is gained.
The fastest mowers along the straights are the Group 4 machines, reaching speeds of up to 50mph. However, the runner-up spot went to SDS Racing on a Group 3 mower. With an experienced line-up of Dean Fuller, Stuart Johnson and Sean Tanswell, their nimble Westwood Lawnbug was always a danger, while the team adopted a clever strategy to earn a place on the podium.
Dean, who has competed in the 12-hour race for about 20 years, said: 'Ours isn't the fastest mower, but the key is to stay in touching distance and do longer stints behind the wheel. Most teams need to come in every 45 minutes to refuel, but our mower can run for an hour, barring reliability issues. Also, it takes about a minute to refuel a Group 4 mower, as they have to lift the bonnet, but we can replace an entire fuel tank in ten seconds. Over the course of a race distance, those saved seconds add up!'
PHYSICAL TEST
Group 2 is for roller-driven machines, where competitors find themselves sat extremely close to the floor. They are slower, but driving them requires strength and stamina, as you feel every bump around the course. Group B victors were The Knight Riders, a Billingshurst-based team comprising father and son Mike and Jenson Cresswell, and experienced racer Paul Johnson.
Mike said: 'The Group B mowers were popular in the 1960s and 70s, when they were used to mow golf courses or the lawns of country estates, before the advent of sit-on tractors. They used to go along at 4mph, but we modify them for racing and have recorded one at 43mph! Group B is definitely the hardest, as it's so physically demanding. The sit-on mowers are like driving a car by comparison! Group B is a category I've always been drawn to, as it heralds back to the dawn of lawn mower racing.'
'We love the 12-hour race, but we go to all the BLMRA events, which comprises about 20 meetings a season. There is a British championship with races held all year, with points awarded based on position, much like F1. There are not as many mowers in our class as there are in others, but Group B still attracts half a dozen entries and is fiercely contested. I've won the championship many times and now my son has a passion for it too. He first came to the 12-hour race when he was three weeks old, and now he's out there racing!'
NO SLACKING
There were many other notable drives up and down the pitlane. Local racer Leon Clark, who watched the very first race in Wisborough Green, entered as a one-man team, although fortune was not on his side. Team Phoenix included mother and daughter Helen and Katie Sorrell, who at 18 was the youngest female in the race.
Another local team taking part was Sussex Slackers, finishing a respectable 15th. Mark Thurston came out of retirement to race and shared driving duties with son Charlie and friend 'Pugs' Reeves. While Mark and Pugs are mower racing veterans, it was the first time Charlie has competed in the 12-hour, having grown up watching his dad from the pitlane. A stuttering start saw the Slackers (No.50) go a lap down almost immediately, but the team are experienced enough to know that it's a long race…
An hour into the race, Pugs told AAH: 'The key to success is reliability. If you can get through the whole night without hitting serious trouble, you have a chance of posting a good result. Our start wasn't ideal, but we're not overly fussed, as it's a long race. The most important thing is to keep the old girl going. Our mower has an Ariens engine, which is one of the smallest and oldest out there, but we hope it'll give us reliability. It also pops and bangs more than modern engines, so we're a favourite with the fans! This is the creme de la creme when it comes to mower racing, and it's the one you want to do well in. But in all honesty, we're not here to win. We come as we love building mowers and racing. It's a wonderful, family-orientated sport and afterwards, everyone comes together for a barbecue and a beer. That's the best thing about it for us.'
GRASS ROOTS
To keep racing competitive, there is a comprehensive set of rules, and the scrutineering team make sure they are obeyed. That means the size of your wallet has less bearing on where you'll finish, and many seasoned racers hope it stays that way.
Dean Fuller of SDS Racing said: 'We need to make sure it remains the cheapest form of motorsport in the world. The costs involved in karting and some club racing is out of control now, and as a result, people are turning to mower racing. That has both positives and negatives, as although it's great to see interest from younger drivers, there are some teams bringing new tyres to every race, while most up and down the pitlane use one or two sets for an entire season. So, it's important we restrict the number of engines and new parts that teams can use, just so it remains affordable. What we don't want is for mower racing to become another form of chequebook racing.'
WORDS: BEN MORRIS / PHOTOS: ALAN WRIGHT
Further information