12 Hour Lawnmower race at Five Oaks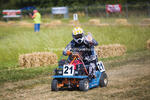 Published on 1st September 2015, replacing an earlier article on the BLMRA from 2011
The Five Oaks 12-hour race is the showpiece event of the British Lawn Mower Racing Association (BLMRA) founded in 1973 by Jim Gavin and some friends over a pint or two in The Cricketers Arms.
The first race attracted 80 mowers and in its early years Le Mans legend Derek Bell and Sir Stirling Moss were amongst the winners. Pete Hammerton, Chairman of the BLMRA, said: "Wisborough Green is where it all started. Jim used to do a lot of rallying and when someone suggested lawnmower racing to him, he grabbed it by the throat. They had the first Lawn Mower Grand Prix on the village green.
"Wisborough Green is the home of lawnmower racing in the world. It has grown, with associations in USA, New Zealand, and lots of clubs in Europe. But it all started here and most of them run a tweaked version of our rules."
GARAGE 56
This year's race is the 43rd 12-hour race. There have been ups and downs, with years when the race has been cancelled due to bad weather, whilst foot and mouth put paid to one race. There have also been times when the event has struggled to find a venue, but the current field has proved popular with entrants.
Pete said: "It is a big ask for a local farmer to let us race here, unless he needs it ploughing! We're fortunate that the owner of the land at Five Oaks is one of our members, Paul Quickenden. This year, he is racing in Garage 56, which like at Le Mans is reserved for experimental machinery. He is running a Runsun diesel engine mower."
FORMER GREATS
In years gone, everyone from Formula One teams to acting greats have taken to the grid. Oliver Reed was a regular entrant and more recently motorcycling ace Guy Martin has graced the event. This year, 36 teams signed up, but Peter has some concerns that future generations may not have the same passion.
"I think the nation is a little less eccentric than it was in the 70s, 80s and even the 90s. Britain has become more sensible and people want to play on computers rather than thrash lawnmowers around a field. With my generation, that was just what we used to do!"
FAIR RACING
To keep the racing competitive, there is a comprehensive set of rules. The BLMRA discourage commercialism, so there is no cash prize. All engines must be single cylinder mower units run in standard form, meaning that the size of your wallet has no bearing on where you will finish.
Pete said: "We like to keep it tight in terms of scrutiny. You can't pull the wool over the eyes of anyone in the pit lane here, and it's very rare that anyone tries to. The teams will take any opportunity that they can to gain an advantage within the rules, like in any form of motorsport, but it's all fair. The rules we have work, because this race has been going for 43 years and it hasn't really changed at all."
The Locals: Sussex Slackers (#4)
Ariens/Honda
Position: 5th Overall
MOWER VARIETY
Mark Thurston, 'Pugs' Reeves and Duncan Crawley are familiar faces in a pit lane with an increasingly international look. The team are competing in Group 4 - wheel driven mowers with bonnets – and were aiming for the podium. They fell just short, finishing fifth overall and fourth in the group.
Pugs said: "The Group 3 tractors are similar but without bonnets, and the Group 2 machines are the roller driven machines, where you are sat close to the floor. They are slower and very painful to drive. You feel every bump, but still some traditionalists like to drive those."
AFFORDABLE RACING
This is the sixth time Duncan has entered the 12-hour race. He started out because lawnmower racing was an affordable form of motorsport. "An engine costs about £300 and that's the most costly part," says Duncan. "You can only use a 13hp engine but they can do 50mph which feels very quick when you have no suspension. You could spend a lot more but the sport is not about that. It's about having a laugh with the lads."
RELIABILITY RULES
The key to success is reliability and if you can get through 12 hours without hitting trouble, you have a good chance. Duncan says: "If you manage that, you've been lucky. An engine change is the most time costly problem, as that takes us about 30 to 40 minutes. You can be leading for 11 hours but one problem and you've lost."
Time can also be lost with driver changeovers and refuelling, so teams have to balance how long each driver stays out on track. Pugs said: "It is painful and you feel it mainly in the arms. You're holding on for dear life, especially when the course starts to cut up. When you step off the mower after a stint, your hand is stuck in a claw like position for a while!"
The Contenders: Who's Racing (#21)
Westwood Lawnbug/Tecumseh
Position: 3rd Overall

BRAGGING RIGHTS
The team had high hopes going into the race, with three drivers who have all won national and world championship titles. In the end, Dean Fuller, Dan Jones and Colin Clegg couldn't take overall glory, but did scoop Group 3 honours.
Whilst they all compete individually in the British Championship, it is the 12-hour race they most covet. Colin, who has been racing lawnmowers since 1998, said: "If you win the 12 hour, you've won the bragging rights! It is the showpiece event for lawnmower racing for our club and also in the UK."
GRASSROOTS RACING
Lawnmower racing may have its roots in Wisborough Green, but there are well-organised endurance races now held around Europe. The Northerners – winners for two consecutive years - run a six-hour event and there is a 24-hour race in France in which British teams have enjoyed great success. Several local teams have also competed in Luxembourg, Finland and Poland, where huge crowds turn out to watch.
Colin said: "We've been to Finland for a 12-hour race on a frozen lake. But wherever you go, lawn mower racing is still a grassroots form of racing. People turn up with mowers they've build for £500 and because of the regulations can be just as quick as anyone."
PITLANE PALS
Who's Racing, who are followed by a camera crew shooting a documentary for Japanese television, might be keen to win, but they'll always willing to help other teams. "Nobody takes it too seriously, although of course we all want to win," says Colin.
"If anyone breaks down during the night, you can go to the garage next door or any other along the pit straight and people will lend you bits of machinery or tools if you need them. It works that way for everyone."
The Newboys:
Nobby Racing (#7)
Yard Pro LR12/Honda
Position: 32nd Overall
INSPIRED TO RACE
Brothers Chris and James Clarke from Broadbridge Heath went to watch the race in 2011 and afterwards decided to give lawnmower racing a go. James said: "We thought it looked like fun, so we bought a mower sat outside Wisborough Green Tyres and ended up racing a full season.
" Normally, I fix the mower and Chris races, but we'll both be driving along with James Waters in our first 12-hour. The joy of it is that you can race for a few hundred pounds. You need a bit of skill but if you have the tools it's not too difficult."
SIMPLE RULES
It's been tough for the newcomers, but results are improving and the team hope that a better engine will make them more competitive. "To keep it affordable, the organisers are strict on engines," says James. All you can really do is remove the governor from the engine, so it can rev more freely. They have a Dyno machine to test engines and ensure every mower is within the rules."
SLIPPERY WHEN WET
Changing conditions stops the 0.878mile track from becoming too monotonous for competitors. James said: "The track changes throughout the night and new dips appear and ridges appear. When the track becomes too dry it starts to become dusty, so they sprinkle water across the track. This makes it nice and slippery!"
For more information visit www.blmra.co.uk