MY TRAVELS ON TRIUMPH THUNDERBIRD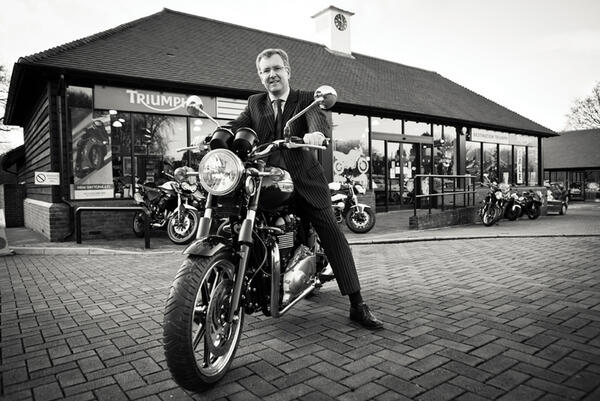 Back in 2007, Horsham solicitor Nigel Winter swapped his pin-stripe suit for leathers, fastened his helmet and climbed upon his beloved Triumph Thunderbird.
It was one of the wettest summer weekends on record, but Nigel resisted the lure of hotels and instead packed a tent for a journey that would take him on a scenic route from Lands' End to John O'Groats.
That in itself is not an achievement worthy of column inches. Nigel admits that his nose was put out a touch when he was told upon arriving at the northern landmark that a cyclist had arrived a little while before him, having also completed the journey in five days.
Nigel's motivation was a personal desire to recreate a trip completed in 1953 by Edward Turner on a 150cc Triumph Terrier. However, whilst the former General Manager of Triumph recovered at the end of each day in the country's finest hotels, Nigel opted to pitch a tent at campsites practically deserted due to unseasonal downpours.
It took Nigel four years to complete and publish a book about his trip. Travelling with Mr Turner has already shifted more than 1500 copies and is receiving excellent reviews both at home and across the Atlantic. The book marries witty thoughts and observations from the journey with well-researched information and amusing anecdotes relating to the incredible history of Triumph motorcycles.
Nigel, a senior associate at Carfax-based Rawlison Butler, said: "Triumph is a unique brand and the book is, in essence, about that brand. I was worried about how it would be received by the motorcycle press as it isn't a technical book - it isn't about bikes, brake horsepower or broken bones. I just wrote it in the hope that it would be read by people who simply enjoy a good read. I think by virtue of the topic there is a niche market but the style of writing attracts other readers. Best of British Magazine wrote in its review that 'you don't have to be interested in motorcycles to like this one' and I hope that is true."
It is indeed Nigel's light-hearted tone and honest story telling that keeps the pages turning and has ensured that Travelling with Mr Turner can be enjoyed by all - not just those interested in the iconic Triumph brand.
Whilst only 166 pages long, Nigel manages to bring life and colour to Edward Turner's 1953 journey and the story of Triumph's battle for survival makes for fascinating reading.
In case you suspected a mid-life crisis was behind the motivation for the trip and subsequent book, Nigel has actually been riding for many years and has even written articles on motorcycling for national newspapers and magazines.
His father owned a Vincent and travelled around Europe, along many mountain passages that Nigel has subsequently ridden. Although he is a fan of British bikes in general, along with other classic manufacturers such as Moto Guzzi and Harley Davidson, it is the Triumph story which Nigel finds most endearing.
"When I first started riding a Triumph it was considered a naughty boy's bike. The more respectable, clean living types rode a Honda. For many years, Triumphs were made by a Worker's Co-operative, and they fought against all the odds to keep their factory open for nine years (they locked out Triumph's new owners when they proposed closing down the factory). Then John Bloor took it over and performed the economic miracle that we see today.
"In those years in-between, motorcycling became a lot more respectable. There used to be a time when you would go to places and there would be signs that read 'bikers will not be served here'. But now it has come right the way over and riding motorcycles is seen as a respectable thing to do.
"France is a great place to ride and they love British bikers. Obviously relations beween the two countries are not at their most Entente Cordiale at the moment but I guarantee that if you were lost on a bike In the middle of France someone would come over to help. I love riding around France and the Alps – you can ride all day without worrying about how much petrol is in the tank and it is just a great feeling."
Nigel's book has been well received by the press and has even been praised by Edward Turner's family. An extended version, featuring new information and photographs that have come to light since the book was published, could be compiled in the future.
However, it's unlikely that we'll see a flurry of novels from Nigel. "Having written this book, getting it to sell is the thing that counts," he said. "There are more books in me but it doesn't really fit in with being a lawyer and being a father!"
Travelling with Mr Turner is available to buy at a cost of £9.99 through Panther Publishing (www.panther-publishing.com) on 01494 534778.