Me and My Austin 7 Van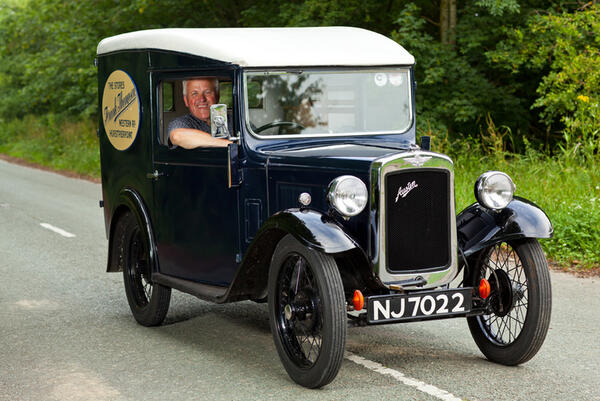 It was 1962, and 15-year-old David Millichamp was on the lookout for a new car. Near to his home in Wineham was a Blacksmith's yard, where there were several cars in a derelict state, one of which was an Austin 7 5cwt van.
The van was covered with grass and brambles, but with a little help from his dad, David was able to free the van and push it 200 yards down the road to his own home. The former owner had swapped it for a front axle of another Austin 7, so no money changed hands, and David had his first car!
Incredibly, nearly 50 years on, David still has that Austin 7 van parked on his driveway in Ashington, although it's in far better condition than it was when he found it!
David recalls: "It hadn't been on the road for a number of years. In 1959, the MOT laws were introduced, so many cars were just driven into the ground. The van had awful tyres, and all sorts of things were wrong with it, so it would have failed the MOT test hands down. Obviously the owners couldn't afford to mend it, so they scrapped it. There was a boat at the Blacksmiths Yard and they were thinking of putting the van engine into that, but we had the front axle they needed for another Austin 7 so made the swap.
"My dad had owned an Austin 7 so he didn't mind me having one too, so we pulled all the brambles off and pushed it down the road. He worked on it and got it going that day, using an old battery from a tractor."
The log book revealed that the van had been built at Longbridge, Birmingham in July 1935 and purchased by grocer Frank Thompson in September of the same year. He had used it to make his daily deliveries around the village of Hurstpierpoint for 21 years.
David later had a vintage grocer's sign made especially for the side of the van, and even collects vintage groceries, displaying them in the back of the van at the occasional local event. But it wasn't until 1967, five years after it was saved from the yard, that the van was restored to anything like its original condition.
David said: "I used the van as a learner driver vehicle around the fields of my home for a few years. We had a shed in the field, and it just lived in there for a number of years and luckily didn't deteriorate too much. Then I became an apprentice in Pretty's Garage in Partridge Green which was handy as I could do bits and pieces in my lunch hour."
David's Austin 7 van, thought to be one of just a handful remaining, has been taken to a number of well known events, including Goodwood Revival and Shoreham Air Show, but has still only clocked up 66,777 miles since new. It's not an easy car to drive - a very short clutch and a sticky second gear take some getting used to - and David says that driving along at such low speed on the A24 is "frightening".
So the car is only taken out on rare occasions, but it always sparks conversation from people who recall their own Austin 7 experiences or occasionally even memories of the grocery store in Hurstpierpoint. David said: "I get a lot of older people coming to chat about it because everybody had one at the time. I wanted to put the traditional 1930s signs on the van, so I phoned one of Mr Thompson's relatives for permission.
"When I first had the van it did have oval boards as there was a mark on the side where the boards had been. A friend of mine who was a signwriter designed them for me. There are not many vans left like this, perhaps only half a dozen with this 'high-roof' style in the country. We went up to the Longbridge National Rally for the Centenary of Austin in 2005 and there was only two like this.
"There were lots of Austin 7 cars and saloons, but so many of them have been totally rebuilt, with a new body.
"When I found this there was no roof covering but other than that it's nearly all original. It's only the floor in the back that has been replaced."
Which probably makes David's van relatively valuable. Not that he would know for sure, as he's never considered selling it!