Robin Lackford: A Lifetime spent Racing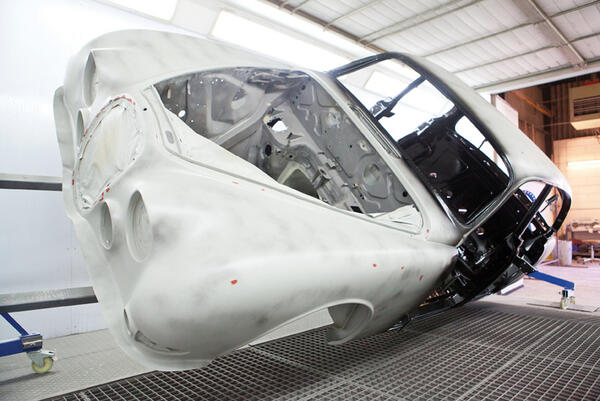 As a young boy, Robin Lackford was fascinated by cars. He started working on cars at a young age, helping his older brother Norman, who raced a Ford Anglia in the Special Saloon Championship.More than four decades on, he is now a grandfather of three, but Robin continues to live and breathe cars and motor racing.
He has run Robin Lackford Motor Engineering for over 25 years, and the firm has built up a fine reputation for its high quality classic and vintage car repairs and restorations on all classic car marques.
Cars including MGs, Austin Healey, Jaguar, Ford, Alvis and Aston Martin are a common sight at the garage in Cowfold, where the company has been based for 18 years. Robin has also restored historic race cars such as the extremely rare Autosud.
Robin said: "What makes us different from other classic car specialists is that we offer the full service. We have the mechanical workshop, the body fabrication shop, the body prep shop, the paint booth and the low bake oven, and it's all on one site. Many classic car specialist sub-contract out a lot of this work and only do some of it themselves."
Robin and his team work on a lot of MGs, as they come highly recommended by the MG Owners Club, but there are always interesting projects undertaken at the garage. Among current restoration projects are an ex-police Jaguar, a Ford Poplar 103E, an Alfa Romeo Spider and an MG TF. But there have been even more prestigious cars, including a Ferrari 250 GTO SWB Berlinetta. "That was one of the worst jobs I ever had," jokes Robin. "I had to take it out and do 500 miles in it! I'm the only person here qualified to do it. It's a tough job but someone's got to do it."
Whilst this all keeps Robin on his toes, it can't keep him off the race track. He races in one of the championships his company sponsors – the Austin Healey Club Championships – as does son Nigel, who works alongside him at the garage having served an apprenticeship. There's no sign of Robin slowing down either – he missed out on the championship by a narrow margin this year.
Robin said: "I started going racing when I was about eleven years old with my older brother who is thirteen years older than me. He used to drag me along with him when he went racing in Crystal Palace. In the late 1960s we built a Ford Anglia and we ran that in Special Saloons. Then we built an Escort and then we built our own car with a Fiat 850 body and raced in the Silhouette Saloon Championship. We were filmed in 1983 by the BBC for a television show called Driving Ambition. But things move on, and I started racing MGs and built a racing MGB, which I've still got. I've had that since before my kids were born and now I've got three grandchildren.
"These days, I race the Frogeye (Austin Healey Sprite) and I won the class championship this season, although I lost out on the overall championship by four points because I was hit in the second race of the season and didn't score any points. I've competed in eight races this season, and we've had six class wins, six class poles, two outright wins against the big Austin Healey 3000s which have 300 brake horsepower, and we claimed two lap records.It's one of my favourites of all the cars I have raced. It still gives me a massive smile every time I race it, especially when it can beat the massive 3000s!"
As well as racing the 'Frogeye' Robin also races his Elva 100 in Formula Junior Historic Racing events. Yet despite all of the years he has spent in racing, Robin insists he never had any desire to become a professional driver. He says: "I've always been a Club championship driver, and never really had aspirations to become a Grand Prix driver.
"At the end of the day, when you become a professional racing driver, it's a job, and like any other job you get out of bed and go to work. But what we do is far better than that, as we build a car, go out and race it and beat everyone! We're also able to do that for customers too, which is just as satisfying."
For more information visit www.robinlackford.co.uk