Stuart Austin set for Sunseeker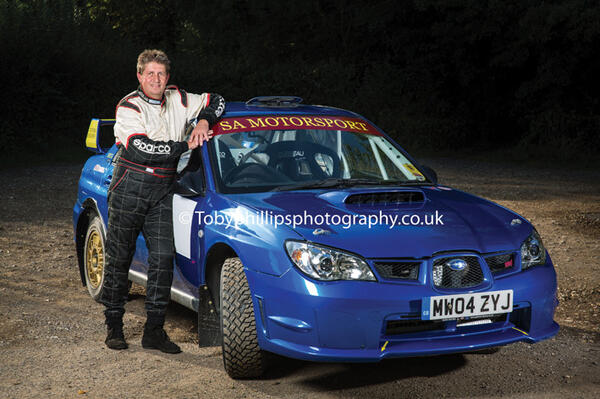 Stuart Austin has fond memories of watching rally legend Colin McRae fling his Subaru around the forest tracks of the RAC Rally.
Now he too can experience one of the country's top rally events behind the wheel of an iconic blue and gold Subaru Impreza, as he and navigator John Flippance prepare for the Rallye Sunseeker in Dorset on 18th -19th
October.
Stuart, who lives in Southwater, will compete in the National class of the event, which will also see an International class competing in the final round of the MSA British Rally Championship. He said: "I have been to Rallye Sunseeker before as I am a member of the Southern Car Club and we help run and marshal the event. But it is an event that I always wanted to drive in.
"The event is open to different classes. As well as the International class, there is a section for Historic cars and National cars too, so there is a wide range of cars on show. It begins at Poole Quay Harbour on the Friday night, with a ceremonial start with all the cars on show. It attracts a couple of thousand spectators.
"Much of it is about showmanship, demonstrating car control, but the crowds can also look at the cars whilst they are stationary. Then on Saturday, you start driving in the forests, with about 43 miles of racing.
"We're just doing it for a bit of fun. The main thing is to finish. If you complete one event safely, then you can start thinking about the next event. We'll probably put the car away after Sunseeker until the season starts again next February."
For primarily nostalgic reasons, Stuart had wanted to find perhaps the defining Impreza, the 1994-95 shape that McRae drove to the World Rally Championship. But instead, he found a ready-to-race 2002 'Blobeye' chassis, adapted with the 2006 Hawkeye front. It was at least in Subaru's WRC colours - blue with gold wheels.
With the help of Utting Estates and Geoff Jones Motorsport, the car was fitted with new seats and fully prepared for top events. This meant improving the brakes and suspension and fitting tyres for gravel rallying. These modifications took Stuart way over his initial budget.
He said: "I was looking to spend a maximum of about 15,000 and I think we're up to £32,000 now as there is always something else you want to buy. But we are at the stage now where we can be competitive."
The Subaru, sponsored by Austin Powell Ltd, is an entirely different beast to Stuart's previous rally car, a standard Peugeot 205, which he drove in events at an entry level of rallying.
Stuart said: "Ten years ago, at the age of 40, having played basketball all my life and knackered my knees, I bit the bullet and built a car of my own as I have always been a motor racing enthusiast.Track racing appeals to me, but I didn't like the idea of competing with other people. With rallying, it's just you, the forest, and a clock. If I make a mistake, it's down to me.
"With track racing, you're competing with others and banging wheels all the time. I don't need somebody who has plenty of money to throw at body parts ploughing into the side of me every week. I also particularly love rallying. I used to sit down in an anorak in the pouring rain to watch Colin McRae and Richard Burns. They were the two British rallying heroes of the time and they both drove a Subaru. Sadly we have lost them both.
"To start with though, I built a Peugeot 205 as it was ideal as a cheap entry-level car. You are going to break cars whilst you're still learning, so you want a car that is cheap to rebuild! I joined the Southern Car Club and entered a national championship for two-wheeled drive cars.
"I gave the car a fair old whack over the years. I did Abingdon Carnival Rally and went sideways into a tank at about 70mph. The tank didn't move! We rebuilt it but the car started to fail so we let it go. I had done reasonably well, but after ten years it came to the point where I wanted to step up.
"Now I'm 50 and events we are entering are far more competitive. You're going up against what were the Group B cars, such as the Metro 6R4, and old WRC cars too, even though we will be categorised in a different class to them. One day I would love to drive a WRC car. It's a different kettle of fish in terms of speed and driving skill too, as they have sequential gearboxes. But in the future, who knows?
Stuart will be raising money for Help for Heroes. For more information visit www.bmycharity.com/stuartaustin