Mum-of-three pens children's story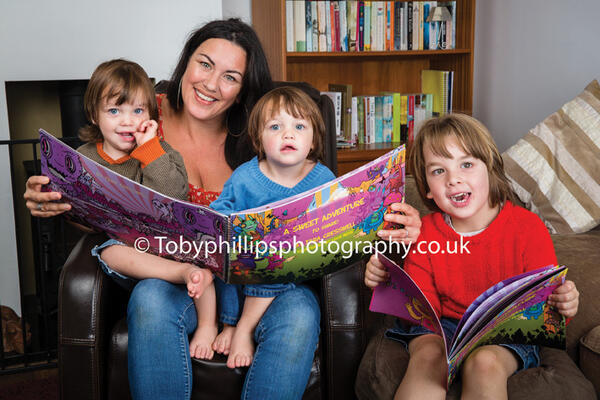 Along with creating glittery cupcakes, writing a children's book has become something of a 21st Century cliché for modern mums.
But Horsham mum-of-three Tara Cresswell has broken convention by bringing something new to the table. She has combined her own love of Alice in Wonderland with the distinctive, Graffiti- influenced illustrations of Bristol-based artist Loch Ness (yes, really) to create her first book for children, A Sweet Adventure.
Whilst the pictures offer a surreal kaleidoscope of colour, it is the format itself that provides the book with its unique selling point. Its rhyming poems are repeated on both sides of the page, on symmetrical images that spread across a double page. It means that the book is perfect for two children to read together.
Tara said: "I have three boys; Milo, who is five, and then the twins Hugo and Donnie, who are two-years-old. The twins appeared in the BBC drama Call the Midwife when they were babies, so that is their little claim to fame! When I was reading conventional story books, I noticed that participation between them was awkward because they couldn't all see the same things at the same time.
"Hugo would be reaching over to see things and Donnie would pull at the book to see things on the opposite page.
"I thought 'can I buy a book where they can see the same things at the same time, and share it equally and properly?' I couldn't find one so decided I would write a book for them.'
"Previously, I have worked with young people as a one-to-one counsellor for Croydon Council, and this gave me lots of experience of writing for children. I also have files of poems and short stories that I've written over the years, so I used some of what I had to write A Sweet Adventure.
"I love traditional rhyme and I believe it is really important for children, so I used that formula. But I knew that in order to achieve the idea of having the double page spread, it would have to look like a single landscape of colour.
"My favourite story is Alice in Wonderland and so I wanted the children reading to enter into a magical world; somewhere new and different."
One obvious contender for the illustrations was quickly dismissed, and that was the author herself. Tara is well-known in Horsham for her fine art and charcoal drawings, but she did not feel her own pictures were contemporary enough for the story. She then collaborated with an illustrator, but again found the style too traditional. Then, by chance, she stumbled upon the work of Loch Ness.
"He is quite a mysterious artist, and I still haven't even met him in person," said Tara. "He is the Banksy of the children's book world! But as soon as I saw his work I thought he could do it. I asked him to emulate the colours of the Disney version of Alice in Wonderland. The colours in it are so beautiful; they are almost Technicolor and have increased contrast.
"I wanted the text to be clearly represented in the illustration, so we spent a long time going back and forth until it was right. I would work on it in the evenings, when the boys were asleep, and completing it became something of an obsession! But in the end it is exactly what I wanted. I love the characters with big yellow eyes. I don't think it's too scary at all. If you watch children's TV these days, it's not Button Moon anymore."
Tara managed to see the book through to completion without the help of a publisher, funding the project by selling her painting and prints, old children's clothes and even jewellery on eBay. Eventually, she raised enough to pay for a printed copy.
She said: "When the book arrived, I thought 'if this doesn't work I'm going to be gutted!' I read it to my three boys, which was an emotional moment for me. To my great relief, it did work, and they started asking for 'mummy's book' at bedtime. When you read with a child, it's not the amount of times that you read that counts; it is the quality. Participation enhances the quality of reading.
"They were not participating as they could be with some of the traditional books, but this book calmed the process down. It enhances the shared reading experience. This book is not going to do it on its own but it does recognise a problem. "After that, I started showing the book to people and made a couple for friends as gifts. People started saying 'this is really good' and I had some great feedback from an educational psychologist.

"I took it to show teachers at Kingslea School, where Milo goes, and they liked it too, so I decided to take it to Waterstones. I thought I would be ripped to shreds. I met three members of staff there, and they said 'we'll have a look but we do get a lot of these through the door'. But to my delight they loved the illustration as it is so contemporary and removed from traditional children's books. They thought the concept was brilliant and said they could even see it on their shelves, but I would have to present it to them in a properly published format if that is to happen."
Rather than pursuing the traditional route through a publisher, Tara is hoping to raise enough money to properly print A Sweet Adventure through the internet website Kickstarter, which helps people around the world fund creative projects.
"I've put it on Kickstarter," said Tara. "A friend of mine has made a video for me, and that's where we are at now. I put a pledge goal on there and that is the amount of money I need to make to publish a book. It will cost a few thousand pounds."
Already, Tara has written the poems for a second book called A Veggie Adventure and is in the process of writing A Fruity Adventure. But if it doesn't work out, she will be happy to have at least given it her best shot.
She said: "If I have a sense that this is what people like and could be published, I will pursue it. I passionately believe in it and so far there hasn't been any criticism. But it is not the be-all and end-all. It started as a present for my children. It has escalated since then, but if it was to fizzle out then I will still always have what I set out to create; a book for my sons to share and enjoy.
"It will always be something special for them and for me."
To help fund Tara's story visit www.kickstarter.com and search for A Sweet Adventure