Roger Liley of Horsham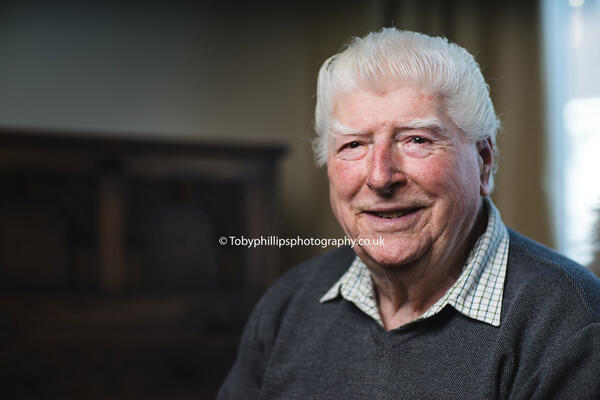 I was born on 24 July, 1930 in Horsham. My father fought in the Second World War with the 4th Battalion, Royal Sussex Regiment.
During the whole of the war, I only saw him for nine days, so he missed a big chunk of my childhood. He made his way home under his own steam and I remember opening the front door and he was stood there,
unshaven, dirty and in ripped clothes. He ran a bath and said to me 'Go downstairs and get your mum's knitting needles.' He then sat in the bath squeezing his leg, flicking bits of shrapnel out.
Whilst in Horsham, he was a salesman at Gilbert Rice and later a chemical company on London Road. He died of cancer when we lived at 129 Rushams Road, and now I live just a few doors down.
I was a Scout with 5th Horsham during the war. Canadian soldiers were stationed in the town and my mother worked at the camp, making food for the troops. I used to go there and clear tables, wash up and that sort of thing. I remember the Canadians held a sports day at the cricket club once, and some of us scouts went along to watch.
I made friends with a Canadian called Gerry, who was about 20 years old and was a really good diver. We used a swim together at the pool in Horsham Park and we became good friends. He taught me how to dive off a springboard properly. But when they were all shipped off to Dunkirk or wherever, I never heard from him again.
We had moved to Rushams Road in 1933. My parents were amongst the first people to occupy one of the new Davis estate homes. There was a degree of freedom during the war. Us children would play a game called Hot Rice out in the street here as there was never any traffic.
We would also play along the River Arun. I remember that a lady who owned the Gardens of Remembrance used to stage boat races along the river. You would take your model boat down and watch them go. I had a submarine with some lead on the bottom and a nail holding up a periscope. I used to stand on the bridge that goes over to the Cricket Club and drop it in the water. We had a great time around there, just doing typical kid stuff.
When we were in town, we'd all go to Wakefield's as they had a restaurant just along from where the jewellery shop is now. They had all sorts of cakes, crumpets, doughnuts, cream slices and chocolate eclairs too. That was the place to be seen!
I went to school in Victory Road and then Collyer's School. I loved it but failed the School Certificate test. I found school tough going and it wasn't until later that I found out that I suffered from a form of dyslexia. It was not something that people knew about in those days.
I was called up for National Service and enlisted into the Medical Corps. I was sent to Netley Military Hospital in Southampton, the biggest military hospital in Europe at the time. It was an astonishing building, with
corridors a quarter of a mile long.
I enjoyed National Service, but I never considered a military career. My father had died penniless after fighting in both wars, and my mum had to work hard for a firm of architects on North Parade. I was only interested in getting out of the Army to pitch in at home and help my mum as she had virtually brought me up single-handedly.
Just before my service, I worked as a swimming pool attendant at Horsham's outdoor pool. The pool would open in May and close at the end of September. It was always busy and all of these years later its closure is still a sore point with me. It was a lovely pool, ahead of its time when it was built in 1936. My dad took me down there as a boy and that's where I learned to swim.
When I came out in May 1950, I worked at the pool again for a season. It had great big grass verges to the side of the pool and in one corner there was a beautiful three-tiered fountain. There were 150 baskets, so you would pay on your left, take a basket from the lady and go to a cubicle to change. We never had any problems with theft when I was there. But once all of the baskets were gone, the queue would build up right across the park!
Us boys would run straight into the water from the verge, swim straight to the other side and back, then run back up the verge. When the time came for National Service we were fit as fiddles as we did that every day. I hate to think what young men would be like today as none of them are fit at all, sat around playing on computers.
I still have a season ticket for the pool. It was £5 for the season, and now it costs £6 every time you go swimming! There are no diving boards anymore, you're not allowed to jump in or dive off the side - just swim in lanes. It's no fun.
A chap called Alec Brook ran a shop in East Street. He was British and European table tennis champion and kept in shape by playing at the YMCA. I worked in his shop during the school holidays and there was quite a few of us at the YMCA who could give him quite a good game.
When I was 17, I had also founded Horsham Weightlifting Club at Oxford Road Boys School. There was only four or five of us at the start but it grew steadily. When I went to do my National Service, Dennis Hillman – who I introduced to weights - took it over and he become a national heavyweight champion. We called it the Archer Barbell Club after Bill Archer, who was Mr Britain in 1936. He was a physiotherapist at Roffey Rehabilitation Centre.
One day, I was walking my dog along The Causeway and I could see all of these people gathered outside the law courts in the Old Town Hall. I joined the back of the crowd to see what was going on. A car pulled up and someone was escorted out, and people were saying 'that's him, that's the acid bath murderer!' A photographer
captured the moment from the steps. On the cover of The Evening News, I can be seen with my dog, Pluto, as John Haigh arrives.
After I was demobbed, I thought 'what am I going to do?' I had no qualifications and no trade. Well, the house needed painting, so I started doing that. A chap had started to paint the house next door, and he looked at me and said 'you're not doing a bad job to say you've never been taught!' His name was W.G Attfield and he took me on as an apprentice, paying me half a crown a day.
When he died, I started working for myself. They were starting to build the Merryfield Drive estate, so I got a job there as a labourer and finished up as foremen. I took a mortgage on one of the houses on Merryfield Drive. I bought the house adjoining the show house as I knew that one would have been properly built!
My grandfather had died and left me £400. That went down as a deposit and I was able to arrange a mortgage with the council. There was a time when I saved a chap at Horsham Swimming Pool. The council came to hear about it and wrote me a letter, saying 'well done.' When I approached them for a mortgage, it was granted straight away!
This chap, Tony, was on the bottom of the pool when I spotted him. I dived in and fished him out, put him on his side and gave him artificial respiration as I had taken my life-saving certificates at Collyer's. In those days, we were told to lay people face down with their head to one side - there was nothing about breathing into their mouth in the guidelines. You essentially had to massage down their back. After half an hour my arms were killing me, but I kept going and he eventually came round.
Tony asked me to be Best Man at his wedding. There was a picture in the newspaper from the wedding day, with Tony's wife giving me a kiss on the cheek. Tony went on to become a successful businessman.
From 1945 to 1960, there was a general lack of entertainment in Horsham, except for the cinemas. But one thing I do remember is that every Saturday night there was a dance at the Drill Hall. They would play big band music, sometimes hosting local bands like The Metronomes and The Progressionairs. That was the place where you met your future wife - it really was boy meets girl!
At the age of 25, I married my first wife Pat, and we had two daughters. She worked in Whitehouse's Sweet Shop on the Carfax. I would go in for cigarettes as I used to smoke. There was no mention of cancer back then. All of the film stars smoked, so we did too. I used to smoke 20 Rothmans King Size a day, but after watching a documentary I threw them in the bin and that was that. Best decision I ever made.
I joined up with some Poles who were also working at Merryfield Road, and we worked together to build the piping system for new sewage works in Cranleigh. They were smashing blokes and really good workers. After that, I worked as a general foreman as we built the bypass from Roffey to Crawley. Whilst I was there, a film company used the closed road to film a car chase. I never found out what the film was but they brought a double-decker bus with them!
That led to me working on the Ashington bypass, which was a major operation. It took two years because of the amount of water and mud we had to face. It was unbelievable.
I played a lot of golf in my life. I was a member at Mannings Heath Golf Club for 42 years, and it used to host businessmen only on Thursday afternoons. On one occasion, I played with the owner of a construction company and got chatting about the Ashington bypass. He said 'you're just the bloke I need.' He was working on new sewage works around Broadbridge Heath.
I met my second wife Cyndy when she was a cook at the children's home in Mannings Heath and we married a couple of years before I retired in 1992.
I had a financial interest in a travel agency. A school friend had started his own business and I was looking for an investment, so helped him out. When he died the business was taken over and closed down, as the new owner could see computers taking over. He paid me back everything I put in with good interest, so I didn't lose a penny and Cyndy and I got to go to Disney every year.
I love Disney. We have a picture at home signed by Harry Holt, who was the last of Walt Disney's animators. He used to go to Disney once a week and draw for people because he loved to do it. He happened to be there during one of our visits and he drew a picture of Mickey Mouse for us in 1991. We soon returned, hoping for another drawing, but Harry had died.
I have been to Disney 60 times. People think that means we have a lot of money, but that's not the case. We don't drink, we don't smoke, don't dine out very often, we don't take drugs or gamble. We spend only what is necessary and that has allowed us to have two holidays a year.
Having lived in Horsham all my life, I am disappointed by Horsham today, in terms of its layout. It has lost so much of its character. When I was six, my grandfather used to take me to the market every Wednesday. It took up the whole of the goods yard at the railway station. They had pens for cows, pigs, sheep, and there were stalls for ducks and rabbits and you could buy anything from a pen to a tractor. All of the farmers from East and West Sussex would bring their cattle to sell at the auction, and the place was packed.
Gradually, civilisation started taking over and eventually it closed down. For me, losing that market was a big loss for Horsham.
Now I think getting into the town is a nightmare for people. Parking is too cramped and too expensive and the park-and-ride is not viable at all. Who wants to hang around for a bus outside of town in this day and age? In my view, a lot of the things that once defined Horsham have gone.