Irish dancers blitz the competition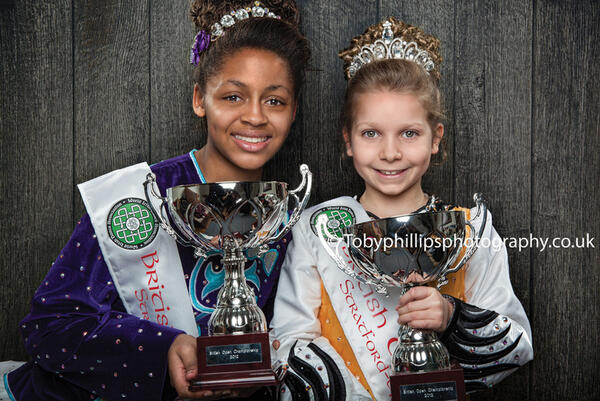 For most of us, Irish dancing conjures up a single image; Michael Flatley wearing a blouse and tight trousers stretching up to his nipples, with his feet rotating faster than a wind-up plastic frog.
Through astonishingly successful shows such as Riverdance and Lord of the Dance he has entralled and inspired millions of people around the world. One of these people is 15-year-old Katie Duffin, who started Irish Dancing having watched one of his shows on DVD. Katie, a pupil at Millais School, is now one of the top ranked Irish dancers in the world for her age group and she recently won the British Open Championships.
Katie said: "I have been dancing since I was four-years-old. I started off with tap and ballet but I was getting bored of it. Then I watched Riverdance on DVD and it inspired me. I eventually went to the Ace Academy in Crawley and I've been there for four years. For me, Irish dancing came naturally, and I could pick it up very quickly. But still, I think it's a hard discipline. In tap and ballet you can use your arms for balance but with Irish dancing your arms have to stay by your side and you need to maintain a straight body at all times."
Having won The British Open title, Katie went to the Celtic Nationals and triumphed once again. Whilst the competition came from far and wide, it was her close friends from Ace Academy who proved to be her main rivals.
"Last year, I won in the Under-15 category, but I was one of the oldest in that age group at that time. This year I was at Under-16 level, so I was dancing with people a year older than me.
"I was also up against Becky Rham, who is one of my friends at Ace, and she won the World Irish Dance Association Championships for our age group earlier this year. There are some very good dancers at the Academy, and we push each other on and learn from one another, so that when it comes to competition we all have a chance of winning. I don't do much group dancing like you see on Riverdance. I do mainly solo routines."
Also lighting up the dance floor was eight-year-old Amelia Knight of Horsham. Amelia, known as 'Nugget' to her dancing friends, is thought to be one of the most promising young Irish dancers in the country, and she too won the British Open Championship title for her age group.
Amelia first encountered Irish dancing through a tiny clip on CBeebies and decided to try it out. She has progressed at a rapid rate, learning from Katie and the other more experienced dancers and always aiming to be able to do what they can do.
But Amelia, a pupil at St Mary's School in Horsham, explained that it isn't just how you dance that is important – it's how you look too. We mainly do solo dances rather than team dances, and there are lots of different kinds of dance. "There are is the reel, a slip jig, a light jig, a hop jig (single jig), a heavy jig, a hornpipe and lots of set dances at the big events.
"There are four different categories. You have beginner, primary, intermediate and open, and everyone starts off in the beginner class. Every time you win you move up a category, so if you are in primary and you win the slip jig, you move up to intermediate, but stay at primary level for the other dances until you win those. On your feet, you have soft or heavy shoes, depending on the dance. The heavy shoe is like a tap shoe, but it is faster, and the soft shoe is more like a ballet shoe.
"We have to wear dresses and they are usually brightly coloured and covered in diamante. You can buy the costumes, make them yourself or buy them second-hand. My mum and dad have sold some of my old dresses to pay for a new dress, as they are very expensive.You also have wigs, and we use either bun wigs, or you can curl your hair."
In the future, Katie would like to do some touring productions and learn team dancing techniques, whilst Amelia would like to teach Irish dancing one day. For now though, both are set to continue developing their talent at Ace Academy, where they train every Tuesday and Saturday.
To find out more about Ace Academy and how to become a member visit their Facebook page at https://www.facebook.com/pages/ The-Ace-Academy-Of-Irish-Dance/100447236713624