Can horses really help businesses?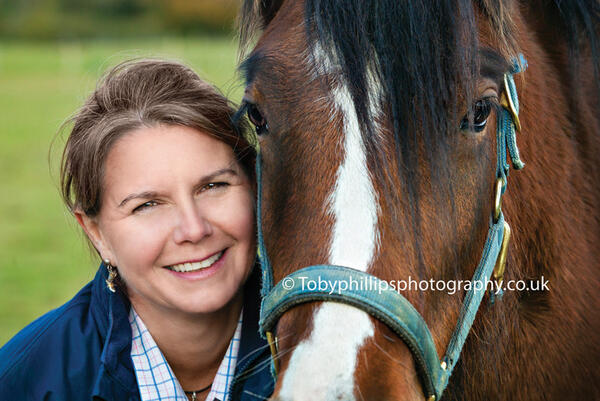 Julia Felton was a city high-flyer...
"I was in the corporate world with a high-flying job in the city but I realised I was completely burnt out so took a sabbatical when I was made redundant in 2006. I worked in luxury hotels around the world before running a specialist research division for an accountancy firm. I monitored hotel performance around the world, and this grew that into a multi-million pound business and the global market leader."
During her sabbatical, Julia spent time with horses....
"The first thing I did was train to be a riding instructor. I was 40-years-old but it felt like I was rebelling against my parents! Horses were always my passion, but I realised that I gave away my personal power and lived my parents' dream by getting 'a proper job'. I think that happens to a lot of people. Whilst working with horses, I came across Horse Assisted Coaching - the ability to work with horses to teach people about business and life lessons."
It led to two new businesses...
"I trained and became what is known as a licensed Horse Dream Partner. I set up Connect Thru Horses, which helps horse owners develop a better relationship with their horse. The second business is Connect 2 Success, which helps individuals and teams achieve success through better understanding of themselves and how they can add real value. Companies don't ever think about taking people out to spend time with horses in order to get to know their teams and the individuals within them."
It's team bonding with a difference...
"There's a general lack of investment as these are difficult times. Companies are not doing training days (like they used to) as there is a perception that it's a bit of a jolly. I think that is true for some outdoor activities as they are more like bonding events and have no educational value. Team bonding is important but it's a luxury rather than a
necessity. People who have been on the Connect 2 Success training are blown away by it. It is a cost effective way of developing skills within teams, because it is action-based learning."
Julia believes horses can tell us a lot about ourselves...
"The great thing is that the horse doesn't know whether the person they are working with is the CEO or the janitor. The horse responds energetically to who shows up. They reflect back what is going on, and that feedback is non-judgmental. The horses want us to be authentic. If you are afraid and pretend you are not, the horses know. A lot of people in the business world act in this incongruent state, but the horses call people on that."
Exercises can be interpreted to give business insight...
"We set up a range of exercises with the horses which will give each client feedback on their leadership and communication skills. In one exercise, people lead a horse around obstacles. If they are not clear on what they want to achieve then the horse typically will not go. Like people, horses want you to be a leader and be clear about what you want. If you are indecisive, then the horse is not going to move."
The results can be revealing...
"I' m quite a creator – I like developing things and that was where I added my most value in business. When we became the market leader and I had to man-manage, I hated it. I wasn't very good at it. I wasn't delivering as much value to the company and there were others who would have done that job better and loved it too. So I think it's important to get people in the right roles. Sometimes, it might be that these exercises show that somebody is not in a role that gives the maximum value. But a smart employer might move them to a role where they will add value. We have the most success when we do some internal coaching first, and then they come out and spend some time with the horses and we evaluate what happened."
Julia has written a book...
One of the motivations for writing 'Unbridled Success' is it's really difficult to explain this stuff to people. If I go to a
networking event and try to describe how powerful connecting through horses can be, they simply do not get it. But bring them out to the space where the horses are and they understand. There is something about being out with nature and with horses that puts a different perspective on things. There is a lot written about therapeutic benefits, and healing people with post-traumatic stress disorder, but not about business lessons."
It's more honest than Facebook...
"We feel like we are more connected than ever before because we have 1,500 friends on Facebook but the relationships are so transient compared to my parent's generation when you built close relationships with friends and family. For me, a lot of this work is helping people connected to others and to themselves. We are trying to get people back to their natural instincts. I think that is why this work is really powerful – people are connecting, and if you connect well with people you can actually be more successful in business."
Unbridled Success is available to buy through Ecademy Press (www.ecademy-press.com) and you can read more about Julia's book at www.unbridledsuccess.co.uk